4G LTE Better Than Home Internet in Some Cases
I spoke with Avram Piltch from Laptop Mag by phone bout Google Chrome OS and a few other geeky things. He was extremely excited about some speed tests he recently completed and he just couldn't get enough of Verizon's LTE service. In his Manhattan apartment, Verizon LTE was not only faster than Sprint's and T-mobile's 4G service, but it also beat out his Time Warner cable Internet service.
We're only beginning to see 4G widely advertised as the major carriers' services reach the largest markets. But not all 4G is created equally. Your mileage will vary depending on which device you're using and where you're using it.
Avram tested the 4G services against his home Interent service provider by running Speedtest.net tests, uploading/downloading files via FTP and loading a selection of web pages. In almost all cases Verizon LTE simply kicked the pants off Sprint/Clear, Time Warner and T-mobile.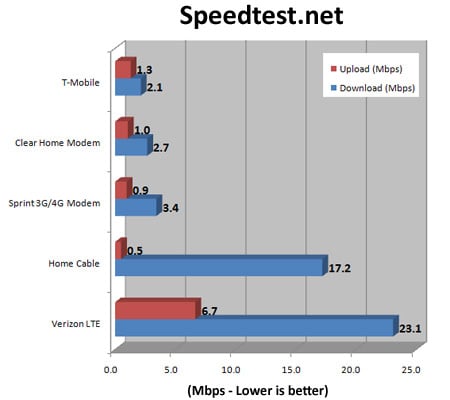 Here's one of the three charts Avram posted over at Laptop Mag. The results speak for themselves, with Verizon LTE downloading content nearly seven times faster than the nearest mobile competitor.
Verizon LTE isn't necessarily designed for home use. Avram's test unit was a USB stick, but I imagine it could be plugged into a CradelPoint router if you wanted to share the connection with your family when home.
With results like these, it's only a matter of time before a significant number of people cut the cord on their home Internet connections in favor of speedy mobile services, much the same way many people have ditched land lines.

As an Amazon Associate I earn from qualifying purchases.