4G LTE Smartphone Showdown: AT&T vs. Verizon
As it stands, Verizon is the current king of the 4G LTE world. It has been rolling out its network at a neck-breaking pace leaving the competition in the dust. Still, there is finally some real competition (sorry, MetroPCS) in AT&T and many of you out there looking for a new LTE smartphone, especially those of you still on AT&T, have probably been wondering how Ma Bell's devices fare against Big Red's.
Well, a Verizon training document has leaked out and it shows off how AT&T's two LTE smartphones, the Samsung Galaxy S II Skyrocket and the HTC Vivid, stack up against the HTC Rezound, Motorola Droid RAZR and the Samsung Galaxy Nexus.
While we've seen all of these specs before, it's nice to see them all in one place.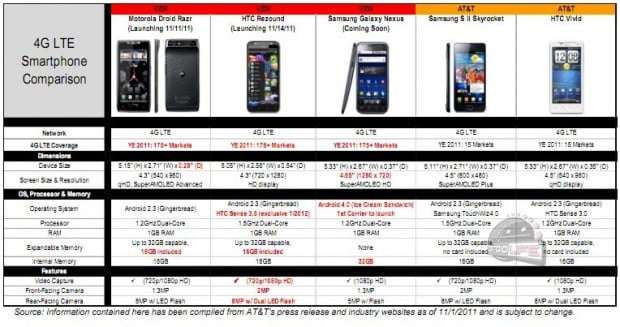 It's also nice to see that the Galaxy Nexus is listed with 32GB of on-board storage. There was some commotion over the weekend concerning the storage space as it is now listed on Google's landing page as having 16GB of storage space.
So, while it means we have even more conflicting information about this device, it also means that there is still a chance that we'll see 32GB.
For more information on these phones, be sure to read our Galaxy Nexus Buyers Guide, HTC Rezound unboxing and our Droid RAZR Review.
Via: Droid-Life

This article may contain affiliate links. Click here for more details.