4moms mamaRoo Updated, Still the Geekiest Baby Rocker Available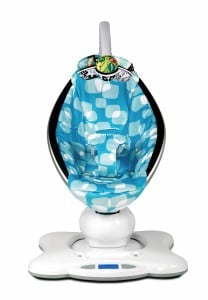 The mamaRoo infant seat may be the perfect gift for tired moms this Mother's Day. 4moms, a company focused on high-tech baby products, just updated the mamRoo seat to make it even better.
The mamaRoo infant seat hit the market in April, 2010, the month my son was born. I ran across the mamaRoo at a baby boutique when my wife asked me to go buy a Maclaren rocker for him. Instead of bringing home a rocker that didn't do much except vibrate, I spent the extra cash to get the mamaRoo since it has natural rocking motions, has an integrated sound machine and can play music from any smartphone or MP3 player.
At $199, the mamaRoo is expensive if you compare it to other rockers, but it's a fair price to pay if it helps a fussy baby go to sleep and helps mom keep her sanity. Our son thoroughly enjoyed sleeping in his mamaRoo until he outgrew it.
https://www.youtube.com/watch?v=KkMMTLB3V_k&feature=youtu.be
The updated mamaRoo addresses a couple of concerns my wife and I had with the original. As our son grew he was able to pull the toy bar out of its socket. The nylon finish didn't seem all that comfortable, so we'd sometimes stuff a blanket under him before strapping him in. The new mamaRoo now has a locking toy bar and optional plush finish.
The new mamaRoo now has a faster rocking motion, which should help babies fall asleep quickly. 4moms also updated the rocker's user interface to make it easier to use.
The mamaRoo makes the Maclaren and other rockers look downright archaic. The mamaRoo is like having an extra pair of hands at nap time.