5 Android Wear Smartwatches Worth Waiting For
Next week the highly anticipated Moto 360 smartwatch running Google's new Android Wear operating system will be officially announced, and a release date will quickly follow. While the Moto 360 is getting most of the attention, others are coming. Below are five Android Wear smartwatch options worth waiting for.
Since being announced in March the smartwatch and wearable technology platform has gained a lot of interest, but there's still only two watches available today. That will soon be changing, and next month will be extremely important for the new platform.
Read: Moto 360 Release: 5 Things You Need to Know
Rumor has it that at the annual IFA event next month we'll be seeing a slew of wearable devices. From fitness trackers, to powerful Android Wear smartwatch options and more. Google built Android Wear from the ground up for wearable gadgets, and things are finally starting to take shape. Currently prospective buyers only have two choices, the Samsung Gear Live or LG G Watch, but that's about to change.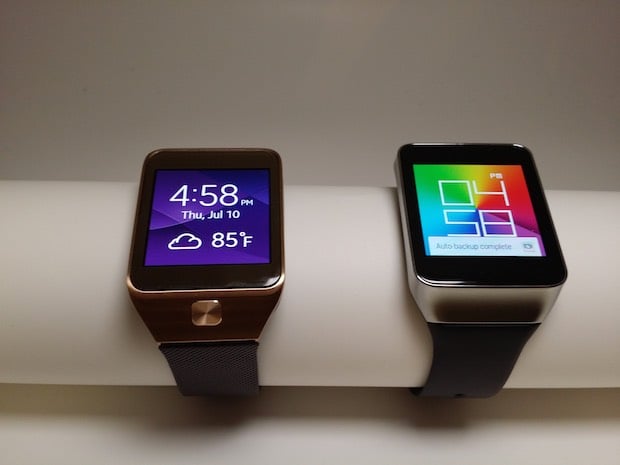 Choosing a smartwatch is easy now, but won't be for long. Most users either grabbed the two options mentioned above simply to get the new devices once they became available, while many others are waiting for the round Moto 360. Wearing a watch is a fashion statement, and not just about having a pretty screen or top tier specs.
The Moto 360 is the first smartwatch to offer a simple and elegant round watch-like design. A real piece of jewelery that just so happens to also be smart. Rather than a square face that looks like it came out of a Sci-Fi movie. This, along with all the customization features we're expecting, is what made it so popular for buyers. Below we'll outline five watches you will want to keep an eye out for.
Moto 360
Of course you'll want to stay tuned for news regarding the Moto 360. It has a round metal design, plastic, metal, and leather watch strap options, wireless QI charging, and is set to be one of the best Android Wear watches of 2014. That said, it's late to the game and others are quickly following behind. LG and Samsung released their options first just to offer a watch, but expect more from them both in the near future.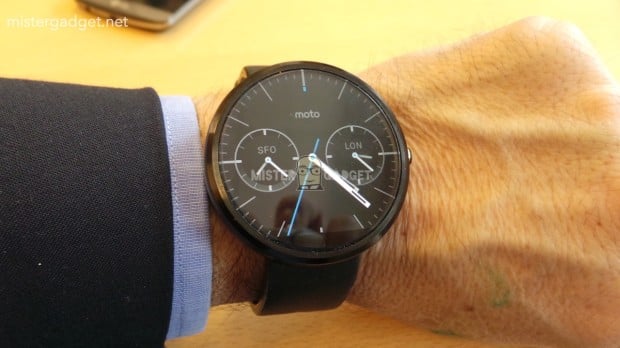 The Moto 360 will be announced on September 4th, and we're hearing the global release date will be September 10th. Most likely none of the watches mentioned above will be available before the end of September, so it will be the best bet for the next month or two, and possibly longer. However, anything is possible.
Read: Moto 360 Release Date and Rumor Breakdown
The Moto 360 has the most promise at this point, especially because we know what to expect, and it could even debut for only $249. Stay tuned for more details come September 4th.
LG G Watch R (Round)
The first Android Wear smartwatch to break cover was the LG G Watch, which was the first watch delivered to eager customers. It's an excellent device all around, with a 1.5-inch display, but isn't what you'd consider fancy looking. The design is square and rather plain, and it only comes in black or white/gold.
However, this week (in light of the Moto 360 release) LG has been busy teasing a new watch aimed directly at stealing buyers from the Moto 360. It's being called the LG G Watch R, and was officially announced earlier this week.
https://www.youtube.com/watch?v=1STW7LQXONo
LG wants us to know that their next timepiece will be a beautiful watch first, and a smartwatch second. The latest teaser image actually makes it look more like a Casio, than a smartwatch, so we're extremely interested to see what they've been working on. The all-new LG G Watch Round is expected to be fully unveiled during IFA in September, between the 5th and 10th of the month. Buyers can expect a full breakdown of what it offers, and surely LG will be trying to one-up the Moto 360 in order to get buyers to wait and buy its watch instead.
Samsung Gear Round
The Samsung Galaxy Gear was the company's first smartwatch, but it now runs Tizen and doesn't use Google's popular Android Wear operating system. They also released the Samsung Gear Live, the second Android Wear device that's currently available from the Google Play Store.
Read: Samsung Gear Live: Hands-on with Android Wear
Lately rumors have started swirling that like LG, Samsung also has a round smartwatch coming to pair with the Note 4, and to take on the Moto 360 release. SamMobile claims the new round Samsung smartwatch could possibly have a SIM slot for 4G LTE connectivity, and will be available alongside the Note 4. We've yet to see any leaks of the device, so will have to wait and see.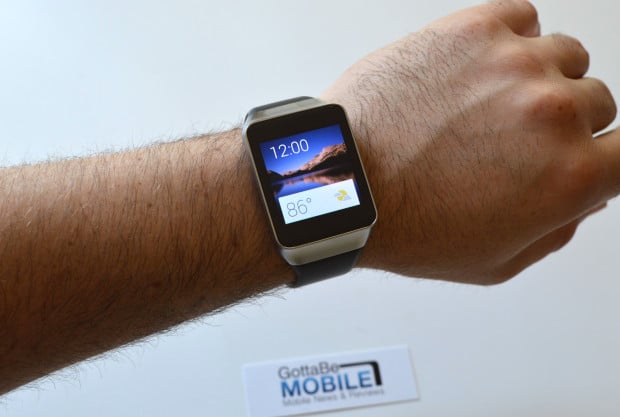 The Samsung Galaxy Note 4 will be debuted on September 3rd in Berlin, and New York City, so if that's the case we'll know all the details on their new option soon enough too. Again, this is just a rumor, and they've yet to release any teasers like LG or ASUS.
ASUS ZenWatch
Speaking of ASUS, they're getting into the smartwatch battle too. One of the leaders on the Android tablet front early on, who've slowed down as of late, are looking to bank on wearables. This week ASUS fired up the rumor mills by releasing a set of teasers for their own new watch. It looks to be squarish, with rounded aluminum edges, but it's too early to tell.
https://www.youtube.com/watch?v=GvzkwpQbO50
The video shows a watch that could possibly have some sort of curved display, but at the end it looks rather flat. We've seen a few images suggesting it may be curved, but can't say for sure. One report suggests the ASUS ZenWatch will be announced at IFA in the next week or so, and arrive inside of October priced lower than the LG G Watch and Samsung Gear Live.
The ASUS ZenWatch could bring Android Wear and the smartwatch to those on a budget.
HTC One Wear
Last but not least is HTC. Before Android Wear ever became official we heard rumors of a "Google Now-powered smartwatch from HTC" but those have all since died down. Android Wear was announced with a slew of manufacturers on board, but we've heard or seen nothing from HTC. Samsung, LG, Motorola, and ASUS are all busy, but HTC hasn't said a peep.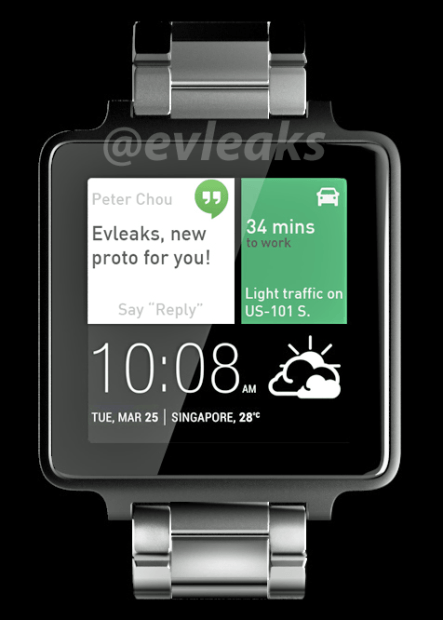 The image above was provided to us from the usually accurate leakster @evleaks (who since has retired) but shows HTC is working on an HTC Sense skin to cover up Android Wear, and launch their own smartwatch. There was even a video floating around showing some sort of watch was in production, but the company denied its existence.
If that mock-up is real, then HTC is already behind the competition and is going with the boring square shape that most of its competitors has since abandoned. However, the watch looks sleek, as does the traditional metal watch band. The leak shows March 25th, meaning they may have been planning to be an Android Wear launch partner like LG and Samsung, but pulled out.
Read: Android Wear Brings the Matrix Code to Your Wrist
We're not exactly sure what HTC has planned, as the company hasn't been doing so well when it comes to pulling a profit, but we can still expect them to deliver a smartwatch inside of 2014. Original reports suggested a holiday release, likely October, so we could see something at IFA, but that's doubtful. HTC has been silent, and will likely continue to be until they're ready to share more details.
Final Thoughts
Android Wear is still relatively new, and in its infancy. Google's yet to release any updates to the platform yet, and an API allowing developers to fully integrate Android Wear is coming later this year. Google confirmed Android Wear will transition to Android 4.5 or 5.0 "L release" when the time is right, but for now its future remains unclear.
As it stands today buyers only have two options if they want a Google smartwatch, but before the year is over at least five others may be available, if not more. The Fossil Watch Group, and many others could be joining the space too, and don't be surprised if Sony, OnePlus, and even Google themselves don't offer an Android Wear smartwatch in the near future.

This article may contain affiliate links. Click here for more details.