5 Apple Watch Alternatives for iPhone Users
If you're an iPhone user and are looking to get a smartwatch, the Apple Watch is an obvious choice, but if you don't have that much cash to spend on a wearable, here are five Apple Watch alternatives for iPhone users.
The Apple Watch and the iPhone go great together, but that's mostly because the only smartwatch that fully supports iOS and has seamless integration is the Apple Watch, so it's really the only choice if you want full iOS support and such.
However, other smartwatches still work with the iPhone, and there are many options out there that are much cheaper than the Apple Watch. Of course, anything other than the Apple Watch won't fully work with the iPhone. For example, Android Wear devices on the iPhone will really only be able to receive notifications from your phone, but you won't be able to act upon them on the watch itself. You can, however, dismiss notifications from the watch.
Of course, these smartwatches still have their own native features right on the watch, which makes them not completely useless with an iPhone, but they're certainly not as feature-filled as an Apple Watch would be when paired with an iPhone.
Read: Android Wear on iPhone Review: 2 Months Later
In any case, if you're looking for an Apple Watch alternative to use with your iPhone, here are five smartwatches that you can buy instead of the Apple Watch.
Huawei Watch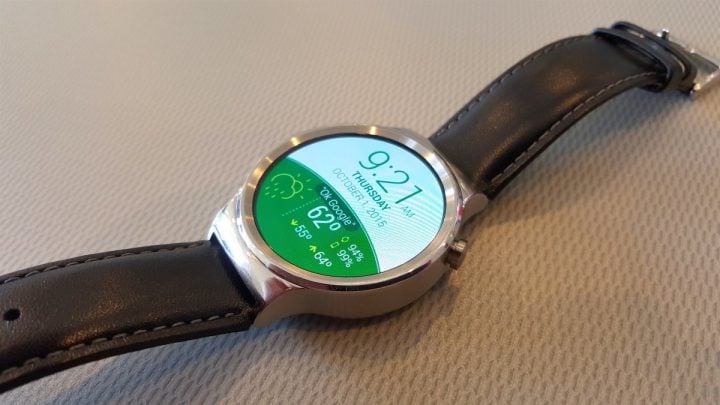 If you haven't heard of Huawei, then you at least have likely heard of the Nexus 6P, which is Google's latest smartphone that was manufactured by Huawei. The company also has a smartwatch that looks pretty cool.
The Huawei Watch has a round display and the whole smartwatch looks like a traditional timepiece, so it definitely doesn't look like a smartwatch at first glance.
The watch runs Android Wear, so it will work with the iPhone and offer limited functionality. However, it's one of the more expensive Apple Watch alternatives, starting at $399. However, if you want a smartwatch that looks more like a traditional watch, this is the one to get.

As an Amazon Associate I earn from qualifying purchases.