5 Awesome Android L Features (Video)
Today for the first time in over three years Google showed off and announced the next version of Android ahead of any sort of release date. Simply being called the "L release" for now, which follows the usual fun names in alphabetical order released under dessert themes.
Google's Android "L release" will likely be called Lollipop, Licorice, or some other delicious dessert, but today Google was silent on the name. However, we got a huge look at what to expect from Android on our phones, tablets, smartwatches running Android Wear, and even Android L release on TVs and in the car. They have a lot going on here, and the new Android L design language called "Material Design" aims to deliver a seamless and excellent experience across all of your screens.
Read: Android L Beta for Nexus 5 and 7 Announced
This week is Google's annual developer event called Google I/O, and the company took the stage and announced Android L is coming this fall, and gave us a preview of what users, developers, and buyers can expect. The next version of Android will have a huge change to the overall look, but also the feel. Read on for more details and to check out the video below.
With floating notifications, enhanced shadows, visual cues, and tons of animation the entire look of Android is about to change. This is one of the biggest shifts in the look, feel, and operating of Android to date, but things are still very early. Similar to Apple's approach of giving us a small preview now, and releasing it in the fall, here's Android L.
It's hard to explain as everything was very visual, so instead Google was nice enough to drop a video explaining (in a very nerdy way) some of the brand new features, the way Android will look and feel, as well as how everything will interact with the user and their taps. Below is a video showing off the new material design guidelines, as well as a few other awesome features coming to the next version of Android.
Material Design
Google's new design approach to Android (on any screen, of any size) is called Material Design. As we mentioned above, it's rather hard to explain. Google says this will make Android have "tactile surfaces, bold graphic design, and fluid motion to create beautiful, intuitive experiences." Everything is bright and full of color, but also full of life. Android will have animations and transitions like never before, and visual cues that you've tapped a button followed by fluid motions and transitions. It looks gorgeous, but the video below is just a small example of what we can expect.
Not only does Android L have great visuals and neat animations, but all these transitions work together in and out, and between apps. So while using apps, switching apps, opening new windows and more. Everything moves smooth and fluid like never before. The video above barely shows it, but it looks amazing. Expect Android L hands-on tomorrow once the developer preview is released for the Nexus 5.
Material design is also about extendability. Essentially creating a design and "grid" developers can follow and integrate into their apps. No matter what Android device it will be running on. Oh, and don't get us started on those redesigned navigation keys on the bottom. Some love it, some hate it, we'll see if they stay when L gets released in the fall.
Enhanced Notifications
The biggest part of notifications aside from the design changing to match some of what was shown above is what Google is calling heads up notifications. Similar to other apps from Android, and recently revealed with iOS 8, heads up notifications won't make you leave the app you're in. Urgent notifications will slide in with the new beautiful animation from the top of the screen, and can be swiped away all without stopping what you're doing. Or you can interact with it, then continue on your day without the usual hassle.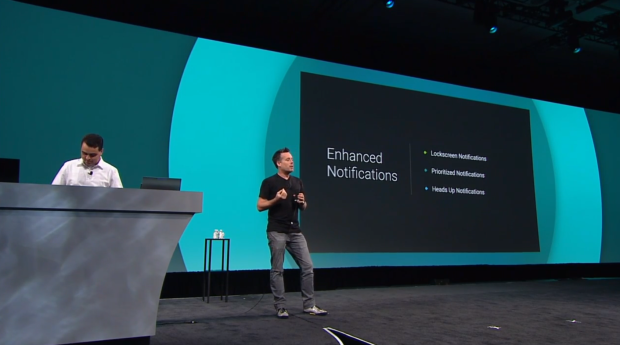 Then all notifications are now accessible, and actionable right from the lockscreen. This is a big feature many Android users have wanted forever. Notifications will neatly be shown in a card layout on the lockscreen, can be access right from there should you choose, and a double tap lets you interact with them. Very neat, simple, and fast.
What about security and your phone being locked, making those notifications something you won't want others seeing and interacting with? If you're phone is paired to your new Android Wear watch (and it's extremely close) or your on your home WiFi network, why have a passcode or lockscreen security? With Android's L release it will recognize these things, and disable lockscreen security if you'd like. Making using your phone easier, and make dealing with notifications a breeze.
Battery Life and Project Volta
With Android Jelly Bean Google focused on making the operating system extremely smooth and fluid with what they called Project Butter. With Android 4.5 (or most likely 5.0) the L release had another focus called Project Volta. The goal here is to improve battery life on Android no matter what, and improve options for low-battery scenarios.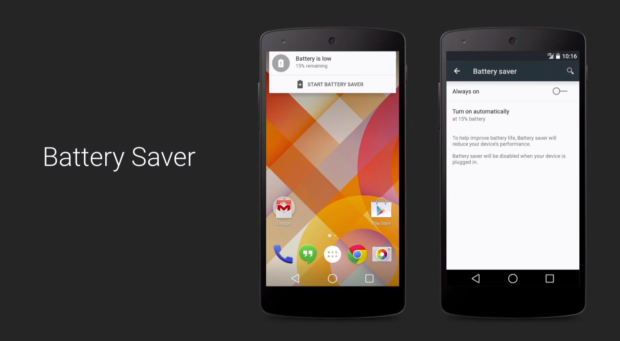 With Android "L release" there's tons of very technical changes behind the scenes to improve battery life. Everything from improving WiFi, GPS, CPU usage and more. Another is called ART, which stands for Android RunTime. This will bring 64-bit computing to Android, and changes how Android runs and opens (or calls apps) as a whole. ART offers fewer app stutters on launch, which should also improve battery, yet deliver nearly 2x the performance at the same time.
There's a new Battery Historian tool developers can use to improve their apps to be more efficient and consume less battery, and just like many OEMs like Samsung or HTC Google's Android will now have a built-in "Battery Saver Mode" as shown above. It can always be on, you can change what radios or services are being used, or just have battery saver turn on when the phone reaches a certain point, say 15% battery remaining.
Project Volta isn't just a name, and hopefully we'll learn more moving forward as Google aims to improve battery life across all Android devices.
Performance
64-bit support and ART which were both mentioned above and help with battery life, will also improve performance. Between a brand new fluid and simple user interface that promises to be extremely fast, Android L will have the best performance to date. The new ART changes behind the scenes delivers nearly 2x the performance system and app-wide. Meaning everything is about to get much faster on Android.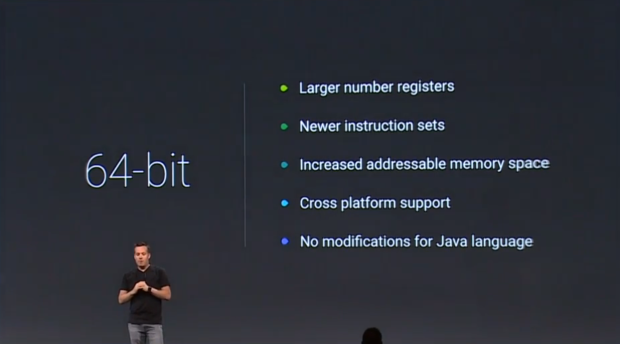 Android will be faster in all scenarios with 64-bit support and ART. It's all rather technical, but it just means less memory and battery will be used, while Android can access and do more things at once, all while being faster and more efficient. This will ensure future versions of Android can access more than 4GB of RAM, if needed (Galaxy Note 3 has 3GB) and keep future devices fast and responsive.
Android Everywhere
Android isn't technically everywhere, but today at Google I/O the company announced Android TV, Android Auto, and they're even aiming to bring the same continuity we saw with iOS 8 to the Chrome OS. Meaning you'll see incoming calls and texts on your Chromebook (and hopefully in Chrome Browser on other operating systems) and even run all of our favorite Android apps right on your Chromebook.
Android TV was a major part of the show, and hopefully after two failed attempts in the living room Android TV will succeed with Google TV and the Nexus Q failed. Taking a similar less is more approach as the wildly popular Chromecast, Android TV will be very similar to what we see from the Amazon Fire TV, Apple TV, and others. A system build for content consumption from 10 feet away, yet you'll be able to play all your games and apps on your TV too.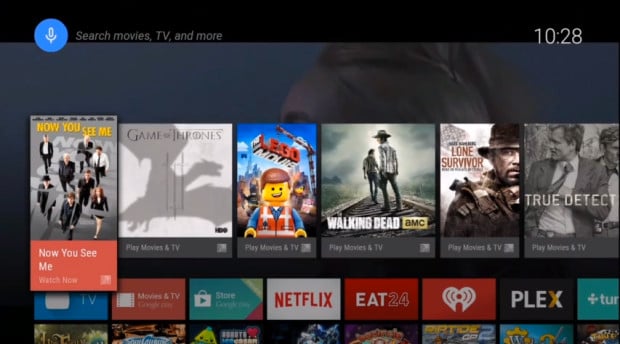 The biggest parts of Android TV are Google Search, and essentially the power of voice search with Google Now. Search for anything and everything all on your TV, or your smartphone which can pair and control your TV. There's no setbox needed if you have an Android TV either, which is coming from multiple manufacturers this year and in early 2015.
Android TV also offers gaming support. Playing on your tablet or with a game controller you can access any game or app from your device on your TV. Gameloft just announced nine games enhanced for Android TV gaming, and other popular games like Riptide GP2 already are supporting Android TV.
At Google I/O we also learned AndroidOne is a new project aimed at devices under $100 for developer countries like India, there's unified multi-tasking throughout Android, remote wipe and security "kill switch" was confirmed, and even a new Google Fit project is under way that we'll be learning about in the future. All of this will be tied to Android, and the new L release, and we'll have more details soon.