5 Awesome iPhone Music Accessories
The iPhone replaced the iPod for playing music because nobody wants to carry two devices. The 5 great iPhone music accessories below turn up the volume and transform the iPhone into more than just a personal audio device. Throw the terrible Apple earbuds in your junk gadget drawer and get the accessories below to enjoy music, audio books and podcasts in every situation. Our roundup of devices will help users enjoy their music at home or on the go. With these devices you can share music with your friends, family or co-workers. Or you can listen in isolation.
Braven Fuse Wireless Audio Mixer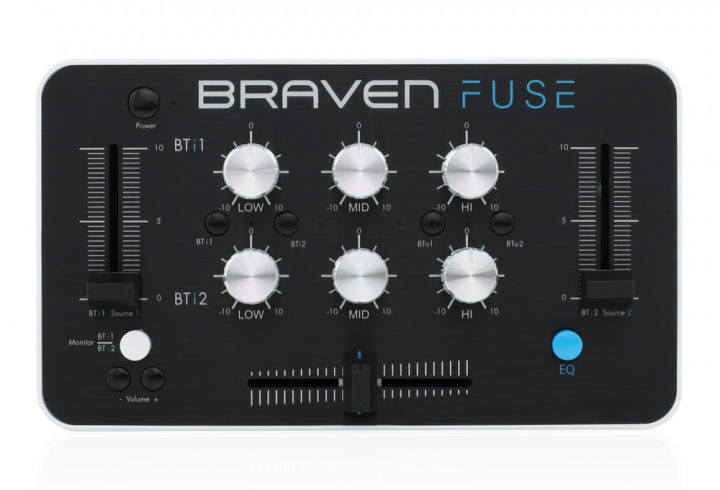 The Braven Fuse Wireless Audio Mixer will pair with two smart phones and mix the audio between the two phones without having to disconnect and reconnect either phone. Become the party DJ with two phones driving music to the Braven Fuse Wireless Audio Mixer which connects to speakers via the 3.5mm jack or Bluetooth.
The phone owner can cue up the song on her phone and, as one song finishes, she can start playing the next song on the other phone and fade from one to the other like a pro.
The Braven Fuse Wireless Audio Mixer pairs with any Bluetooth audio source including iPhone, Android phones, most tablets or even computers. It also connects to Braven's other products such as the awesome Braven's 850 and 855 battery-powered Bluetooth speakers. Hook up to two Braven speakers for full stereo sound that fills a large room or your whole yard.
I tried to hook the Fuse up to a Bluetooth speaker from another company and it didn't work, so Braven's doing something proprietary to transfer the audio from the phone to the speaker through the mixer.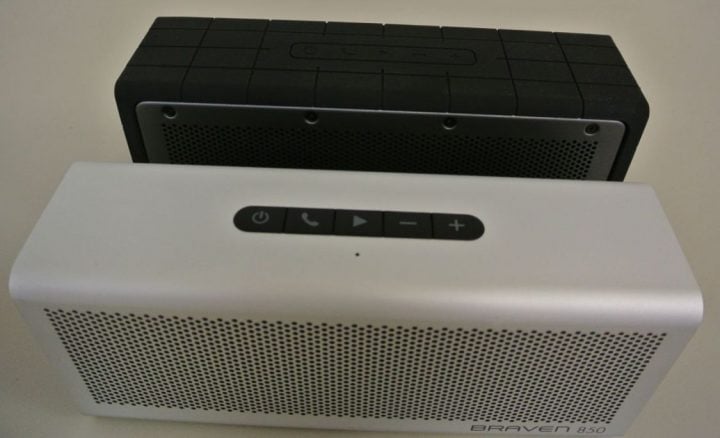 The mixer offers two channels with low, mid and high frequency adjustments on each. The volume adjustment slider lets the DJ smoothly transition between songs on either phone.
The mixer only weighs 7 ounces and measures just 5.91-inches x 3.37-inches x 1.18-inches, which makes it small enough for a pocket or purse. It comes with a nice carrying case with drawstrings.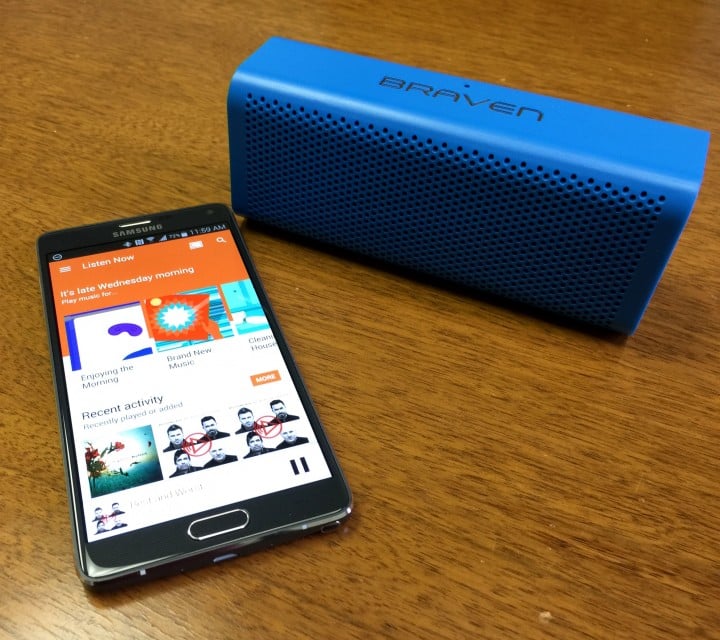 This mixer plus a Braven speaker or two doesn't come cheap. The Fuse mixer costs $100. The cheapest option, which we love, is the Braven 705 (shown above), costs $99.99. To get fuller stereo sound, you'll need two speakers. I looked around for portable mixers and most of them cost more than $100 and a lot of them don't include battery power. If you don't want to spend $300, look into some wired speakers and hook them up to the stereo output port.
Braven Balance Bluetooth Waterproof Speaker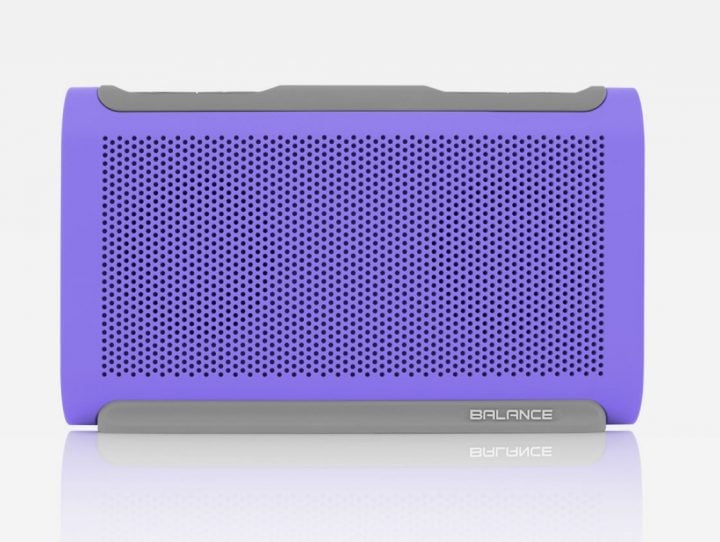 If you get the Braven Fuse, you'll need a Braven speaker. Aside from the two mentioned above, take a look at the Braven Balance Bluetooth waterproof outdoor/indoor speaker. It's battery-powered, comes in multiple color options and sounds great with nice base and clear sound quality.
The speaker comes with an IPX7 waterproof rating meaning you can drop it in the shallow end of the pool or let it get rained on without it failing.
The boost mode increases the volume for outdoor settings. Turning it off provides better indoor sound.

Users can play on battery power for up to 18 hours. After that, you can plug into your phone to charge while playing music. It also lets users answer calls thanks to the A2DP spec. A 3.5mm input also lets other users plug in without connecting to Bluetooth.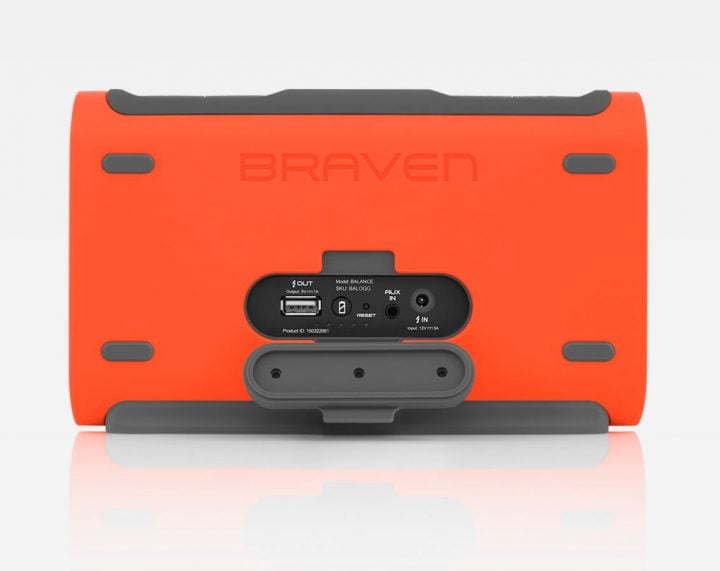 The ports on the back get covered by a rubber flap that keeps out the water and sand at the beach.
The Braven Balance speakers will set you back $129.99. They're available in bright colors like yellow, orange, pink, and purple as well as white and black.
Samson RTE 2 and RTE X Wireless Bluetooth Headphones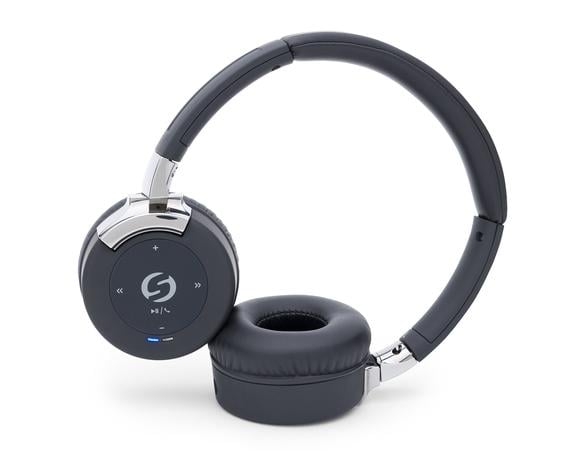 So many companies make Bluetooth earbuds and headphones, it's hard to figure out which ones to get. The Samson RTE 2 Wireless Bluetooth Headphones sound great and fit comfortably on ear. In fact the cans feel better than any other set of headphones I've tested in a long time.
The headphones connect easily and reliably via Bluetooth. The range keeps them connected from across a medium-sized room without any distortion or dropping of sounds.
The speakers charge via the micro-USB port on the right side. If the battery dies, they can be used as wired headphones with the included 3.5mm stereo cable. The right can holds play/pause controls for music and for answering calls. I listen to a lot of podcasts using PocketCasts and the forward button skips 30 seconds, great for skipping the annoying ads.
The Samson RTE 2 headphones replaced my favorites going forward.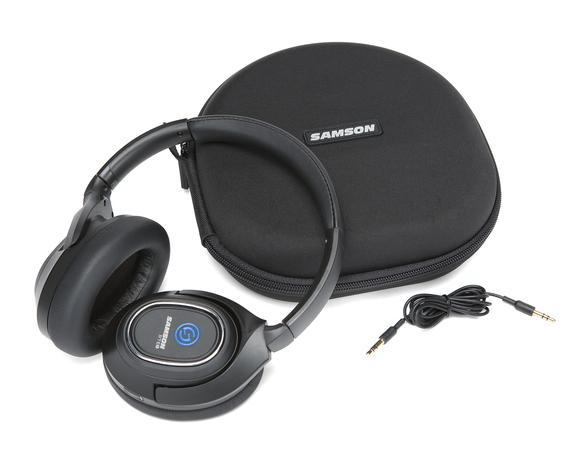 People who need noise-canceling will enjoy the company's Samson RTE X wired headphones with active noise-canceling. They also sound great, fit great and add decent noise-canceling to keep the wearer focused on the music and the task at hand.
Both sets of headphones come with a hard carrying case with a zipper to close it. The molded interior holds the headphones in place. The cans retract to adjust to the person's head and then swivel so they fit flat in the carrying case.
The RTE 2 headphones retail for $150, but Amazon sells them now for only $56. The RTE X cost more on Amazon at $99.99.
Chromecast Audio
Most people think of the Chromecast Audio as a Google Android device, but it also works with iPhone thanks to the Chromecast iOS app and other apps that support it. The Chromecast Audio connects to speakers or a stereo using the included 3.5mm cable. Connect the Chromecast Audio to any device with an audio input to wirelessly play music or audio from that device.
When you buy a Chromecast Audio for $35 you get some special Google offers. For example, buyers can get 90 days of free Google Play Music which includes YouTube Red, the ad-free video streaming service. This offer is only available to new Google Play Music subscribers. They also offer a free month of CBS All Access and Sling TV.
Apple AirPort Express
The Apple AirPort Express ($99) uses AirPlay to receive audio from an iPhone or iPad and send it to a set of speakers connected via the 3.5mm jack on the back. You could also connect it to another audio playing device like a stereo.
You'll need the iPhone's AirPort Utility to configure the AirPort Express to connect to your local wireless network. Alternately, it will work as your Wi-Fi network if you hook it up to your ISP modem using an Ethernet cable. Plug in the speakers or stereo system to the 3.5mm jack and then stream audio from the iPhone using AirPlay.

As an Amazon Associate I earn from qualifying purchases.