5 Battery Alternatives to the Mophie Juice Pack Helium for iPhone 5
The long-awaited Mophie battery case for the iPhone 5 is finally available for order, but it might not be the best option for those looking for extra battery life. Though it's the lightest Mophie iPhone case yet, it's still bulky and there are too many trade-offs for some iPhone 5 users. Fortunately, there's no shortage of alternatives, especially if you're willing to wait for some of the power solutions introduced at CES 2013 last month.
The iPhone 5 battery has a capacity of 1,440 mAh, which is enough to get through the day for most users. However, it's not always enough for those that like to crank up screen brightness, play games and use battery-hungry features like GPS. The only real solution for these iPhone users is to recharge at some point in the day. The Mophie Juice Pack Helium makes it easy to recharge on the go since it's already attached to iPhone that's gasping for more juice, but users should thick twice before ladening their slim phones with this battery pack.
The Mophie Helium is the thinnest iPhone case Mophie's ever produced, but it still nearly doubles the iPhone 5's thickness from .30″ to .59″. It also adds .62″ to the height of the iPhone 5, largely due to the case's extended base, which houses a Lightning connector that slides into the iPhone 5, as well as a Micro USB port for charging both the case and the phone. All that bulk might be worth it if you're absolutely sure you'll need the extra battery every day, but it's really frustrating to lug an iPhone around in a Mophie case on days when the extra power isn't needed.
The Mophie iPhone 5 case is rated to charge the iPhone's internal battery up to 80%. That might be enough for some users, but those who truly don't want to worry about battery life should take a look at one of Mophie's external batteries, or options from other brands.
There are a few other things people should be aware of before buying a Mophie Helium. While the Micro USB cable will allow the iPhone 5 to both charge and sync to a computer, the case needs to come off in order to use Lighting accessories such as docks and car adapters.  Some headphone jacks won't fit through the hole on the bottom of the case, which means users may be stuck carrying around Mophie's included headphone cable adapter.  Mophie's iPhone cases are designed to protect, but they aren't as rugged as offerings from OtterBox, tech21, LifeProof, Incipio and others that build cases designed to be banged around. 
Here are five alternatives to the Mophie Helium for iPhone 5:
Mophie Juice Pack Powerstation 
This extra battery packs more 4,000 mAh of energy, nearly three times the capacity of the Mophie Helium and enough to charge the iPhone 5 twice. The Juice Pack Powerstation can charge just about any mobile device, including iPads, iPods and Bluetooth headsets. It's about the same size and weight as an iPhone 3GS, which means you will definitely notice it in your pants pocket. We recommend stowing the Powerstation in a purse, laptop bag or coat pocket until your iPhone 5 is ready for a recharge. A Micro USB cable is required to charge the Powerstation, but you can use a Lightning cable to charge your iPhone 5 or iPad. The Juice Pack Powerstation has a sticker price of $79.99, but can be found for $63.99 at Amazon.com. 
Third Rail Battery Case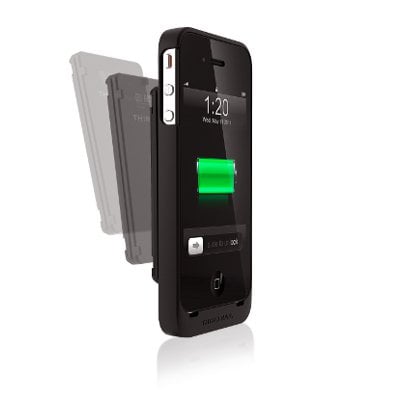 Third Rail hasn't officially announced when its iPhone 5 case will ship, but company representatives promise that it's coming soon. We loved the Third Rail case for the iPhone 4/4S because it stayed about as thin as a standard iPhone case until the low battery warning popped up. Only then did we have to pop on a removable battery for extra juice. The Third Rail Fuel batteries pack 1250 mAh of energy each and can be stacked onto the back of the iPhone when needed. Multiple batteries can be stacked up, so they can be charged through a single Micro USB cable. Each battery comes with an adapter that provides a standard USB port for charging other devices, such as headsets, iPods and cameras. Third Rail users can easily loan their spare batteries to friends and colleagues who are running low on juice.  
Innergie PocketCell Duo
The Innergie PocketCell Duo is our favorite external battery solution at the moment. The company provided us with a sample unit at CES 2013 and it packs an incredible amount of energy into a tiny package. Boasting a whopping 6,800 mAh, the PocketCell Duo has enough energy to recharge an iPhone 5 three to four times.  It has two USB ports, allowing users to charge two devices at once. It comes with a single cable that works with older iPhones, Mini USB and Micro USB compatible devices. Some users will be able to go a full work week without plugging into a wall charger thanks to the PocketCell Duo.
The Innergie PocketCell Duo will be available soon for $99.99.
Incipio offGRID PRO
The offGrid Pro looks similar to the Mophie Helium, but there are some major advantages to Incipio's $99 battery case. Users can buy extra 2000 mAh batteries and swap them in and out of the offGRID Pro as needed. The case can also be used to charge other devices thanks to a USB port. If you're going to go with a case that adds a bunch of bulk to the iPhone, you might as well get one that's more versatile than the Mophie. 
The Incipio offGrid Pro will be available in late February. A version of the case, dubbed the offGrid PRO Plus, will come with an extra battery and an international power adapter.
Nectar Mobile Power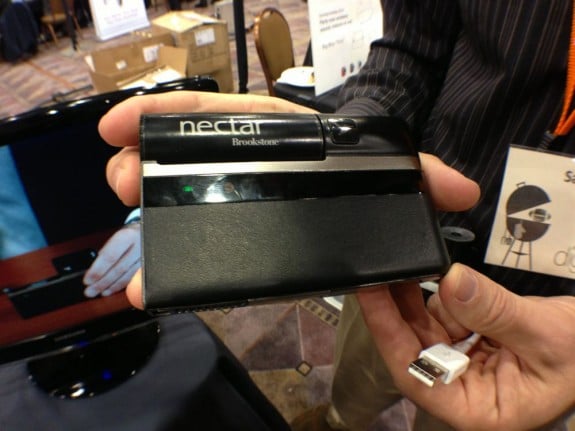 Most people can manage to get through the day without killing their iPhone 5's battery, especially if they top up from time to time while driving or sitting at a desk. But what if you're going some place where electricity outlets are scarce for more than a day or two? The Nectar Mobile Power solution could be the perfect iPhone 5 accessory for extended power outages or when traveling away from the grid. The system is much larger than the alternatives listed above, but it's justified since it never needs to be plugged in. It utilizes butane cartridges that cost $10 each and deliver 55,000 mWh of energy. That's enough to power an iPhone for up to two weeks, according to the company.
The cost of the cartridges could add up if used on a daily basis, but it might be worth it for those who can't count on power outlets.

As an Amazon Associate I earn from qualifying purchases.