5 Best AT&T Phones [August, 2014]
If you're looking for a brand new AT&T phone this month you're going to encounter a number of fantastic options. For some of you, narrowing down those options is going to be a difficult task so we want to help whittle them down for you. Here, we take a look at the devices we think make up the five best AT&T phones for the month of August.
As head deeper into the year towards the fall, we're starting to hear about some of the big name smartphones that could potentially tempt upgrades later this year.
Devices like the rumored iPhone 6 and Samsung Galaxy Note 4 are expected to touch down in just a few short weeks to replace current versions of the iPhone and Galaxy Note. Rumors also suggest that we could see the Nexus 6 arrive later on this year, perhaps alongside Google's brand new Android L update that's currently in beta form.
Thing is, not everyone can wait for the iPhone 6 or the Samsung Galaxy Note 4. A number of you might be in need of a brand new AT&T phone in the month of August. If that's the case, you have come to the right place because we want to help get you on the right track as far as your purchase is concerned.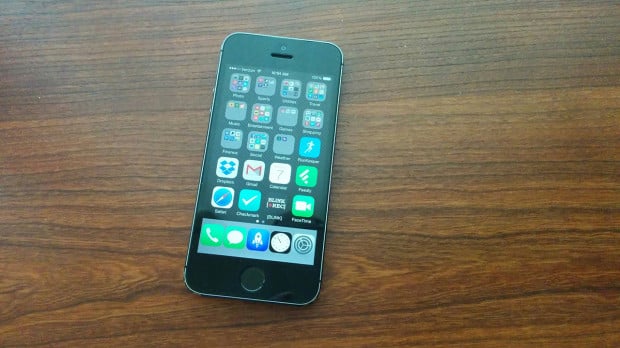 We are constantly bombarded with questions about which phones to buy. In particular, we're constantly asked about the best AT&T phones that money can buy. There are a number of different devices that we could recommend, the smartphone market is full of solid choices, but we want to narrow things down a bit and take a look at what we consider to be the top five.
These AT&T phones represent the devices that we'd recommend to friends and family. And while our list may differ from yours, these are the devices that Gotta Be Mobile editors have selected for recognition this month. We feel like the devices listed here deliver the best, all-around package for this month and this month alone.
With that in mind, here now are the five devices we think are the five best AT&T phones for this month.
iPhone 5s
As we push deeper into the year, it's pretty clear that the iPhone 6 release will land some time in the fall. What this means is that the iPhone 5s will remain Apple's top option on AT&T in the month of August and in the weeks moving forward. Not that there is anything wrong with that.
While the price of the iPhone 5s hasn't seen a significant drop since it was released back in September, it's still a device that lives up to its premium price point.
One thing to note. Apple may not be offering a discount on the iPhone 5s but we're starting to see retailers slash the price of the iPhone 5s. Recently, Walmart permanently chopped the price of the iPhone 5s and several other well known retailers have offered deals.
Its price and its industrial design, Retina Display, 8MP iSight camera, 64-bit processor, and iOS 7 software should help to put the iPhone 5s near the top of shoppers lists during the month of August.

As an Amazon Associate I earn from qualifying purchases.