5 Best AT&T Phones [December, 2014]
Those of you looking to buy a new AT&T phone this month drew a tough assignment because the carrier's lineup is chock full of excellent devices. With that in mind, we want to help those of you that need help and here, we take a look at the devices we think are the five best AT&T phones money can buy in the month of December.
Over the past year, we've seen U.S. carriers unleash a number of big time smartphones. The Samsung Galaxy S5 and HTC One M8 set the tone early in the year. More recently, its been devices like the iPhone 6 and iPhone 6 Plus, LG G3, Samsung Galaxy Note 4, and Moto X that have lured in consumers looking for a brand new device on AT&T's network.
That kind of choice presents problems for anyone and particularly for those that aren't caught up with the latest devices. And as we pointed out, there are a lot of them. Many of AT&T's smartphones share similar hardware and many offer similar software features under different names. Seeking out the best smartphones can be a difficult assignment and that's why we're here to help.
We are constantly bombarded with questions about the best AT&T phones money can buy. There are a number of different devices that we could recommend, the carrier's shelves are full of solid choices, but we want to narrow things down a bit and take a look at what we consider to be the top five best AT&T smartphones available.
These devices represent the devices that we'd recommend to friends and family. And while our list may differ from yours, these are the devices that Gotta Be Mobile editors have selected for recognition this month. We feel like the devices listed here deliver the best, all-around package for this month and this month alone.
With that in mind, here are the five best AT&T phones for December, 2014.
Samsung Galaxy Note 4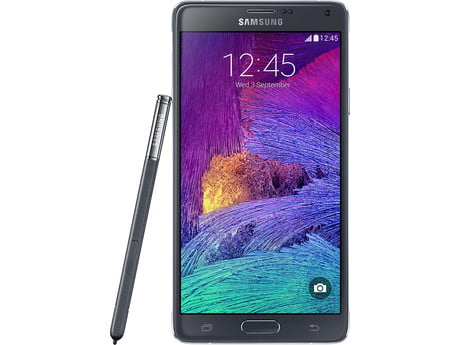 AT&T's Samsung Galaxy Note 4 is a massive step up from last year's Galaxy Note 3. It features a beautiful display with new S Pen features and a fantastic camera. While it's on the expensive side, it's a device that is in the top tier of smartphones this month. We even like it better than the carrier's Samsung Galaxy S5.
Samsung's new Galaxy Note 4 arrived in October to great fanfare and it's as good as advertised. It offers you a massive 5.7-inch Quad HD display, an improved design that combines plastic with metal, a camera with Optical Image Stabilization, and a speedy processor that's capable of providing excellent multitasking and gaming.
We still haven't seen any massive AT&T Galaxy Note 4 price drops emerge just yet but we should start to see the AT&T Galaxy Note 4 price start to drop as we push into the new year. Before settling, be sure to check out our full Samsung Galaxy Note 4 review for more information.

As an Amazon Associate I earn from qualifying purchases.