5 Best Chromebooks for 2017
The Chromebook comes of age in 2017 thanks to some beautiful hardware designs and the Android apps available on every Chromebook released this year. We've got our list of the five best Chromebooks for 2017 so far.
Google surprised the Chromebook market when they quit selling their high-end Chromebook Pixel last year. Fans who want a Chromebook with some high-end hardware had to pick one up on the second-hand market or look elsewhere. Now, in 2017, they have some options that compare favorably to the Chromebook Pixel, but don't cost nearly as much.
Samsung Chromebook Plus and Samsung Chromebook Pro
We're counting these two Chromebooks as one because they resemble each other in every way except for two key details. First, there's the name difference. Second, the Pro uses an Intel Core m3 processor while the Plus has Samsung's ARM processor. That makes the Pro faster than the Plus, but it also reduces battery life a little from about 12 hours on the Plus to closer to 9 hours for the Pro. These features add up to make the new Samsung Chromebooks two of the best Chromebooks for 2017.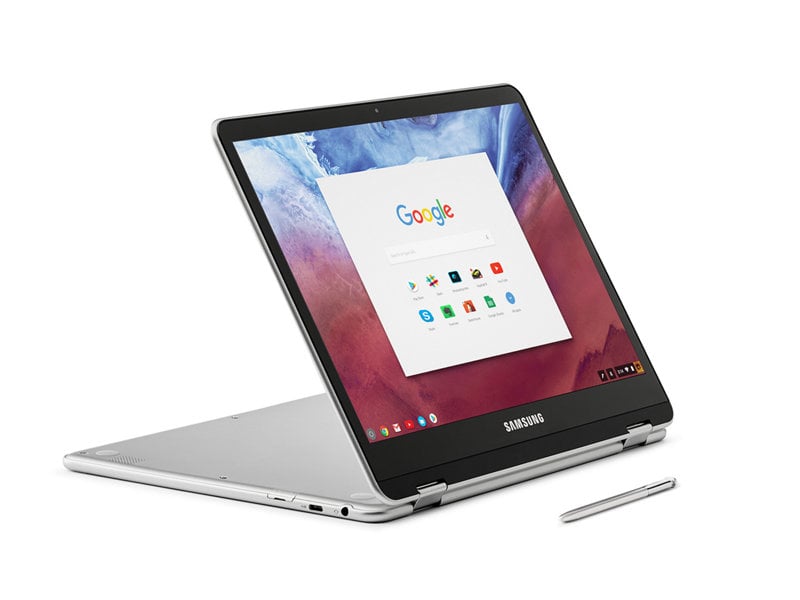 The Samsung Chromebook Plus/Pro comes in a beautiful aluminum chassis with a 12.3-inch screen that's beautifully bright and sharp. It has a 2400 x 1600 resolution and a 3:2 aspect ratio. The aspect ratio makes it a great choice for use as a tablet with the Chromebooks' convertible design. The system runs at an effective resolution of 1200 x 800 thanks to the scaling handled by ChromeOS, but users can make full use of the higher level if they want. However, text will appear microscopic in many cases.
Samsung sets their newest Chromebook apart from the others by giving it the S Pen stylus that used to only come on the Samsung Galaxy Note smart phones and tablets. This makes it the best choice for students, business people, and artists. Students and business people can use it to take notes or draw diagrams while artists can sketch or paint with it. The stereo speakers face down and do not produce as much sound, which becomes a problem in loud rooms.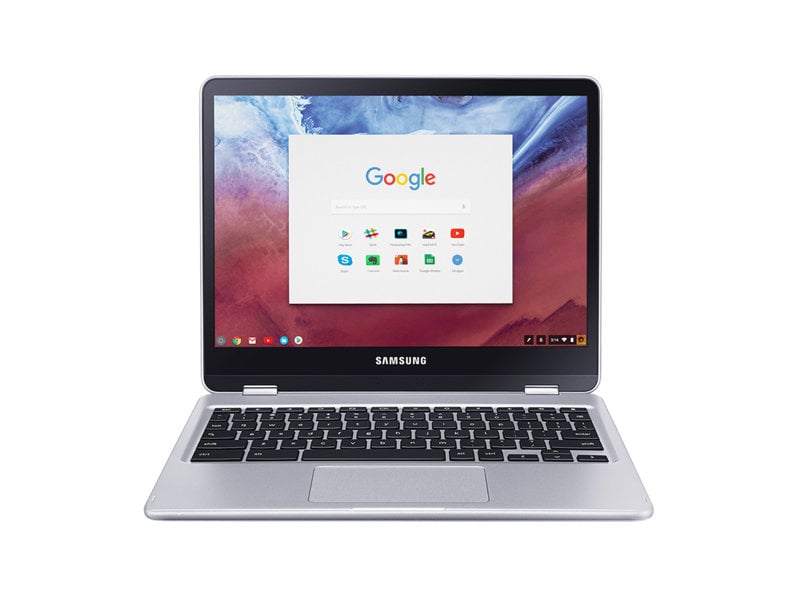 Other key specs include the following:
Processor: Hexa-core Dual ARM Cortex A72 or Quad Cortex A52 for Plus and Intel Core m3 for Pro
Display: 12.3-inch 2400 x 1600 resolution, touchscreen with active stylus S-Pen feature and 3:2 aspect ratio
Memory: 4GB
Storage: 32GB eMMC flash storage
Graphics: Integrated
Sound and Camera: Built-in stereo speakers and 720 webcam, internal mic and a combo audio port
Wireless: 802.11ac Wi-Fi and Bluetooth 4.0
Ports: 2 USB-C ports, 1 combo audio port, micro-SD card slot
Input: S-Pen, Touchscreen, Keyboard and Trackpad
Battery Life: Up to 12 hours for Plus and up to 9 hours for Pro
Get the Samsung Chromebook Plus now for $449.99 direct from Samsung. The Samsung Chromebook Pro becomes available in April 2017.
https://www.youtube.com/watch?v=cCcKYUtBxJ8
HP Chromebook 13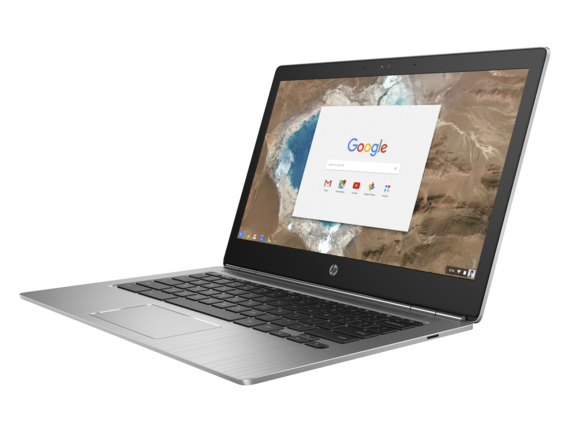 HP brings us another high-end Chromebook costing just over $500.  The HP Chromebook 13 with its beautiful brushed aluminum design is slightly larger than the Samsung above at 13-inches. It adds something that aficionados of the best Chromebooks miss in the Samsung, a backlit keyboard.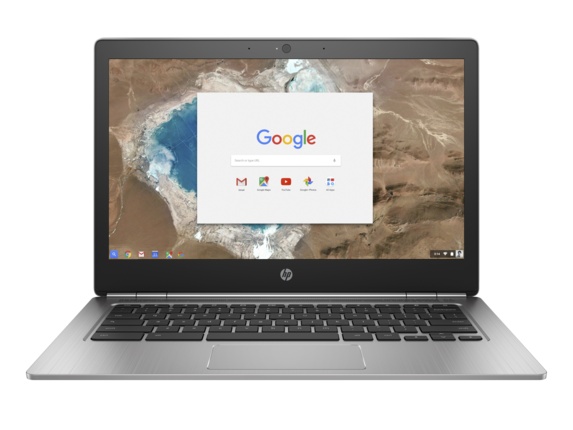 The 13-inch screen doesn't fold back to use in tablet mode like the others, but it does sport an amazing 3200 x 1800 resolution in even the least expensive version. That's going to give users some amazingly sharp text and images. Some lower priced models will only ship with a 1920 x 108o, however.
HP threw in an Intel Core m7 processor in the high-end model and 16GB of memory for over-the-top performance. The price also jumps to nearly $2000 making the old Chromebook Pixel look like a bargain. Don't worry, because the models that cost between $500-$700 will run fast, too.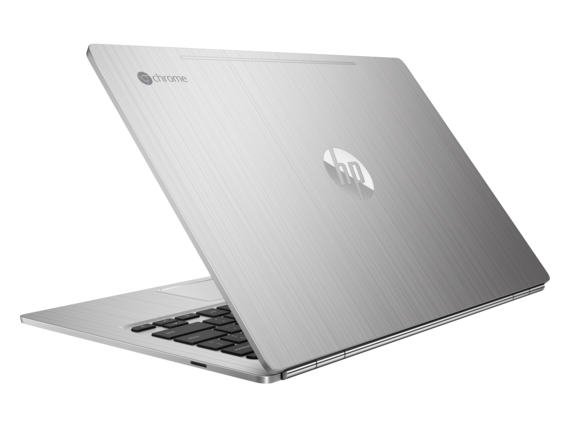 You'll also enjoy a long battery life at over 11 hours (advertised). Check out the rest of the specs below:
Processor: Intel Pentium up to and Intel Core m7 processor
Memory: 4GB up to 16GB
Storage: 32GB eMMC flash storage
Graphics: Intel HD Graphics 515
Ports: 2 USB-C ports, 1 USB 3.1 port, 1 SD-card slot, and 1 combo audio port
Audio and Camera: stereo speakers and HD TrueVision Camera
Input: Keyboard and Trackpad
Acer Chromebook 14
The Acer Chromebook 14 offers one of the best Chromebooks for people on a budget who still want a larger machine. This one costs just $263.99 at CDW and under $300 at the other online stores we checked. In addition to a low price, it also sports a beautiful brushed aluminum design with a nice 14-inch IPS display.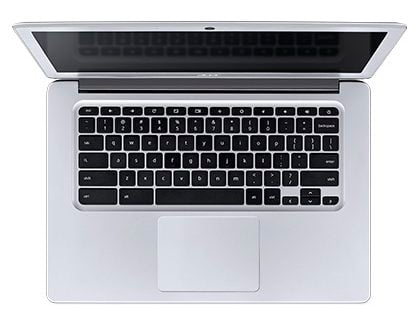 Acer advertises this Chromebook's durability as a primary feature. That makes it a good choice for the road warrior or her child. Thanks to the 12 hours of advertised battery life, the Acer Chromebook 14 should last long enough to get through the day for either of them.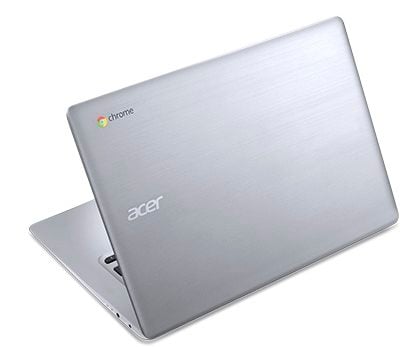 The base model ships with an Intel Celeron N3060 dual-core processor, 4GB of RAM and only 16GB of storage. The screen resolution comes in at 1280 x 720, a bit low for a 14-inch display. The keyboard and trackpad should give any touch typist plenty of room.
Instead of going with the lower priced model, choose the one with the higher full 1080p resolution screen, faster Intel Celeron 3160 dual-core processor and 32GB of storage. You can find it at Best Buy for only $27 more. You can also head over to Amazon and find it in Gold or Silver for under $300.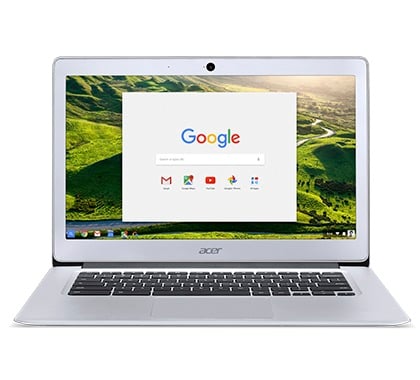 Detailed specs on the Acer Chromebook 14:
Intel Celeron processors with 3060 or 3160 dual-core available
4GB of RAM
16 or 32GB of storage
14-inch IPS display with resolution of 1280 x 720 or 1920 x 1080 powered by Intel HD Graphics 400
3.42lbs and .7-inches thin, 13.4-inches wide and 9.3-inches deep
Bluetooth 4.2 and 802.11ac Wi-Fi
HDMI out, headphone mic combo port, 2 USB 3.0 ports
12-hour 3-cell battery
ASUS Chromebook Flip C302A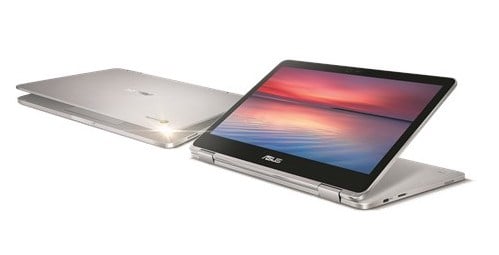 Acer updated their popular ASUC Chromebook Flip this year bring us the ASUS Chromebook Flip C302A. It's a $500 convertible touchscreen device that works well as an Android tablet and a Chromebook laptop for those who don't mind a tiny screen and keyboard.
It has a nice 12.5-inch touchscreen with a 1920 x 1080 resolution. The screen folds back almost 360 degrees to give users a tablet they can hold in their hands. It also functions in tent mode or stand mode for viewing content on the screen.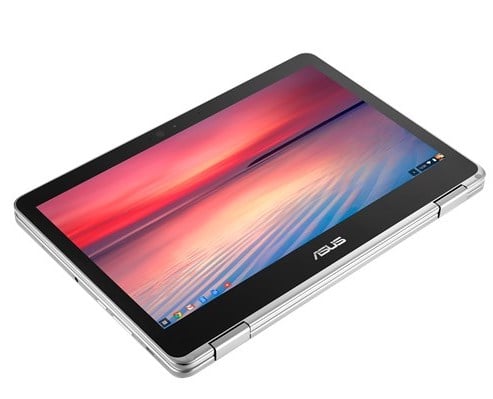 The larger screen, compared to the earlier model, works better in laptop mode. It's a big improvement over the old one, which felt too small for adults to type on or even view content.
ASUS also improved the keyboard. It works better and feels better to type on compared to last year's Flip. They also gave it a backlight.

Detailed specs list:
Intel Core M 6Y30, 6Y75 or Pentium 4405Y processors
4 or 8GB of RAM
32, 64 or 128GB of RAM
12.5-inch touchscreen with 1920 x 1080 resolution
Backlit chiclet style keyboard
802.11ac Wi-Fi and Bluetooth 4.0
2 USB-C ports, 1 micro-SD card slot and 1 audio combo port
2-cell battery with up to 10 hours of life
HD webcam
1.2lbs and 304x210x13.7cm dimensions
Dell Chromebook 11 (3189 Education 2-in-1)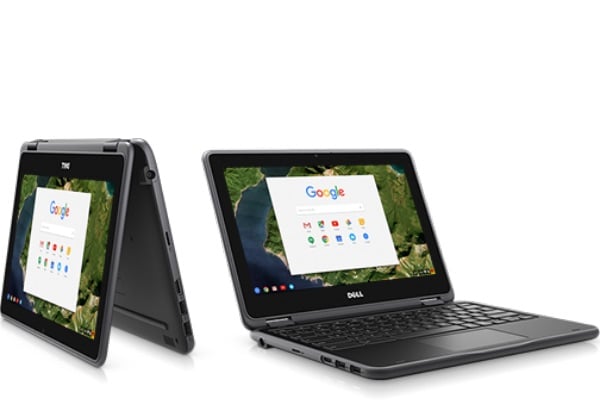 Dell makes the Dell Chromebook 11 3189 model for the education market, but it's a great option for home users as well. The convertible 2-in-1 design means it behaves as a nice ultra-portable laptop and converts to a tablet when you fold the screen back nearly 360 degrees.
The base model, $349 Dell Chromebook 11, has an 11.6-inch touchscreen display with a 1366 x 768 resolution. The screen is made with Corning Gorilla Glass for durability.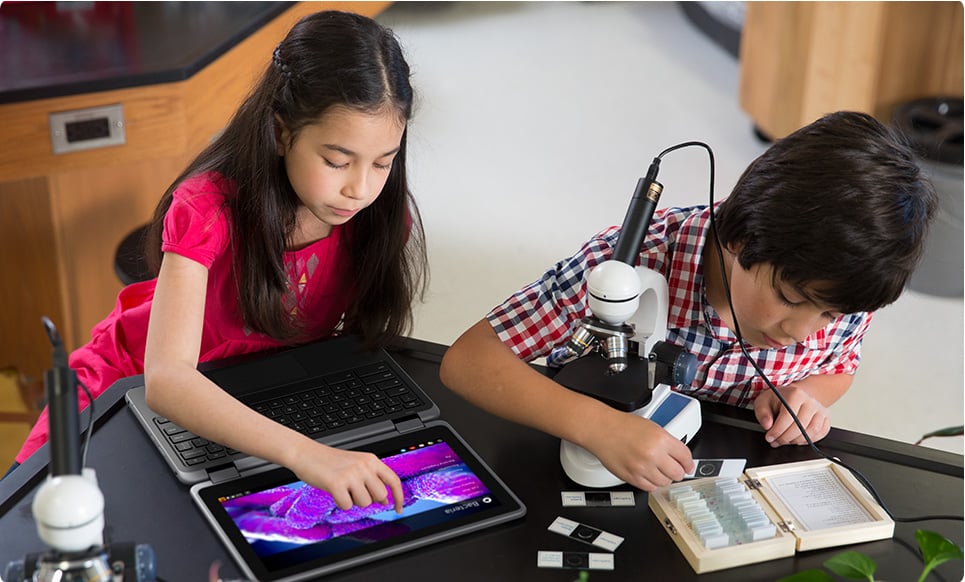 Dell ships with an Intel Celeron N3060 processor, 4GB of RAM and 16, 32 or 64GB of storage. The jumps in storage add $20 or $60 to the base price.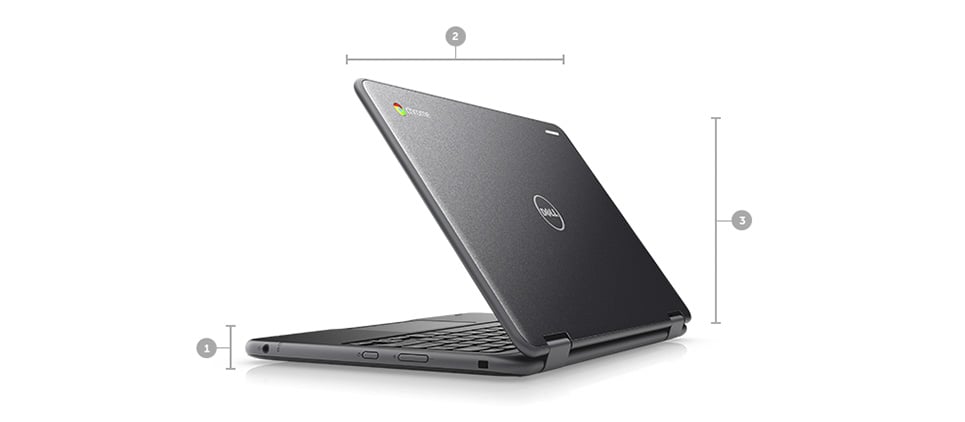 Detailed specs:
Intel Celeron N3060 processor
4GB of RAM
16, 32 or 64GB of storage
1366 x 768 touchscreen made with Corning Gorilla Glass
1 combo audio port, 1 HDMI, 2 USB-C ports, USB Card Reader
3.16lbs and 11.96-inches wide, 8.18-inches deep and .82-inches thick

As an Amazon Associate I earn from qualifying purchases.