5 Best Fantasy Football Apps for iPhone
If you're like me, you're already fired up for not only the real NFL season but the fantasy football season as well. The trash talk, the drama, the joy of watching your nemesis' first round pick miss several games, it all comes to life when fantasy football starts.
I've been playing since the days where you would call up some ridiculously overpriced phone number in order to make your moves for the week and it's crazy to think about how far the game has come.
We now have dedicated websites and sports stations dedicated huge segments to fantasy sports. And with the emergence of smartphones, we also have dedicated applications that we now rely on to manage our teams.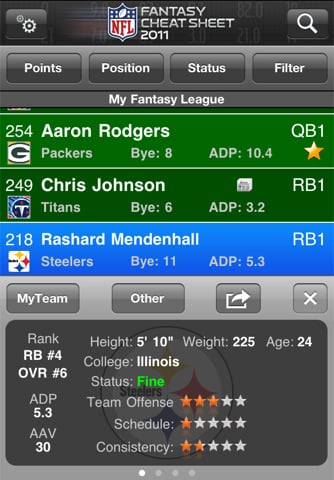 So, in order to help better your game, I wanted to tell you about five applications that I think are must have if you are operating a fantasy football team, or seven, this year.
NFL Fantasy Cheat Sheet 2011
Preparing for the draft is about as important as it gets in terms of a running a successful fantasy team. I had a friend win a league the very first year he joined because he did an absolute ton of research before the draft. It's important.
Luckily, the NFL has an official draft cheat sheet that isn't just a cheap marketing trick. This thing is actually useful and puts an assortment of pre-draft tools at your disposal including a pick recommendation engine that can help you decide between players, detailed player rankings and a consistency rating for every single player so you can figure out who gets lucky and who produces week in and week out.
It also has a ton of other stuff that makes its $3 asking price worth it, especially if you have more then pride on the line in your league.
You can find it here.
Yahoo! Fantasy Football '11
This was a toss up between the CBS app and the Yahoo! app. Both are average but I gave the nod to the Yahoo! app because of its user interface. It has always been a little easier for me to navigate. In any event, there are a lot of you out there that use Yahoo! to play fantasy football and if that's you, you're going to want to download this application for your iPhone.
This year's app includes real time roster scoring which is fantastic for those of you who love watching the games on a tiny screen in bed trying to avoid having a heart attack by watching the actual games on TV.
You can also easily add and drop players which is essential in case you see one of of your running backs get hurt and you need to quickly snag his back up. I'm looking at you, Ryan Grant.
Get it here for free.
ESPN Fantasy Football 2011
ESPN actually just released its application today so I haven't been able to poke around as much as I'd like but from what I can tell, it's a solid offering that is going to please those of you who use ESPN for your fantasy needs.
It essentially has all the same features as the Yahoo! app but it does have links and content from ESPN itself whose sports coverage is second to none. That puts it above the CBS app in my opinion.
Snag it for free, here.
Fantasy Football Monster '11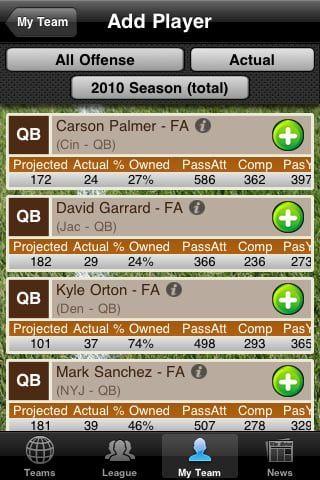 If you're one of those people who has about nineteen different teams on different websites, then you're probably want to check out Fantasy Football Monster '11 which is available in both free and paid flavors. What the app does is allows you to manage your ESPN, Yahoo!, or NFL.com fantasy teams all in one application. Switching between the three can be a nightmare and this app is an absolute life saver.
It works well and it saves you a lot of time and it's all about taking shortcuts to victory in fantasy sports.
You can find the paid version here and the free one here.
Fantasy Football Insider
OK, here's something a little different.
If you live, eat, sweat, sleep, breathe, and talk fantasy football on a daily basis, I can think of no better application for your iPhone than Fantasy Football Insider from Pro Football Weekly, an app that is just a smorgasbord of fantasy stats, news, rankings, advice, you name it. It's free but there there is also premium content available if you're a Pro Football Weekly subscriber.
You can find it, for free, here.