The iPad is a great entertainment device, but it's also a fantastic tool for many different professions. Here are the five best iPad music apps that are worth checking out.
Whether you take music seriously or treat it as a way to just have some fun, there are a bevy of music apps that can help you either way. There are apps that provide a great interface for digitizing and storing all of your chord sheets, and there are music apps that are simply just fun to use.
Plus, there are a ton of music apps that let you create your own music right from the app, whether it's an in-depth music maker or just a simple music app that lets you create simple beats.
There's no wrong way to enjoy music, but there are certain music apps that are better than the others. Here are five of some of the best iPad music apps.
GarageBand
This one is a pretty obvious choice. Apple hit it out of the park with GarageBand, and it's one of the most popular music apps for the iPad, allowing users to create their own music right from within the app.
Even if you're not musically inclined, GarageBand is really easy to use, and you can use the app's built-in smart functionality to create songs with ease. You can also put a bit more difficulty in it if you know a thing or two about music, and play the guitar, piano, or drums for real right in the app.
GarageBand is a completely free app, which is quite impressive considering how feature filled it is.
OnSong
If you're serious about music and want to take your chord sheets to the next level, OnSong is the perfect app to do so.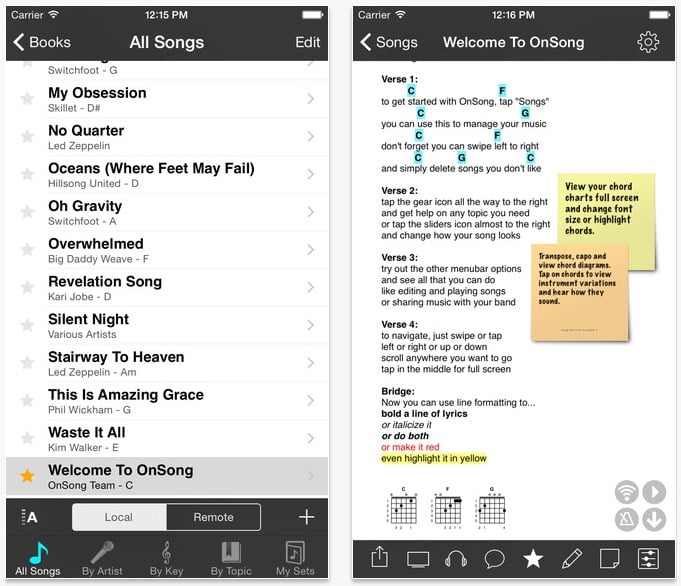 OnSong lets you store all of your chord sheets digitally, with the ability to flip through them quickly and even search for a specific song or filter out specific songs when you're browsing through them.
Not only that, but once you open up a chord sheet, you can transpose and highlight chords or change the font size.
You can also set up setlists and then send them wirelessly to other band members. Overall, it's an app that's meant for a true musician and it makes being one so much easier. It's a bit pricy at $14.99, but well worth it for any serious musician.
djay 2
If you like mixing records and dream to one day be a DJ, djay 2 is an iPad app that lets you be your very own DJ.
Of course, the makers of the app say that it's an app great for both beginners and actual DJs, so whether you like to just have fun or actually spin the discs professionally, djay 2 is one of the best apps for either side.
djay 2 integrates with your iTunes library and even Spotify, allowing you to take songs and mix them up to your liking. There are even audio effects that you can add to give the music even more of a kick.
Overall, it's a fun app to play around with, but the $9.99 price tag might be having you up in the air.
Loopy HD
Another app that's fun to play around with is Loopy HD, which lets you create song using just your voice.
You can record and layer sounds to create a full song. Maybe start with a drum beat and then bring a hi-hat, followed by a melody with a guitar. It essentially allows you to create an a capella band all by yourself with the help of the app.
You may have already seen the app in action if you watch Jimmy Fallon, in which him and Billy Joel use the app to sing a classic tune.
Cleartune
Most musicians will usually have a guitar tuner with them, but if you happened to forget it and are in a pinch, Cleartune can do the trick.
Cleartune is a guitar tuner that you can use to tune your guitar perfectly. The app uses your iPad's mic to listen for your instrument and tell you if it's flat or sharp. From there, you can make an adjustment if need be.
The app hasn't been updated since 2012, which is usually a bad sign for any mobile app, but Cleartune still works perfectly fine and it gets the job done.

This article may contain affiliate links. Click here for more details.