5 Best Mac Backup Options
Backing up all of the files on your computer is one of the most important things you should do when it comes to computer maintenance. Here are five backup options for Mac that you should take advantage of.
There are different kinds of backup methods that you can use. Perhaps one of the easiest options is setting up automatic backups to an external hard drive that you have plugged in, but you can also backup all of your files to an online server as a safe off-site solution in case there's a fire or a theft. Whatever method you decide to use, here are some of the best Mac backup options available that you can pick and decide on.
Time Machine
If you want to have your Mac automatically back up your computer to an external hard drive, OS X's built-in Time Machine utility is the way to go.
Setting up Time Machine is as easy as selecting the hard drive you want to back up to and flipping the On switch. There are a couple of advanced settings that you can take advantage of, such as selecting certain folders that you don't want backed up and the option to back up while on your MacBook is one battery power.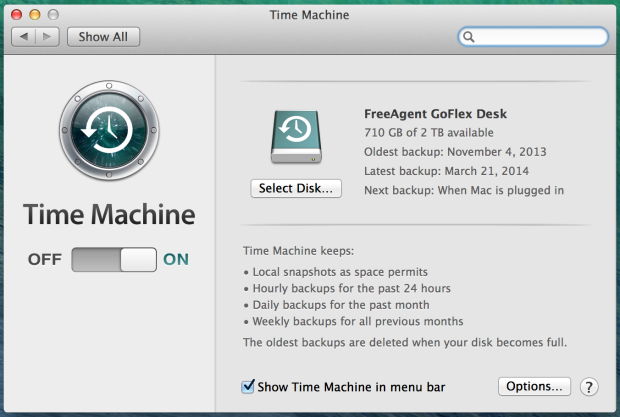 Once it's ready to go, Time Machine will begin automatically backing up your computer at various intervals throughout the day, and once your external hard drive starts getting full, Time Machine will automatically delete older backups to make room for newer backups.
Crashplan
Crashplan is perhaps one of the most popular online backup services around, and you can get a plan for as low as $4 per month, though you'll need to lock in a 4-year subscription to get that price. Crashplan allows you to backup your files to unlimited online storage, as well as the ability to back up to other computers on your home network.
If you have too much data that needs backed up (in other words, 2TB would literally take days to upload to online servers), Crashplan can actually send you a hard drive to back up to, and then you can send it back to them to be safely stored. The same goes for restoring  backups: Crashplan can send you the hard drive if your backup so that you can restore it to your computer, and then you just send the hard drive back to them.
Carbonite
Carbonite is another popular online backup option that has competitive prices. It allows you to backup files from your computer and even allows you to backup files that are stored on your external hard drives.
Just like Crashplan, Carbonite can also send you a hard drive to back up to or restore from, but Carbonite requires a Personal Prime subscription in order to do this, which is a whopping $150 per year, per computer.
Online backup services certainly aren't the cheapest options, but they give you the best piece of mind, considering that a theft or a fire on your premises won't deter your backed up files.
Dropbox
Dropbox is mainly seen as a cloud storage solution that simply allows you to access your files from any computer or mobile device, but it can also be used as a traditional backup method, especially for photos and videos.
You can simply create folders and drag-and-drop files into the folders to have them backed up to the cloud, so if you're computer crashes, these files will still be safe.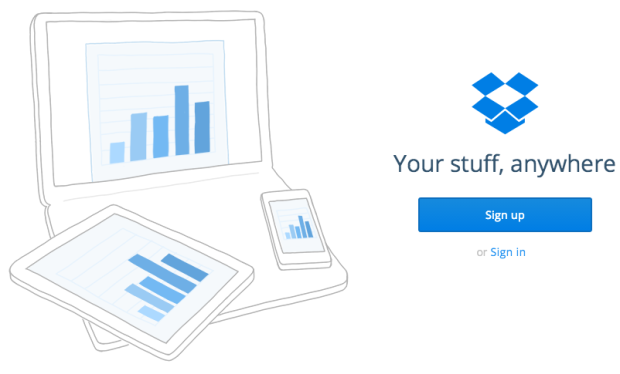 One great way to automatically have all photos and videos that you take with your smartphone backed up is to enable Camera Upload. After you take a photo or record a video, it'll automatically be uploaded to your Dropbox without any interaction needed by the user.
Google Drive
Google Drive is very similar to Dropbox, but where it stands out is the price of premium storage. You can get 1TB of Google Drive storage for just $9.99 per month, which is what Dropbox charges for a measly 100GB of storage.
This means that if you have a ton of photos and videos that you want backed up to the cloud, Google Drive is probably your best bet, considering that you won't be paying that much for storage.
If you don't need 1TB, Google also offers 100GB of Google Drive storage for just $1.99 per month, which is more than enough for most people to back up all of their music, photos and home videos.