5 Best NCAA March Madness Apps for iPhone and iPad
Here are the five best free apps users can install on an iPhone or iPad to watch the NCAA Men's Basketball tournament, get news about the games and predict which teams will win the national championship by filling out brackets. A couple of them even let the user submit brackets to an online contest to win prizes or just bragging rights. One of them even finds a good location to watch the games on a plain old-fashioned TV set with others.
We focus on iPhone and iPad apps, but Android fans can take a look at our apps for their favorite Android phone or tablet. Also, these apps will cost nothing to install.
NCAA March Madness Live
CBS and the NCAA understand mobile fans and realize that streaming the games via their awesome NCAA March Madness Live app helps us enjoy their programming, ads and all, even when we're not in front of a 50-inch HDTV. They get viewers and we get to view the tournament.
With the app fans can watch every game live on their iPhone or iPad, so long as they can get a good data connection via Wi-Fi or 3G or 4G/LTE. They began offering this a couple of years ago, and in our experience it works great with a good picture quality even over 3G. LTE and Wi-Fi look great!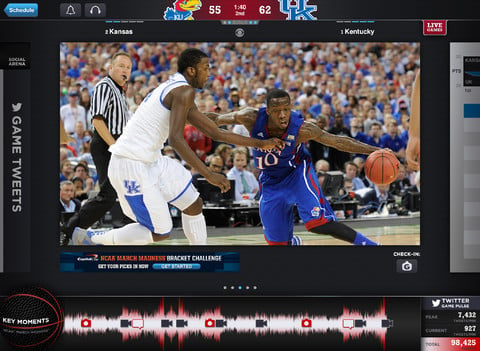 In addition to live streaming the games, the app will let users fill out a bracket to predict the game outcomes. They can also get news, scores, schedules, stats and more. Interact via social networks from within the app. The NCAA March Madness Live app sets the standard for major sporting event apps.
ESPN BracketBound
The best bracketology app comes from ESPN. The ESPN BracketBound 2013 app lets fans follow their teams' progress through the tournament, as well as fill out up to ten different brackets in the ESPN Tournament Challenge. The challenge lets users compete against family, friends, co-workers and the ESPN broadcasters.
Log in with an ESPN account and it automatically populates the person's favorite teams from other ESPN news apps. The fan can get news about their teams. The notifications will tell the user when games end, and supply scores along with other tournament news.
CBS Sports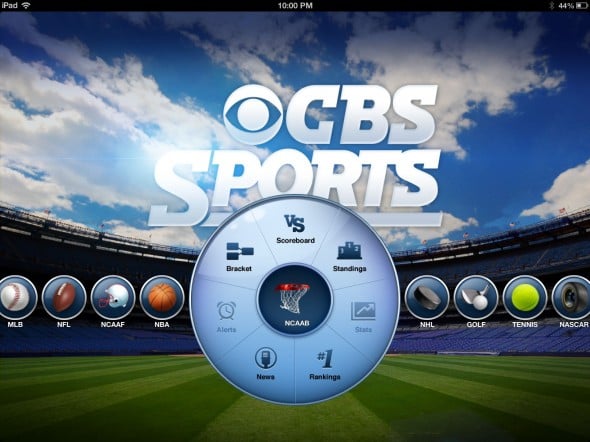 Users can download a bunch of generic sports apps, but since CBS carries the live tournament games on their broadcast network, it makes sense to get the CBS Sports apps, one for iPad and the other for iPhone. They will likely offer the most comprehensive collections of game video highlights than other news app. Upon opening the app just tap Bracket from the home screen to see all the NCAA Tournament coverage.
ESPN Score Center
The best sports news app available on iPad or iPhone comes from ESPN. We regularly recommend it for any roundup of sports apps because the app offers all the sports news anyone might want, and sends users notifications about favorite teams. It includes the best news and info along with stats, schedules and clips.
Sports Bar Finder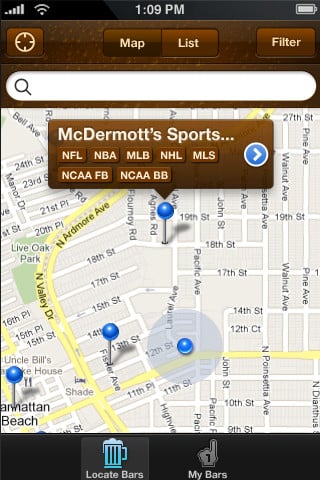 Sometimes nothing satisfies like watching a game with a bunch of crazy fellow fans, and the Sports Bar Finder app from DirecTV will help users find places to plop down on a stool and view the games live over DirecTV. The app uses GPS and a database of bars that subscribe to DirecTV to find a place nearby to catch a game.