5 Best PC Gaming Keyboards
PC gaming isn't on the road to trampling console gaming, but it is in the midst of a renaissance. Faster processors available at lower prices have made building a gaming PC a semi-affordable option for many. Graphics cards from NVIDIA continue to outdo themselves every year. Valve's Steam store is as stocked as it has ever been. Even Microsoft has contributed to the turning fortune of PC gaming, delivering a free Windows 10 update that packed Xbox Live functionality and support for playing some Xbox games with owners of its Xbox One. With interest in building the ultimate gaming PC at an all-time high, PC gaming keyboard makers have risen to the occasion.
Some PC games are compatible with controllers, but the reality is that most of them aren't. Outside of living room consoles, the keyboard is the controller. Gamers don't just use them to type out messages in chat. They allow them to get just the right camera angle in a simulation title like Planet Coaster. They offer a fast way to move in games like Quantum Break. Great gaming keyboards are essential to any well planned gaming PC setup.
With more people willing to spend money on a gaming PC to get the best visuals, PC gaming keyboard makers are expanding their lines and improving their offering. They've stuffed their hardware with LED lights so that you can easily identify the keys you need in the dark. Some of them have built-in cable management systems for keeping desktops organized and sleek.
Here are the 5 PC gaming keyboards to enhance your setup.
Best PC Gaming Keyboards: Razer Turret
Everyone wants that great desktop gaming experience, but what about in the living room? A growing number of setups have a television in the mix, with the entire room turning into one big place to experience the best that PC gaming has to offer. For setups like that, the Razer Turret is perfect.
The Razer Turret is completely wireless, with a mouse and keyboard that fit into a dock and last four months on a single charge. A fold out area that extends from the right edge of the keyboard gives you somewhere to navigate with your mouse. There's an optional USB adapter, but the entire combination can talk to PCs over Bluetooth too. This keyboard has chicklit style keys.
The Razer Turret costs $159.99.
[ Buy the Razer Turret from Razer for $159.99 ]
Best PC Gaming Keyboards: Logitech G610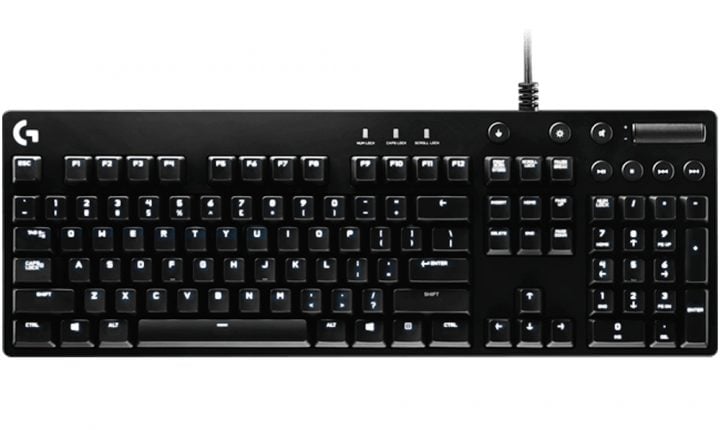 The Logitech G series of gaming accessories has established a solid following in the last few years, and the Logitech G610 is a great example of why that's happened. Behind every key is a Cherry MX Mechanical Switch colored in red. Logitech says that the switch is quieter and the surface lasts longer than rubber keyboards.
Built-in media controls keep you from ever having to leave your game. Each of the keys has white backlighting that users can customize through the keyboard's software. Multiple keys can be pressed at once to get a combo just right. Flaps on the bottom allow you to change the keyboards height.
At $119.99, the Logitech G610 Orion isn't the cheapest PC gaming keyboard available, but it's got a mix of the right features and a sleek design, the latter of which isn't always the norm in the gaming world.
[ Buy the Logitech G610 Orion Red from Logitech for $119.99 ]
Best PC Gaming Keyboards: Razer Ornata Chroma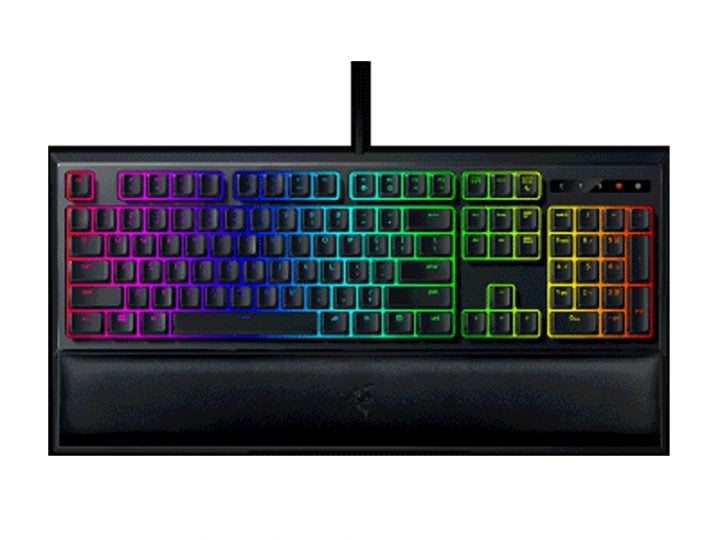 For the Ornata Chrome, Razer settled on medium height keys backed by membrane and mechanical switches. Every key on the entire keyboard can glow, creating millions of combinations for you to choose from. You can go for style by lighting the entire keyboard, or configure only the keys that you need to enjoy your game.
A dedicated wrist pad and number pad make this is a very comfortable keyboard to use. Macro-recording lets you decide which keys you want to perform which actions in your games.
The Razer Ornata Chroma costs $99.99.
[ Buy the Razer Ornata Chroma from Razer for $99 ]
Best PC Gaming Keyboards: Logitech G710 Plus Blue
The Cherry MX switches that lurk behind Logitech's other expensive PC gaming keyboards lurk behind the mechanisms of the of the Logitech G710 Plus. What's more, there is a dedicated line of G keys that gamers can customize themselves.
Legs allow users to prop up the keyboard for maximum comfort. A removable palm rest helps with comfort to. Dedicated media controls on the right corner of the keyboard allow you to pause and skip with ease. Smartly, the Logitech G710 Plus Blue has built-in USB pass-through. As such, you don't need to run your headphones and mouse directly to your PC. You can run them to it and save yourself some cable organization.
[ Buy the Logitech G710 Plus Blue from Logitech for $129.99 ]
Best PC Gaming Keyboards: Corsair K70 Lux
The Corsair K70 Lux has USB pass-through ports too. It also features a full bevy of media controls. The cushioned wrist area is joined by some key caps with rubber covering. Software provided with the keyboard makes assigning specific keys to different actions effortless. The Corsair K70 Lux's body is made of aluminum for a sleek look and high-end finish.
Buyers get to choose whether they want blue or red lighting behind their keys.
[ Buy Corsair K70 LUX from Logitech for $119.99 ]
Good luck finding your next PC gaming keyboard. When choosing yours, remember to focus on key travel, and extras that'll improve your setup, like cable management.