5 Best Running Apps for iPhone to Help You Get In Shape
Warm weather is upon us, and that usually means that millions of people are getting off the couch and heading outside for some good exercise. Your iPhone can be a great addition to your fitness tool bag, so hear are some of the best running apps you should check out if you're wanting to get back in shape and enjoy the outdoors at the same time.
There are all sorts of fitness apps that you can choose from for your iPhone, and depending on what kind of data you want to track, there's an app for it. You can download apps that can guide you to becoming a 5K runner in just a couple of months, even if you've never ran a 5K before, or just download a basic app that can count your steps to make sure that you're simply just moving and staying active.
Here are some of our favorite fitness and running apps to help get you in shape and maybe even get you to run that next 5K this summer.
RunKeeper
RunKeeper is perhaps the most popular fitness app on the market, allowing users to track different activities such as running, cycling and even swimming, although many of the activities you'll have to enter in manually, since automatic tracking uses GPS.
Nonetheless, RunKeeper can track your running activities and even lets you share your goals and accomplishments with friends. There's also a leaderboard so that you can compete with your friends, but rather than go by the farthest run as the winner, whoever completes the most activities is the leader, requiring that you only get off your butt and get moving at the least.
Strava
Strava is a big competitor of RunKeeper, as it has similar capabilities like tracking running and cycling activities using GPS, but where Strava stands out is the app's ability to combine GPS data with data gathered from the iPhone 5s's M7 co-processor, which means that Strava can provide much more accurate data than RunKeeper can (Strava was actually one of the very first apps to get support for the M7 chip). Granted, RunKeeper supports the M7 chip, but it's separate from GPS tracking.
Strava also has a larger following amongst pro athletes. Regular users can search for and add their favorite athletes and track their activities, which is pretty cool, but where Strava stand out the most is the ability to provide more data than RunKeeper does thanks to its use of the M7 chip.
Pedometer++
If you're just looking for a simple app that counts your steps and nothing more, perhaps Pedometer++ might be your cup of tea. It's a simple, single-page pedometer app, giving you the number of steps you've taken today, and it also gives you the number of steps that you took over the past seven days. There's also a toggle switch at the bottom that enables or disables the badge notification on the app icon on your home screen.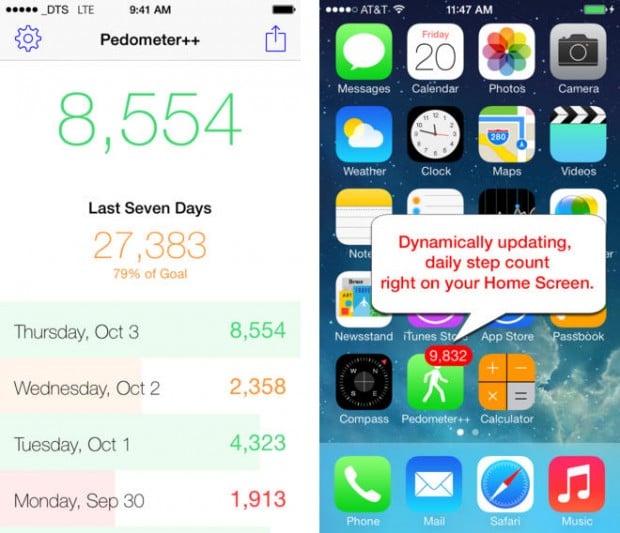 And that's it. There's no settings menu or anything. There's no way to reset your step count, which could be a bit of a bummer for some users, but we wouldn't see a reason to delete steps necessarily. The app is certainly one of the simplest and barebones fitness apps we've come across recently. And while other fitness apps come with a pedometer, as well as other nifty features, Pedometer++ just includes the essentials for those who just want to know how many steps they're taking in a day.
Moves
Moves is perhaps similar to Pedometer++, but on a decent dosage of steroids. It shows you how many steps you've taken during the day, thanks to data from the iPhone 5s's M7 chip, and it's compatible with various activities and will automatically detect between walking, running or cycling based on M7 data and GPS data.
It costs $2.99, but Moves is an elegant-looking at that shows your day as a simple storyline and even plots your routes on a map, showing you how far you've gone, how many steps you took, how many calories you've burned, and much more.
Couch-to-5K
If you're not much of a runner, but are wanting to get into it, a helpful program called Couch-to-5K is something manageable that beginner runners can take advantage of.
It's a nine-week program that starts you off with basic walking/running sessions and eventually builds up until you can complete a 5K. Since it takes nine weeks to complete, now is a perfect time to start, since 5K events will pop up over the summer by the time you finish the program.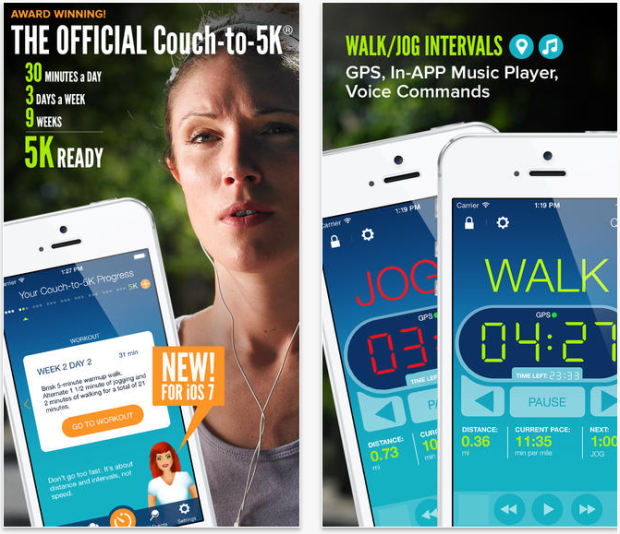 If you're unsure about the validity of Couch-to-5K, pretty much every runner will recommend it for new runners, and every fitness shop that I've visited has recommended the program, so it's a good one to check out if you're wanting to compete in your first 5K.

As an Amazon Associate I earn from qualifying purchases.