5 Best Chromebooks for Summer 2014
The Chromebook surged in popularity over the last year thanks mostly to the simple and elegant ChromeOS platform and, more significantly, the low price of most of the models now available. The best high-end Chromebooks cost under $400 with one exception: the Chromebook Pixel costs nearly $1,300.
As more people look into these inexpensive computers, it's time for computer buyers to give them a serious look. Here's our list the top 5 Chromebooks available right now.
What is a Chromebook or ChromeOS
Google introduced this simple platform based on an open source operating system, called Chromium OS, that runs the Chrome web browser as the heart of the OS. Google used Chromium to create their Chrome browser.
A Chromebook boots up in seconds and displays a user interface similar to OSX or Windows 7. There's a taskbar with most used apps pinned there for quick launch. The desktop background shows off whatever the user likes or some nice default wallpapers. People can run a large collection of useful apps. There's also a file browser that shows the user's files and folders on the machine and in their online Google Drive storage. Check out Google's intro video below.
Thanks to the operating system's low overhead and fast SSD used for storage, the computers run quickly on meager hardware that would struggle to run Windows or OSX. The apps on a Chromebook mostly run online, but some work offline thanks to tools Google put in the operating system. These offline apps sync up to the web version the next time a user logs on. Web apps run inside the Chrome browser and include anything from a simple web-based spreadsheet app to a feature rich 3D video game.
One of the least known benefits of a Chromebook is the simplicity of the OS. I can log onto any Chromebook with my Google user name and password and my customized desktop environment shows up in about a minute or two, syncing from the web. When I'm done, all I need to do is log off. To hide any traces of my work I can quickly powerwash the system and a new person can log onto the machine with their info and see their customized environment in just minutes. Reformatting and re-installing the operating systems and programs on OSX or Windows takes hours.
Chromebooks in General
The first Chromebooks announced a few years ago were not very compelling, but Google didn't quit and Samsung partnered with them to launch what many consider the first useful low-cost Chromebook. The Samsung Chromebook originally cost $250 and we called it a "nice 2nd computer" in a review at Notebooks.com last year. See the video review below.
We don't recommend that Chromebook anymore, even though my son still uses and enjoys it.
The current generation of Chromebooks come with the same basic list of specs, with a few exceptions, which we'll note in our descriptions below.
11, 13 or 14 inch display usually with a 1366×768 resolution
Intel Celeron 2955U Haswell-based processor or Samsung Exynos 5
Intel mobile graphics except on Exynos
16 or 32GB of SSD storage and 100GB of free Google drive for 1 or 2 years
2GB or 4GB of RAM
8-12 hours of battery life
Some will include 3G or LTE built-in but all have Wi-Fi and Bluetooth
Most come with 1-3 USB ports, HDMI out and SD Card reader
Because the Google Chromebook Pixel costs $1,299 and runs a previous generation Intel processor, we don't recommend it until Google updates the specs. It offers half the battery life compared to the current generation. Even though it sports a screen resolution of 2560×1700 and 239 ppi and comes with an excellent backlit keyboard, we recommend avoiding it till it gets an update.
Here's our list of the top 5 Chromebooks you should seriously consider.
HP Chromebook 14
The HP Chromebook 14 currently ranks as the best option thanks to a great keyboard, touchpad and a decent screen packaged in an attractive case. It's one of the first introduced in the current generation of Haswell-based Chromebooks. We're recommending the version that comes with 4GB and built-in 4G wireless data from T-Mobile.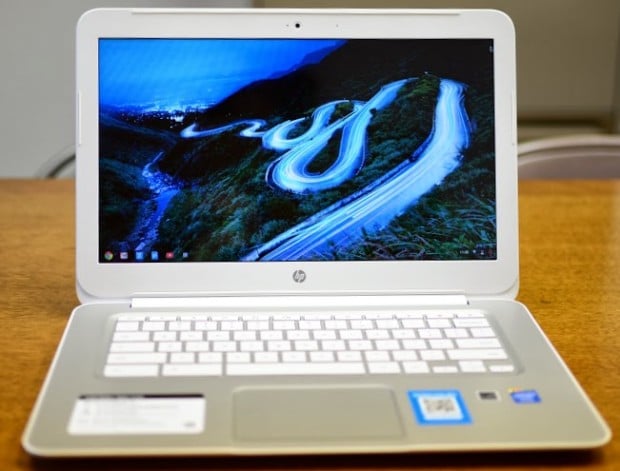 The HP Chromebook comes in a cheaper $300 version with only 2GB or RAM and no T-Mobile data. The 200MB of data/month isn't the draw here. The 4GB of RAM is. HP sells them in three colors, Snow White, Ocean Turquoise and Peach Coral.
Don't confuse the older black HP Chromebook for one of these newer generation machines. It uses an older Intel chip that doesn't offer as much power or battery life as the current generation Intel Haswell processors.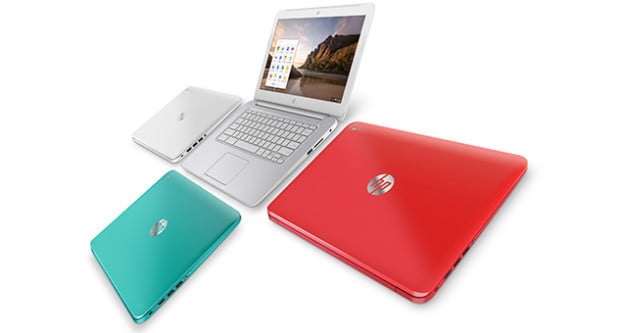 If a buyer gets the 4G version, remember that it is LTE and works only with T-Mobile. However, users can put an activated AT&T SIM card in the computer. Learn how at Notebooks.com, where there's also a review of the 4G white version with 4GB of RAM.
Acer C720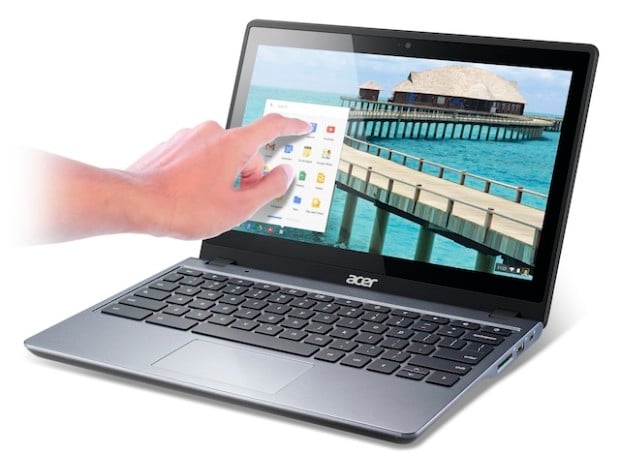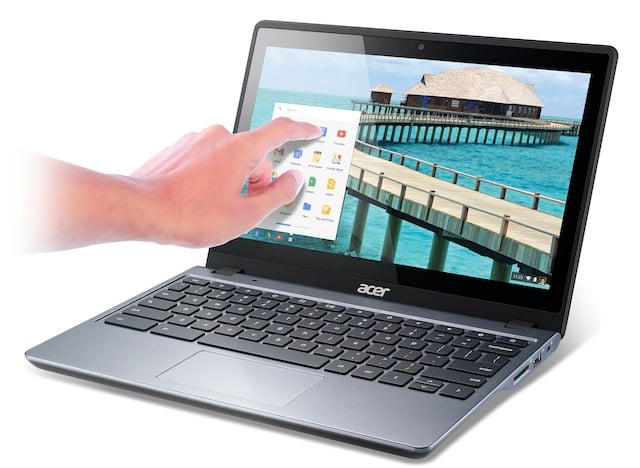 The second best Chromebook offers two nearly identical machines with one key difference. The Acer C720 starts at just $200. That only gives users 2GB of RAM and an 11-inch screen. The C720P differs because it uses a touchscreen, something we think might become more important now that Google plans to port some Android apps over to ChromeOS as they announced at this year's I/O conference for developers. Users can get the basic model with 2GB of RAM and 16GB of either version or they can upgrade to 4GB or RAM and up to 32GB of storage. Prices range from the low of $200 and go up to $350 for a touchscreen model with 4GB in white. Most come in gray.
We like the Acer best among the 11-inch models because of its great price, excellent keyboard, all day battery life and hardware construction. It offers the best bang for the Chromebook buck.
Samsung Chromebook 2
The original Samsung Chromebook made the Chromebook appealing because Samsung offered the first attractive machine for a long time. The Samsung Chromebook 2 may not offer the best buying option today, but the upgraded version still makes this list because they added a better screen and kept the nice keyboard and touchpad. Samsung went with an Exynos 5 processor, which some say doesn't run as fast as the Intel Celeron 2955U that most Chromebooks use. That perceived weakness is more likely due to the true 1080p HD screen instead of a weakness in the processor.
The Samsung Chromebook 2 with the 13.3-inch screen hits our list because of the display primarily but also solid construction. It measures a thin .65-inch front edge and it weighs under 3lbs.
Unfortunately, this machine still only offers 1366×768 resolution and cost $400, a lot for a Chromebook. Some people don't like the faux-leather back that Samsung used in their Galaxy S5 and Note 3. The same people will hate the lid of the Chromebook 2. I think the faux leather looks better on the laptop than it does on the phone.
An 11-inch model starts at $319.99, also a little pricy for this market. They come in black and white in the 11-inch model and the 13-inch version comes in luminous titan.
HP Chromebook 11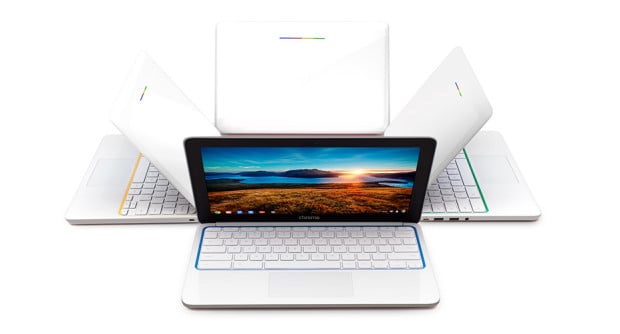 The HP Chromebook 11 offers the best screen of any 11-inch Chromebook available now. It's the same 1366×768 that most of the others include, but the sharp and crisp IPS panel looks better than the others. If a beautiful screen is important, then look no further than the 11-inch version of this excellent Chromebook.
The design looks different, with mostly white and colorful accents around the keyboard and lid. The hard smooth plastic design may not suit some, but it feels solid and looks nice compared to the plastic used to make the other Chromebooks.
HP uses a standard micro-USB charging cable on this machine making it convenient for mobile users who want to carry one charger for their phone and computer.
The keyboard and trackpad work as well as the HP Chromebook 14, except that a smaller design makes it a little more cramped.
The only reason we like the Acer C720P more is the performance and touchscreen. However, the HP screen is so nice that this machine deserves serious consideration.
The HP Chromebook 11 starts at $279.99 but HP has it on sale now for $30 off. Amazon has it for only $200.
ASUS C200 Chromebook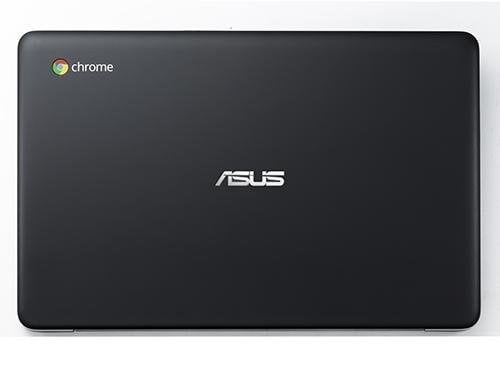 We nearly put the Dell Chromebook 11 in this slot, but it's a bit hard to find for the consumer market since Dell aims at the education market so we went with the ASUS C200 instead thanks to the best battery life among the 11-inch models available in this current generation of Chromebooks.
The C200 doesn't give us the best performance, but users won't notice a big difference between this model and other faster systems in daily usage. Owners will notice the long battery life on this nicely constructed 11-inch machine that most say lasts 10 or more hours.
At only $249, the C200 comes in at the lower end of the price spectrum, making it a great value. That's probably because it uses an older generation Bay Trail processor, which predates the current generation Haswell processors. That accounts for the slightly slower performance.
ASUS offers a 13.3-inch machine called the C300 for the same price, but it doesn't measure up to the Hp Chromebook 14, unless price is the most important factor. It costs $250, while the HP costs $100 more.

As an Amazon Associate I earn from qualifying purchases.