5 Best Sprint Smartphones [May, 2014]
Consumers in the market for a new smartphone this month might be looking at Sprint, the only major carrier that still offers pure unlimited data. Those who are looking for a Sprint smartphone in May are going to come across a loaded lineup. While choice is good, it also can present problems for those who aren't familiar with the smartphone market. With those people in mind, we want to take a look at the devices we think represent Sprint's best smartphones this month.
The beginning of the year was slow at Sprint. The carrier, like its rivals, depended on last year's crop of smartphones to lure in new and current customers. After three months of waiting, Sprint finally launched a pair of big name smartphones in the HTC One M8 and the Samsung Galaxy S5, two of the best devices on the market. Both devices join a lineup that is already full of solid options.
Sprint's smartphone lineup features tons of big names including including Apple's iPhone 5s, Motorola's Moto X, Samsung's Galaxy S5, Galaxy S4 and Galaxy Note 3, the LG G2, and more. And that just scratches the surface. Sprint, like its rivals, offers an absurd amount of smartphones to go along with its data plans.
Having choice is fantastic but it the sheer amount of options present a daunting task for those looking to buy a new Sprint smartphone this month. So, in an effort to assist those who might be in need of some direction, we've broken down the devices we think are the five best Sprint smartphones for the month of May, 2014.
Our list may differ from yours but these are the devices that Gotta Be Mobile editors have selected for recognition in May. At this time, we feel like these devices deliver the best, all-around package to consumers.
iPhone 5s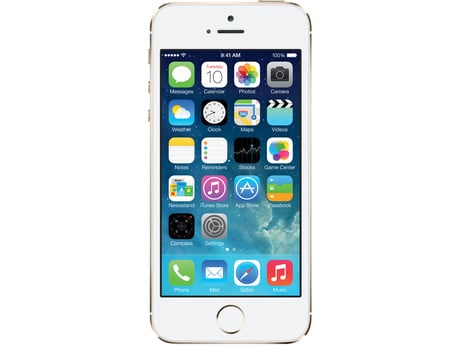 The iPhone 5s remains one of the best smartphones for Sprint's 4G LTE network and will likely remain one of the Now Network's best options until the iPhone 6 arrives on later on this year. iPhone 6 rumors point to an arrival in the fall though specific timing remains elusive.
Apple's current flagship iPhone delivers a fantastic all-around package. From its industrial design, to its Retina Display, to the 8MP iSight camera, 64-bit processor, and iOS 7 software, the iPhone 5s is a solid device from top to bottom and should be near the top of most shopping lists.
Those who aren't into the $199.99 price tag would be wise to be on the look out for deals. We're starting to see iPhone 5s deals emerge on a more frequent basis as we push deeper into the year.