5 Best Travel Apps for iPhone
Your iPhone is one of the most important pieces of technology that you can have with you when you're traveling, but are you using it to its fullest potential? Here are five of the best travel apps for iPhone that are sure to make your traveling easier and less stressful.
There certainly isn't a shortage of travel apps available for the iPhone, and while I don't travel too often (maybe 3-4 times per year), I always take those chances to see what the best travel apps are in order to optimize my traveling.
I've had the pleasure of using quite a few different travel apps, and one thing you'll notice when searching for travel apps is that there are a lot of them that do the same thing, like give you flight updates or show you the way around a city, but here are some apps that I've found were the best at doing what they do.
TripIt Pro
I've used the Pro versions of both Kayak and TripIt, which are perhaps the most popular travel companion apps on the market. I've found that both do a great job at taking trip data from email confirmations and putting it into an easy-to-understand format in their respective apps.
However, TripIt Pro takes the cake because I've discovered that it does a slightly better job at letting users know about flight delays and gate changes. It has sent me push notifications sooner than Kayak Pro has, and I've never had an experience when TripIt's flight information was wrong — on several occasions Kayak would give me the wrong gate number, which was a bit frustrating.
So I'd say that if knowing about flight delays and gate changes as quickly as possible is important to you, which I'm guessing it is, then TripIt Pro is probably the app to get. However, if price is more important, then Kayak Pro might be your app, since it only costs a one-time purchase of $0.99 in the iTunes App Store, while TripIt Pro costs $49 for an annual subscription.
Google Maps
It's hard to choose between Apple's built-in Maps app on the iPhone and Google Maps. The nice thing about Apple Maps is that it integrates with other built-in iPhone apps and features, like Siri and Safari. However, Google Maps has better maps and data overall, making it the best choice if you want the most accurate routes.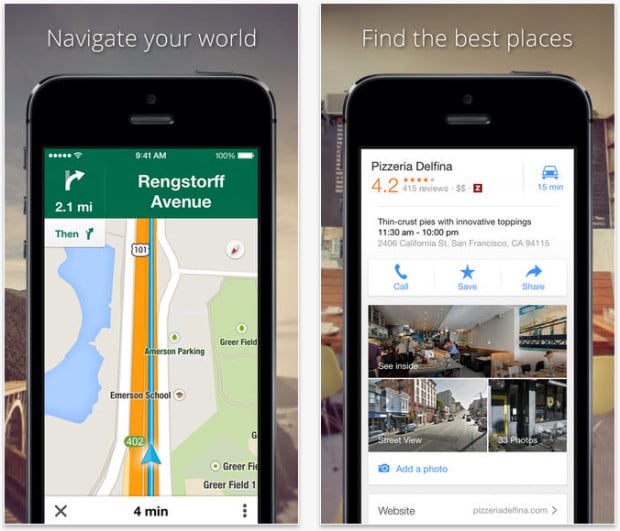 Plus, Google Maps comes with public transportation directions, but perhaps the biggest upside of Google Maps is that it's a Google product. Google is a powerful company with a ton of up-to-date map data that far surpasses anything that Apple has currently. Of course, all of that data doesn't make Google the most-liked company as far as privacy is concerned, but that doesn't mean that I'm not a big fan of Google Maps.
Transit
While Google Maps come with public transportation directions, perhaps one of the best alternatives is Transit, especially if you want an app that blends in well with the iOS 7 look and feel. Transit is one of the best-looking public transportation apps on the market, and gives you real-time data of all the public transportation routes in a given city.
I would say the only downside to Transit is that it's only available in major cities around the world, but the developer says that it's working on adding more cities that have public transportation routes. However, for the time being, Transit has data for just about any city that you would take public transportation in anyway.
GasBuddy
If you're road trippin' it, then you probably want to know where to get the cheapest gas. I've been using GasBuddy for years and it has served me well. It uses crowd-sourced data to show you what gas stations in your vicinity offer the cheapest gas.
With that, you can know when it's a good idea to stop for gas, and you can skip an exit if you find out from the app that there's cheaper gas at the very next exit. Of course, gas prices barely differ in a given area, but those couple of cents per gallon can add up over time, so saving on gasoline for a long road trip could save you as much as $20, which is money that could easily be spent or invested elsewhere.
Glympse
Another great app for road trips is Glympse. It provides friends with your exact, real-time location on the road so they know where you are. Of course, that itself doesn't have its uses, but where Glympse shines is the ability to let friends know when you'll be arriving at their house or wherever you might be meeting up.
Glympse isn't necessarily meant strictly for road trips, since I use it pretty much all the time when I'm meeting up with friends or visiting my parents for the weekend, since they always seem to ask about my ETA. Simply just enter in the destination, and choose who you want to share Glympse with, and it'll send a text message to that person where they can view your location on a map, as well as see your ETA.
Wrap-Up
Of course, there are a ton of other travel apps available in the iTunes App Store, including apps that let you look up the best hotel, flight and rental car deals, like Orbitz, Kayak, etc., as well as apps that every airline has for its own customers, allowing you to check your flight status and even use your phone as a boarding pass, which is really neat.
We decided to leave these types of apps out of the list, mostly because they cater towards different types of users and there's really no "best" app for everyone, especially if you might be a loyal passenger on a specific airline.
Nonetheless, we hope you find these five apps helpful the next time you go on a road trip or take to the skies. Feel free to mention your own travel app recommendations in the comments below.