5 Best Ways to Watch or Listen to NASCAR While Mobile
The Daytona 500 kicked off the 2014 NASCAR season with an exciting finish, especially for Dale Earnhardt, Jr. fans. The season picks back up starting the first weekend in March in all three of the NASCAR series and fans will want to get their racing fix, even on the go.
Here are the 5 best options for watching or listening to NASCAR with a mobile device including an iPad, iPhone, iPod Touch, Android tablet, Android smartphone and in some cases a Kindle Fire or Windows Phone or Tablet.
NASCAR Raceview Mobile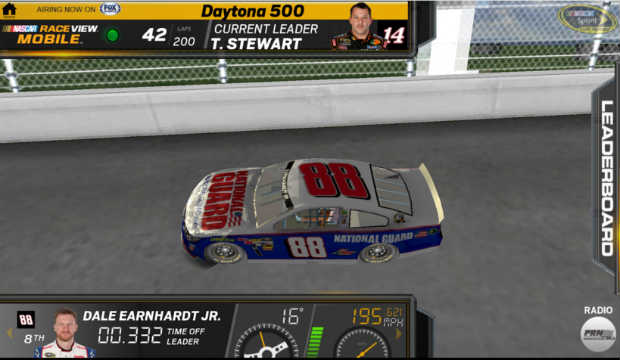 The first option offers up a unique experience as users listen to the audio of their favorite driver while watching 3D video game style images of the cars running around a virtual track. The official NASCAR Raceview Mobile app on both iOS (free on App Store) and Android (free on Google Play) lets fans follow the action live and get news and highlights before or after a race.
Fans can install the apps for free, but must pay a $40/year or $5/month subscription to enjoy the premium content. Sprint wireless data customers get the premium content for free as part of Sprint's sponsorship deal with the NASCAR Sprint Cup Series, the major leagues of racing.
Here's what all users can enjoy free with the app:
Guided tours of each track on the circuit
Schedule of races
Driver pages
Pages for each of the top 10 drivers in standings for each series, updated on Mondays
News about drivers and NASCAR in general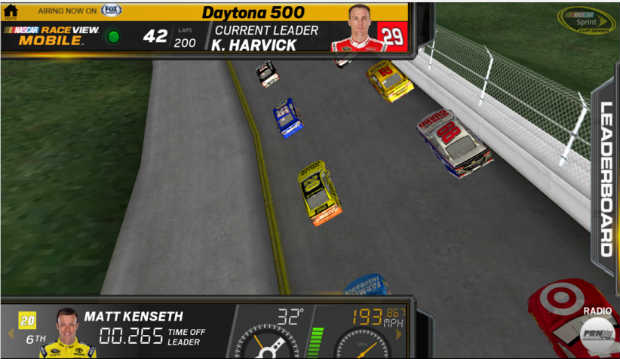 Some premium features included with a subscription or with a Sprint wireless account include:
Live audio from each car and from the official Sprint cup channel of officials (like refs for others sports)
Audio from the race broadcast from MRN (Motor Radio Network) and PRN (Performance Racing Network)
Real-time track position and car telemetry (speed, RPM, etc.)
3D visualization of the race based with virtual view of the track live during the race
Leaderboard updated in real-time
 NASCAR Mobile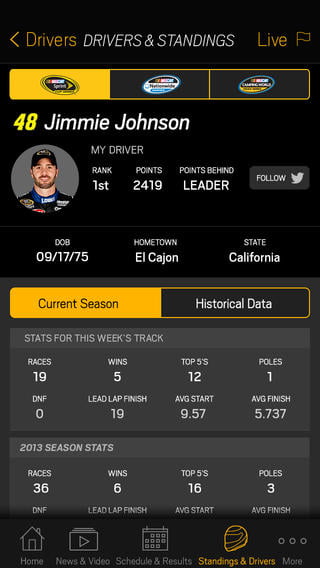 We're not sure why NASCAR puts out two apps instead of just integrating them into one, but they do. The NASCAR Mobile app for iOS and Android doesn't offer the virtual track view that NASCAR Raceview Mobile offers, but users do get news, video highlights while the race is still running and up to 10 RaceBuddy Camera views of some races. These cameras let viewers see on-car cameras during the race.
The RaceBuddy feeds work on the lower Nationwide series for most of the races this season since they're shown on ESPN. The higher Sprint Cup series starts in June. ESPN controls the cameras. That's why fans can't watch them for Sprint Cup races until June when ESPN takes over broadcasting Sprint Cup races from Fox Sports.
To get the live leaderboard during the races, in-car audio, MRN and PRN broadcasts and the RaceBuddy Cameras, users must pay for a premium subscription of $25/year or $4/month.
WatchESPN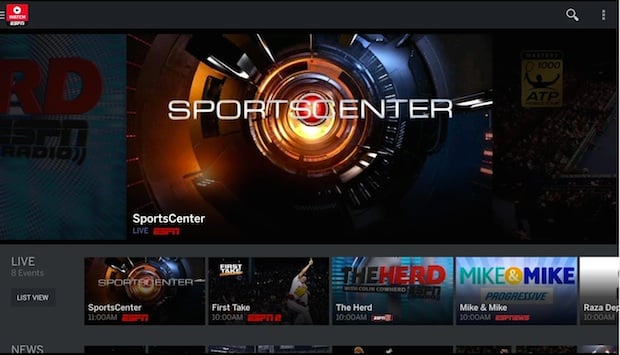 Once ESPN takes over the Sprint Cup series, users can watch them using the free WatchESPN app for Android or iOS. Fans can enjoy Nationwide and Craftsman Truck series races now.
The free WatchESPN app requires users to login with an approved TV provider account inside the app. Only the following providers let customers enjoy WatchESPN:
AT&T U-verse
Bright House Networks
Charter
Comcast XFINITY
Cox
Google Fiber
Midcontinent Communications
Optimum
Time Warner Cable
Verizon FiOS TV
SlingBox and SlingPlayer
We don't know of any way to watch the broadcast video feed from Fox of the Sprint Cup series races other than a TV. ESPNWatch will let users see the Craftsman Truck Series and the Nationwide Series all season. When ESPN takes over Sprint Cup broadcasting from Fox in June, ESPNWatch will let users watch some races, but not all. Since there's nothing like MLB.tv, DirecTV's mobile app for NFL Sunday Ticket, or NHL Center Ice for watching hockey, but for NASCAR, the only way to get all of NASCAR's races is the SlingBox and SlingPlayer apps. This solution will allow fans to watch any race they can view on their TV.
A SlingBox connects to a fan's TV service set-top box and the signal passes through the box to the TV. It also connects to a broadband connection through an Ethernet cable plugged into a router. The user downloads the SlingPlayer app for their device. Watch and control the TV from the app. The app costs $15 for each device including:
Sadly, that's $15 for each device listed above. A user must pay for each device, so it will cost $30 if a user wants the app for both their phone and tablet. Still, it's the best choice for watching the live broadcast of the races, plus other live events or shows.
Pirated Streams
While we don't recommend breaking the law, but we know that many live sporting events find their way to Ustream or Justin TV. Fans watch an event on their computer's TV Tuner card and then rebroadcast the event through one of these live video streaming services.
Don't rely on online streaming services except as a last resort. The streaming services actively police illegal streams and take them down in the middle of the event. It sure would stink to watch the race over one of these apps only to get it pulled during the last most exciting laps.

As an Amazon Associate I earn from qualifying purchases.