5 Best Weather Apps for iPhone
The weather is one of the most common things that everyone wants to know about, mostly because it can either make or break your day. Here are a handful of the best weather apps for iPhone that can make it easier to know what the weather is like in your area, with apps that are super simple for everyday users and even a couple of options for the more experienced weather geek.
Chances are, you've already talked about the weather to someone today, most likely when you got into the office first thing and discussed how nice (or bad) the weather was outside during your commute. It's even something that we blab about when making small talk with a stranger, and knowing about these five iPhone apps will give you even more to talk about the next time you need to make small talk with someone.
The Weather Channel
The Weather Channel is perhaps the most popular iPhone weather app in the iTunes App Store, mainly because it's free and it's made by a super-popular weather company that has a very-helpful website along with the 24/7 TV network on cable channels.
The app gives you everything you need to know about the weather, including all the basics like the current temperature and the hour-by-hour forecast. Plus, you can also view radar maps that show you where it's going to rain or snow.
The Weather Channel app can also provide users with push notifications about various weather warnings, like an impending severe thunderstorm or tornado.
The ads can get a bit annoying, but that's why it's a free app. If you can't stand distracting ads next to your weather forecast, check out some of the other apps we have picked out.
Yahoo Weather
Perhaps one of the best-looking free weather apps available in the iTunes App Store is Yahoo Weather. It doesn't give you as much information as The Weather Channel or some of the other advanced weather apps, but Yahoo Weather gives you the basics that you need to know, like the current temperature, hour-by-hour forecast and even a simple radar map.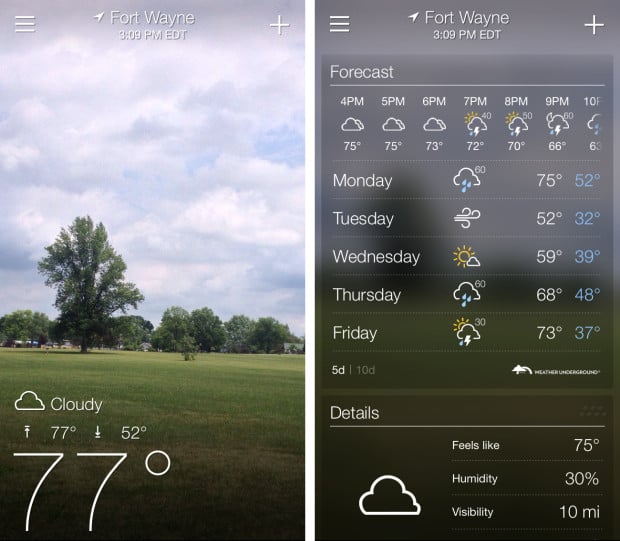 The stripped-down feature set of Yahoo Weather might be a turn-off for those wanting more weather information than what Yahoo Weather offers, but you can't beat the design and look of the app, and it's a personal favorite amongst the Gotta Be Mobile team.
Dark Sky
One of the most unique weather apps we've come across is Dark Sky. This app is mainly meant for users to simply find out if it's raining or snowing outside, rather than giving you a whole set of information. The app does this in a terrific way, though, giving you straightforward precipitations forecasts and easy-to-understand responses like "it's going to rain starting in 10 minutes."
Dark Sky also provides users with a hour-by-hour forecast and says when it's going to rain or snow during the day, that way you can be prepared for it. The app also provides a radar map for those wanting to see where it's raining and when it'll hit them.
The entire app is well designed and very simple and easy to navigate. However, the biggest downside is that it costs $3.99, but there are no ads and it's definitely an app that we recommend for everyday users who want a simple and straightforward weather forecast.
Weather Underground
Weather Underground is pretty similar to The Weather Channel's app, but it uses crowdsourcing for its weather information. It's quite a unique method for gathering weather data, but works really well. However, what makes crowdsourced weather better than the weather that we get through traditional means?
For starters, weather stations that news outlets have are only located in a couple of spots within a city, so the weather forecast you receive may not be 100% accurate. With Weather Underground, the app boasts over 33,000 weather stations from users that report the most localized weather conditions, and this fills in the gaps from the traditional weather stations at airports or other big complex.
Users can also upload real-time photos of the condition outside, so that you not only know what the weather is like from the data itself, but you can also actually see what it looks like outside.
RadarScope
If you're quite the weather geek, then the apps above might not be what you're looking for as far as getting advanced weather data. However, that's why RadarScope exists.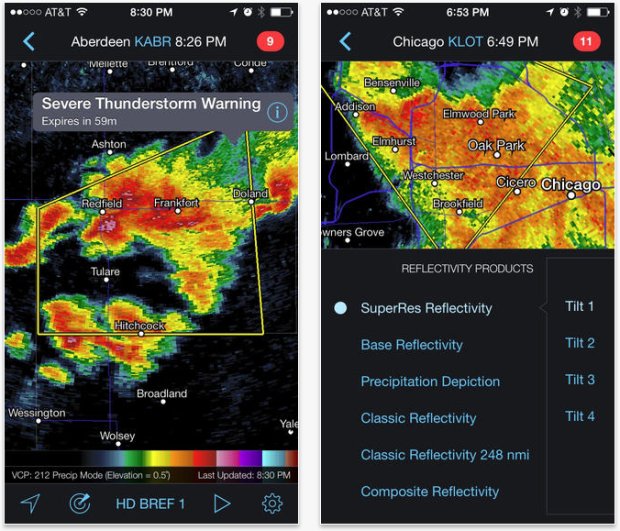 It displays information that your local meteorologists are looking at when it comes to giving you thunderstorm and tornado information, and allows users to view NEXRAD Level 3 and super resolution radar data — stuff that mostly just weather experts and enthusiasts would be interested in.
The app is not cheap, however, costing $9.99, but for all of the advanced weather data that you can access, it's quite worth the money if you know how to use the app and navigate through its many menus and options.

As an Amazon Associate I earn from qualifying purchases.