5 Cheap Windows 8 Tablets for Replacing an iPad
Microsoft's Windows 8 operating received no end of criticism in 2012 when it arrived on desktops and laptops. It was blasted for making things too difficult for mouse and keyboard users, and many said that its new apps and services were too tailor-made for devices with touchscreens.
At the time the release may have earned some fair criticism, but those same features users complained about (those new apps with larger icons and the new way that users access functionality with the Start Screen) made Windows 8 the best operating system for touch screens Microsoft has ever released.
Other features made Windows 8's translation to touchscreens viable too. Windows 8 devices now boot in seconds instead of minutes, making the process of waking up a Windows tablet just as seamless as picking up and browsing the internet on Apple's iPad. Because Windows 8 runs great on slower machines with less storage, developers are able to make cheaper devices that run just as well as higher priced tablets did just a year ago. That's the key reason for Windows 8's existence and it's because of that ability to create cheaper devices that the amount of decent performing Windows alternatives to the iPad mini and iPad Air have ballooned.
Here are the 5 cheap Windows 8 tablets that make great alternatives to Apple's iPad line.
Dell Venue 8 Pro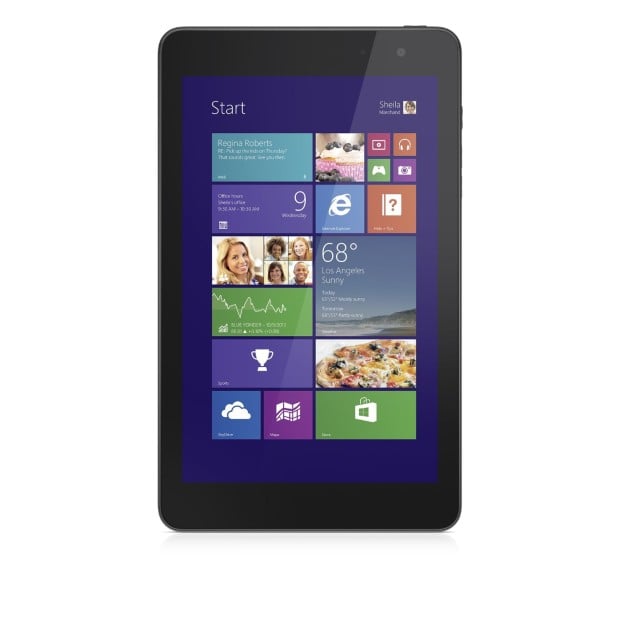 The Dell Venue 8 Pro offers users a lot of versatility without the negatives that many of last year's Windows 8 tablets forced on those in the market for an iPad mini alternative. The chief difference between those early devices and the Dell Venue 8 Pro is its processor. The Intel Atom processor inside of the Dell Venue 8 Pro allows users to install Desktop applications alongside any apps that they download from the Windows Store. That means that users are able to replace Microsoft-made apps with traditional alternatives like the iTunes Music software and Google's Chrome web browser.
The base version of the Dell Venue 8 Pro comes with 32GB of storage and an 8-inch display for $219.99. Users can add more storage to the device using the included micro-SD card, and there's also a USB adapter for plugging it in to printers and other external devices… unlike the iPad. Unfortunately, it doesn't have an HDMI port, so users can't connect it to an external display without an adapter or wireless receiver.
The Dell Venue 8 Pro features a 1.2 megapixel front-facing camera and a 5 megapixel rear-facing camera.  That matches what is loaded in the iPad mini but doesn't surpass other Windows 8 tablets.
[ Buy the Dell Venue 8 Pro for $219 from Amazon ]
Toshiba Encore WT8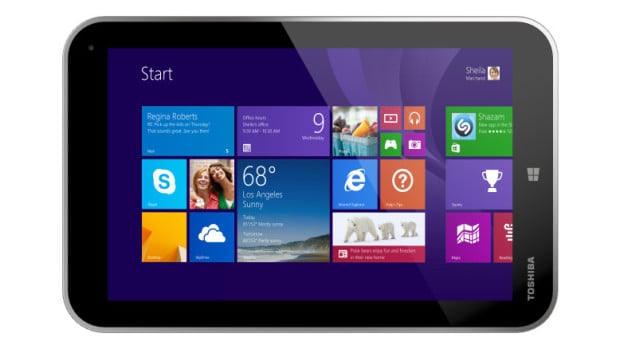 Though not as physically attractive as the Dell Venue 8 Pro, the Toshiba Encore WT8 offers almost exactly the same features. There's a nice 8-inch display for users to watch movies or game on, and it uses the same Intel processor that enables Desktop app installation. The kicker here is that for $279 Toshiba Encore WT8 users get an HDMI port so that they don't have to pay extra for any adapters or cables if they wish to use the Encore with a monitor.
Users can expand the base 32GB of storage with a micro SD card. That will come in handy for users who like to take pictures using its rear-facing 8 megapixel camera and 2 megapixel front-facing camera. Watching video on the Toshiba Encore WT8 will deplete its battery in 7 hours. That's a little less than the 10 hours Apple rates the iPad mini's battery at.
[ Buy the Toshiba Encore WT8 for $279 from the Microsoft Store ]
Lenovo Miix 2
At $249, Lenovo's Mixx 2 alternative to the iPad mini is pretty capable. Like the others in this round up, it allows users to install desktop applications and add more storage space using a built-in micro SD card reader. Of the top Windows 8 tablets, the Lenovo Miix 2 8 is one of the few that can go toe to toe with the iPad Air's ridiculous battery life. It too is rated for 10 hours of video and music playback. Unfortunately it only features a 2 megapixel camera for video chatting and a 5 megapixel rear-facing camera for taking photos.
[ Buy the Lenovo Miix 2 for $249  from the Microsoft Store ]
Asus Vivo Tab Note 8 M80T
The Asus VivoTab is an interesting study in compromise. Its $299 price tag is higher than contemporary tablets and for that price users are only getting a tablet that matches the processing power, storage and 8-inch screen size of other Windows tablets. That being said, Asus Vivo Tab buyers do get an upgraded 8 megapixel rear-facing camera that can rival the iPad mini. Users also get 8 hours of battery life instead of the 7 hours that its contemporaries get. It also includes a Wacom digitizer for taking notes and drawing. Most potential Windows 8 buyers might find that's a worthy compromise.
[ Buy the Asus VivoTab for $299 from the Microsoft Store ]
HP Omni 10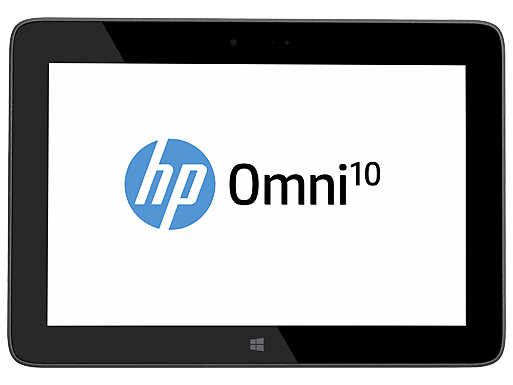 Finally, there's the HP Omni 10, a tablet made to give Apple's full-size iPad Air a run for its money. The HP Omni 10 includes the same Intel Atom processor for running desktop applications and 32GB of onboard storage. That being said, the 2 megapixel front-facing camera and the 8 megapixel rear facing it has are pretty competitive among other Windows 8 devices.
Users get a 10-inch screen as opposed to the 8-inch displays that dominate low-end Windows tablets. That, plus the ability to install Desktop apps makes it the perfect iPad and low-end laptop replacement. Only its lack of a full-size USB port makes it optimal for that job.
The HP Omini 10 starts at $374.
[  Buy HP Omni 10 for $399 from HP ]
Over all, it appears as if Microsoft's campaign to reinvigorate its tablet fortunes are paying off, especially when you take into account how these Windows devices compare to Windows tablets in the past. Microsoft also bundles a free copy of Microsoft Office with each, making Windows 8 tablets even more competitive.

As an Amazon Associate I earn from qualifying purchases.