5 Disappointing iPhone 5s Cases You Should Never Buy
We often collect some of the most interesting or useful cases and recommend them to readers, but in the case of these 5 iPhone 5s cases we came across a few that left us wondering why the manufacturer even bothered.
The following cases might look cool, come in great packaging that exudes quality or be shipped with great fanfare. In all 5 cases we found them terribly lacking, not worth the money or just not a good fit for some buyers. Avoid these five cases!
qronoCase 01:HR
The qronoCase 01:HR looked cool on the website and when it arrived. Even the packaging made me literally say, "Wow!" We don't often take pictures of a box to show in a review, but the qronoCase o1:HR forced me to do it. Unfortunately, that's where the wow-factor ended.
The qronoCase 01:HR looks great in small online pictures or from a distance. It even looks neat before a person picks it up. When someone feels the flimsy cheap feel, the enjoyment fades quickly. We read the copy on the site that says it made of aluminum. I'm not sure I believe it because it doesn't feel like it.
The case offers some interesting features:
An elastic strap that can hold some business cards, credit cards or cash.
The strap doubles as a place for someone to hold the phone securely with a finger or two slipped in there while they use their other fingers to multitask.
The top and bottom parts fit in a gamer's hands while using their iPhone 5s to frag bad guys in a shooter or flap their little bird through a maze of pipes.
The case comes with replacement parts that hold the elastic band in place so the user can add a splash of gold to possibly match the gold iPhone 5s.
The case comes in two plastic colors – Timeless Silver and Executive Black. The silicone inner lining might keep the case scratch free and absorb the impact of a drop.
The company makes a lot of the fact that they're only making 2,000 copies in a limited edition. We think that's all they will sell considering the case costs $199. You read that right! For $200 we expected much better materials and more than just a handsome box.
See our list of 5o Amazing iPhone 5 or 5s Cases that will work better than these.
Apple 5s Case Product Red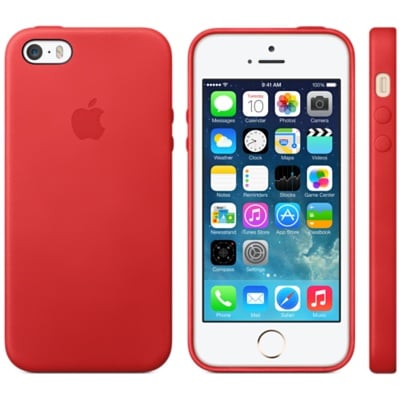 Apple's iPhone 5s cases suffer from a durability problem, especially with coloring. They wear out and quickly look dingy. The $39 Product Red version costs about four times too much. We'd expect a chintzy $10 case to look bad after a few weeks, but Apple should offer better. Sadly, it's not just the paint on the Product Red version that wears off. All of them do this, except the black case.
Typo iPhone 5s Case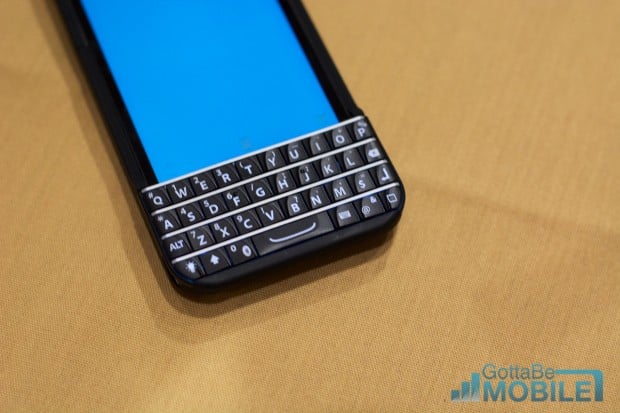 The $99 Typo iPhone 5s case looks like a great idea, especially for those who switched to an iPhone from a Blackberry, but can't stand the touch screen keyboard in iOS 7. However, they Typo Case, aside from an unfortunate name for a keyboard case, fixes one problem while introducing others.
The case covers the iPhone 5s fingerprint reader. That's one of the most interesting features on the iPhone. It's so good, we demand that Apple put their Touch ID system on the iPad as well. Covering it up with a keyboard makes no sense at all.
Second, the case makes it hard to swipe up from the bottom of the screen to show the iOS 7 Control Center. That alone makes it a deal breaker for some.
Users must charge the case and the phone separately, making it strike three. A lot of cases that cover the iPhone charger will offer a pass through charging system, but the Typo doesn't. We don't like needing to remove a case to charge a phone.
We've heard from some users that the case fails at a high rate. Leo LePorte's review show Before You Buy (shown above) featured the case in a recent episode. The reviewer, their security expert Steve Gibson, loved his Typo Case. However, Leo mentioned that a few others on their staff had to get the replacements after a few weeks due to failure. If they're failing at a high rate, then that's a bad thing. At $100, we recommend readers avoid the Typo Case until see more tests.
Element Case Sector 5 for iPhone 5/5s
https://vimeo.com/54788705
The Element Case Sector 5 looks like a cool aluminum case. The video above shows how the company makes the case using some precision equipment. But too many Amazon users find it complicated to fit together and others say it doesn't protect the iPhone 5 very well. Every one of the versions of these cases gets below 3 stars.
Our biggest gripe is that a case that costs too much. A $150 case should universally impress owners, Avoid the high-priced Element Case Sector 5.
Rugged Cases
We're kind of cheating on this one, but we recommend that a certain class of users avoid the popular rugged cases including Otterbox, Lifeproof and Griffin to name a few.
These cases often work great and many users swear by them. So why would they make this list? Some of us hate bulky cases. The makers intend for users to keep these on the phone all the time. They often cover up charging ports or headphone/mic jacks, making it difficult to plug in a charger or ear buds.
People who prefer simple cases that snap or slide onto the phone and that come off quickly should avoid rugged cases. A rugged case that protects the phone in extreme environments is overkill for many users. If this describes you, then never buy a Lifeproof, Otterbox or Griffin Survivor case.

As an Amazon Associate I earn from qualifying purchases.