5 Exciting iOS 5 Features for iPad Owners
Apple announced iOS 5, the latest version of the popular iPhone, iPad and iPod Touch operating system at WWDC 2011 this week. While iOS 5 will be coming to a collection of devices, there are a number of new iOS 5 features that extend the functionality of the iPad and iPad 2. While iOS 5 is helping the iPhone catch up to Android, iOS 5 knocks Android tablets running Android 3.1 HoneyComb out of the water.
5 Exciting iOS 5 Features for iPad Owners
Split Thumb Keyboard – If you like to type with your thumbs, which is pretty much anytime you are holding the iPad, you will love this new split keyboard. We have been using it this morning and it delivers a much better typing experience while you are holding your iPad. The split thumb keyboard allows you to choose move the keyboard location up and down the screen to find the right spot for you to type and hold the iPad. Another bonus is that it works in landscape and portrait.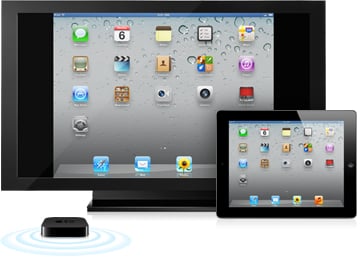 Wireless AirPlay Mirroring – The powerful processor on the iPad 2 will allow you to wirelessly stream your iPad 2 display to  a projector or big screen that is connected to an Apple TV. Unfortunately, the need for an Apple TV means you won't be using this everywhere just yet. Hopefully Apple or a third party will work out an app for Mac and Windows that you can use to stream to a computer and then on to a projector for use in classrooms and conference halls. In addition to presenting, you can also use the Air Display Mirroring to play games on the big screen.
Tabbed Browsing in Safari – Apple updated Safari on the iPad and iPad 2 in iOS 5 so that you have real tabbed browsing. Now you can switch between tabs without popping out to a thumbnail screen for faster back and forth. The performance of Safaris is also updated and Apple has added a Reading List which you can keep in sync between multiple devices.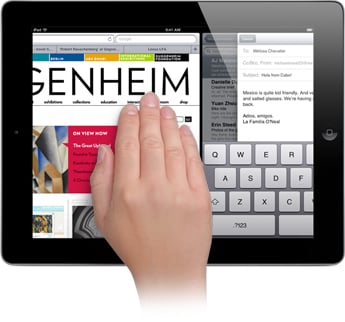 Multitasking Gestures – On the iPad and iPad 2 you can now switch between your apps and go to your home screen with simple gestures instead of double pressing the home button. To switch between apps, perform a four finger left or right swipe across the screen. To open the multitasking bar, swipe up with four fingers. To go to your home screen, just pinch on the center of your screen while in an app.
No PC Needed / Wi-Fi Sync – Two of the nicest features are the ability to start using your iPad without connecting to a computer and the ability to wirelessly sync when you connect to a power source. If you are using your iPad to view photos, movies and TV shows you'll love the ability to wirelessly sync to your device when you charge it at night. The only downside for iPad users is that you might need to change your charging habits from once a week to every night.