5 Features Microsoft Stole to Make Windows Phone 8.1 Better For You
By now, you may have heard that Microsoft's Windows Phone 8.1 operating system could be the first new software to actually give the iOS operating system that powers the iPhone 5s a run for its money. In fact, it's entirely possible that Microsoft may even pick up smartphone users from even Google's Android operating system.
Windows Phone 8.1 is able to do this thanks two different design decisions. The first one is to apparently throw out interface concepts and ideas that simply haven't panned out. We see this with Microsoft's decision to decentralize certain app experiences like Xbox Music and its decision to can the underperforming but well-intentioned Hubs that used to dominate Windows Phone 8 and Windows Phone 7. The second design decision Microsoft made is so basic that Apple and Google have done it for years: steal the ideas and concepts from other operating systems that have proven popular on the iPhone's iOS operating system and Android.
Action Center
One of Windows Phone 8.1's best features is the Action Center. Really, it's that one place that users need to access for the latest on what's going on with their devices. Whereas the Start Screen provides glancable tiles for users to quickly access what needs their attention, before now there wasn't a real place for surfacing anything more than a couple lines of text or a small number indicating pending updates. The new Action Center allows apps to bubble up messages, emails and more into one place that users can immediately access from anywhere with just one swipe. Unlike before, notifications posted to the Action Center stay there until a user gets away from them. It's perfect for finding out what apps have updated or exactly what app that doesn't have a live tile just sent you a notification.
The Action Center also includes network and reception information, a slightly more detailed look at how much battery power your device has left. Finally, each Windows Phone user can customize their Action Center by adding the settings functions that they need access to frequently. If all of this sounds familiar, it's because Microsoft has combined the notifications area of Google's Android operating system with the iPhone's Control Center screen.
Parallax Backgrounds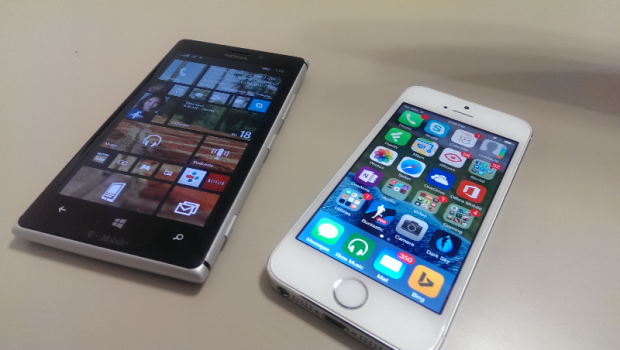 Last year, Apple unveiled the world's most main stream implementation of something called parallax scrolling. Simply put, parallax scrolling changes the perspective of a background image with user manipulation. Most websites use it to highlight specific passages or notices when a user scrolls up and down on their site. The iPhone background changes the user's perspective slightly when they move their device around. Users loved the cool effect when they downloaded iOS 7 last fall.
Windows Phone 8.1 punches out the background color and overlays a user's chosen image behind it. Scrolling up and down makes the user feel like their moving in the actual scene portrayed in the picture. I personally thought that Microsoft over thought backgrounds with this, but I've now had sometime to use it and personally, it's even more enjoyable than what's available on the iPhone.
Developer Comments
More recently, Microsoft announced that Windows Phone 8.1 developers and users would be able to talk directly with each other through the Windows Store. Say a user left a comment disparaging an app for poor performance or the lack of a crucial feature needed to make the experience. A Windows Phone developer can now reply directly to that review, ask for more information about how a user would use that feature or how to recreate the bug that user is experiencing. The Windows Store will email that user and inform them that they have a developer comment.
Read: All Android Developers Can Now Reply to User Reviews
The whole idea is to foster a dialogue between Windows Phone users and app makers so that the quality of Windows Phone apps improve over time. The feature seems to have done wonders for Android app makers. In fact, Microsoft has used the feature to solicit feedback about its Xbox Music app in the Google Play Store tons.
Cortana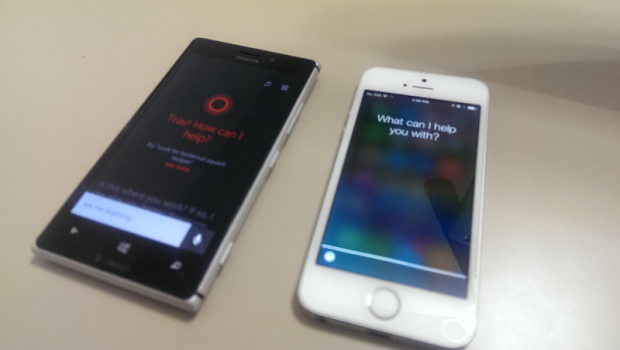 Of all the features included in the Windows Phone 8.1 update, not a single one stands out as more "borrowed" than Cortana, the new voice and text personal assistant. In fact, in building it Microsoft took inspiration from both the iPhone's Siri and Google's Google Now.
Essentially, asking Cortana a question through with your voice or through text solicits a response and an action on her part. Providing her with information also surfaces relevant info about how soon you should leave. For example, if you have something on your schedule, she'll remind you to leave with plenty of time to arrive in current traffic conditions. Unlike Siri and Google Now, Cortana has a sense of humor and is downright sassy when asking it some questions. Users can also manage how much information Cortana uses. For example, those who aren't comfortable with her knowing their home address can delete it from her notebook.
Wallet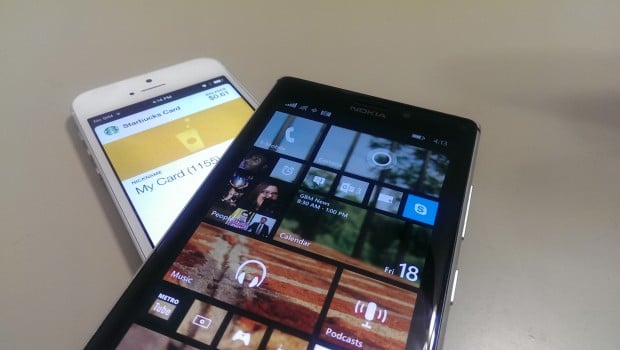 Windows Phone 8, Windows Phone 8.1's immediate predecessor already offered a way for users to pay for their purchases using the NFC chips built into their phone – as long as their mobile carrier supported it, which most carriers in the United States didn't. That's not a problem with Windows Phone itself, but more because the wireless carriers in the United States are adamant about forcing their users to pay for items using their own ISIS payment system. Android's Google Wallet system also uses NFC, though it hasn't been widely adopted either.
The iPhone has never had this kind of functionality, instead Apple introduced Passbook, a way for users to store frequent shoppers cars, gift cards, tickets, boarding passes and more. Microsoft didn't just borrow this functionality. Windows Phone 8.1 not only has ticket collecting and coupon storage built-in, it actually works with online tickets made for iPhone's Passbook app.
Despite the headline, I don't think any of the features borrowed here are particularly egregious, mostly because Microsoft finds itself behind two very mature operating systems. It would have been more ridiculous for the company to insist that developers and users adopt yet another system for storing coupons and tickets or interacting with an intelligent assistant.  Its decision to take influences from iOS and Android could have been Microsoft's smartest move in mobile yet.
Windows Phone 8.1 is available on developer unlocked Windows Phones today. Joining the program is free, but users are better off waiting until Microsoft finalizes the operating system and releases on devices like the Lumia 1520, Lumia Icon, Samsung ATIV SE and every other Windows Phone for free over the summer.

As an Amazon Associate I earn from qualifying purchases.