5 Features Missing From the iPhone 5 and Why I Carry Multiple Smartphones
Those who know me tease that I carry multiple smartphones needlessly when I already own the iPhone 5, one of the most coveted consumer smartphones of today. However, the reason that I carry more than one smartphone is because the iPhone 5–a powerful smartphone–still is lacking some features that I demand of a smartphone to fit my lifestyle. Granted, some of these features do not apply to you or every reader out there, it'd be nice to truly converge all my devices into one, if only the iPhone offered these 5 missing features:
1. Nokia PureView Camera Technology: Large Sensor, Xenon Flash, and Zoom
Sure, the iPhone helped to popularize the mobile photography segment thanks to making the camera simple and painless to use. Apple nailed mobile photography being one of the early ones to adopt touch to focus, HDR photos to increase details in photos, and a simple UI on the camera. However, I do carry around my Nokia 808 PureView to the bars and there are several reasons why.
First, the PureView has a Xenon flash, which helps to freeze the frame in dark environments. Not only does PureView provide a flash that's stronger than the LED flash on the iPhone, but the colors rendered with the Xenon flash are more accurate and you don't have the harsh white ghosting effects that the LED flash produces. If you've used a stand-alone point-and-shoot camera–remember those?–you'll instant see why Xenon is far superior than the LED flash on the iPhone.
Second, the Nokia 808 has a large sensor. Though the sensor isn't as large as those on the Nikon 1 series or any DSLR camera, it's pretty darn big. This means that you have greater dynamic range and the camera can capture colors and details better than the small camera sensors on consumer-grade point-and-shoot cameras and those paltry cameras on a smartphone. Sure, the iPhone and the Galaxy S3 cameras will do in a pinch, but having the level of 'PureView' detail is truly amazing, considering that those images came from a phone, and not a camera.
And third, the iPhone 5 needs some sort of zoom mechanism, and I am not talking about digital zoom. There are several ways to approach zoom. The iPhone does digital zoom, but that's just blowing up a small image larger, so you're losing details, adding noise, and most importantly you'll end up with a craptastic photo.
On the other hand, there's optical zoom, which uses the lenses to get a magnified image. This gives a much better image with no degradation in quality, but you'll end up with a larger camera module and you'll need room for retractable lenses. Have a question on what that's like? Look at how large the Galaxy Camera is, especially with the lens opened.
So digital zoom and optical zoom are out, and this is where the Nokia 808 does zoom right. Nokia outfitted its PureView with a large sensor capable of a theoretical 41-megapixel resolution. This means that when you zoom in, you'll crop the image down to a smaller resolution photo without losing much. So, zoom in a bit and get an 8-megapixel image, and zoom in some more and you'll end up with a 5-megapixel image. This does the trick for a 'digital zoom' solution that doesn't degrade image quality while adding little bulk when compared to an optical zoom solution.
2. Video Optical Image Stabilization & Low Light Shots from the Lumia 920
Nokia has been a leading camera smartphone manufacturer for some time and its experience shows. While the Lumia 920 also uses PureView camera technology, the Windows Phone 8 smartphone's implementation of PureView is drastically different than the Symbian-powered Nokia 808's PureView. On the Lumia 920, Nokia focuses on low light photography and steady video capabilities.
The two areas actually go hand in hand. With low light photography, Nokia is focused on longer shutter speed to let more light in, which means it needs a steady stabilization system to eliminate camera shake. Enter optical image stabilization. Rather than just stabilizing the lens, Nokia is stabilizing the entire camera module, so stabilization is much improved. This works to allow longer shutter speeds with photos, but in videos, you'll get non-jerky 1080p video recording.
While optically stabilized videos may not seem important for those who play back their camera phone's 1080p HD recording on the sub-5-inch displays of their phones, those who connect their phones to a 50-inch HDTV set may beg to differ. In fact, when I play my iPhone-captured HD videos on my 15-inch MacBook Pro, I usually get a headache with the motion jerkiness, especially when I am chasing around a roaming toddler in the family trying to record him grab at toys, or run around chasing our family dog. The jerkiness in camera motion is magnified when you're viewing videos on a big screen, and you can noticeably see the difference of how stabilization helps the Lumia 920.
Video 1: Optically Stabilized Image on Lumia 920 with PureView Technology:
Video 2: Standard Video Without OIS on Lumia 820 Without PureView
3. Simultasking: Multi-View and Pop-Out Windows from Samsung
With the iPhone, and later the iPad, Apple transformed the way office workers work. In the Windows environment, we're taught to multitask, but iOS forced us to single-task our way to success. You can't open two apps side by side, and in the early days, you would have to terminate one app to open another. Today, though, it's improved with apps being allowed to run in the background, and push notifications do help with running messaging programs in the back while performing other important tasks, like finishing that level of Angry Birds or writing that last email.
Samsung introduced a great compromise for the mobile space on the Galaxy Note 10.1 and Galaxy Note 2. Rather than allowing too many windows and pop-ups, it introduced Multi-View, which can be toggled on or off. Multi-View allows two apps to be operated simultaneously side-by-side, similar to the Simultask feature enabled on Kyocera's dual-screen Echo smartphone for Sprint's network.
Additionally, with less important tasks, like video playback and web surfing with the browser, Samsung also introduced pop-out video players and a pop-out browser. This allows you to see the main window underneath the pop-out and you can simultask this way.
4. Qi Wireless Charging
Wireless charging has never really taken off despite the best efforts of carriers and manufacturers, but it's a great feature for overnight charging. When you stumble into bed, especially after a long day, you don't want to fumble with USB cables and trying to figure out which side is up to plug into your phone. Fortunately, with the Lightning cable on the iPhone 5, it doesn't matter which side is up, unlike micro USB, and you just plug it in. However, with wireless charging, you can toss the phone onto a wireless charging pad and be done for the night. Grab the phone in the middle of the night if you get a text message without worrying if you're yanking the cord too hard and messing up the port on your phone or ripping the cord out from the wall, which will stop charging.
It's all a matter of convenience and is a perfect lazy solution, especially for those, like our very own Adam Mills, who don't charge every night. I always encourage charging every night so you have full power in the day, even if you don't use your phone a lot. What if there is an emergency? You'll need all the juice you can get, and with wireless charging there should be no reason why you wouldn't charge your iPhone every night.
5. Smart Actions from Motorola & Google Now Intelligence from Google
Though iOS 6 introduced the 'Do Not Disturb' feature, which proved to be troublesome over the New Year holiday, to allow users to silence their ringers overnight to get a good night's rest, the iPhone needs a more advanced 'profiles' management feature. In short, the iPhone needs to be smarter at basic tasks and gain the intelligence of Google Now.
One example would be if you had a 3 PM meeting at a nearby restaurant, the iPhone would know how far away the restaurant and calculate when you'll need to leave to be there on time given your current location, traffic conditions at the moment, and the distance to the restaurant. Then, at your meeting, the phone should be able to automagically silence the ringer and mute notifications for your hour-long meeting, and at 4 PM, automatically turn the ringer and notifications back on. These are some of the things that Motorola has enabled on its smartphone with Smart Actions and the traffic and travel time information is intelligently managed with Google Now.
When you arrive at the office, the iPhone should be able to detect your location via GPS and not only give you your day's agenda, but also turn your ringer to a more subtle level so you won't disturb others, and when you leave in your car, it should automatically turn on Bluetooth to connect with your car's stereo and turn on GPS.
What the iPhone is Doing Well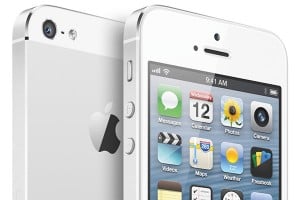 Despite these quibbles, the iPhone is still a great value for many consumers. It offers the largest app ecosystem, but beyond apps, it also offers a robust catalog of music, movies, e-books, TV shows, and magazines that no rival can match. And what it cannot offer, you can probably find an app that will offer you what you need, like streaming through Netflix, more e-content through Amazon, and subscription music listening through Spotify and Pandora. It's elegantly designed and releasing a consumer product means you'll have to make certain compromises to appeal to the largest audience possible. The average consumer isn't a camera fanatic as much as our Xavier Lanier is, and adopting Nokia's PureView camera technology may add costs with little utility for the average population. The iPhone, despite Apple's historically premium status as an electronics company, is above all else a phone for the consumers that was designed with simplicity and elegance in mind.

As an Amazon Associate I earn from qualifying purchases.