5 Features the iPhone 5S Should Steal From the New MacBook Air
The iPhone 5S can steal a few features from the MacBook Airs to make it significantly better than the iPhone 5, even if it ends up looking almost the same. Apple's latest MacBooks might look just last year's models, but it's truly what's inside that counts.
After launching the original iPhone in 2007, Apple released new models in a tick-tock fashion. The iPhone 3G was an all new design in 2008, while the iPhone 3GS was nearly a clone save for improved performance, better camera and a few other minor features.  Apple launched the iPhone 4 with an all-new design in 2010, but again went with a relatively minor update with the iPhone 4S, providing a better camera, new software features and Siri. The iPhone 5 launched last fall and this fall we're expecting to see the iPhone 5S.
While some smartphone users are hoping for an entirely fresh design, early leaks and analysts suggest that the iPhone 5S will look nearly identical to the iPhone 5. That might disappoint some people, Apple's latest MacBook Air models prove that it can make serious upgrades while recycling proven designs.
Read: New MacBook Air Boasts 12 Hours of Battery Life on a Single Charge
Here are five MacBook Air improvements that Apple could bring to the iPhone 5S to make it worth upgrading to a new iPhone.
iPhone 5S with 70% to 80%  Better Battery Life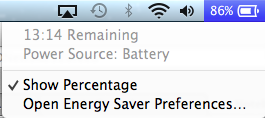 The new 13″ MacBook Air is rated to last up to 12 hours on a single charge when web browsing. That's a 71% improvement over the 2012 13″ MacBook Air. Likewise, the 11″ MacBook Air now boasts 9 hours of battery life, an 80% boost over the 2012 11″ MacBook Air's 5 hours of juice. Our test units are lasting longer than advertised. So long as the screen is dimmed a bit the 13″ MacBook Air can last 13 hours or more.
The iPhone 5's battery life is good compared to a lot of other smartphones, but it's still the weak link for a lot of users. While the iPhone 5 can last about a week on standby mode if you don't use it, actively using it drains the battery too quickly. There's a reason why a Mophie and others sell truckloads full of iPhone battery cases and external battery chargers.
Apple's obsessed with thinness, so we don't expect the iPhone 5S to be thicker than the iPhone 5 in the name of battery life. But its recent MacBook Air engineering feat shows that isn't necessary. What's miraculous about the new MacBook Airs' battery life is that Apple worked within the computers' existing design. Without turning on the devices the new and old MacBook Airs are indistinguishable from each other.
Imagine how much more useful the iPhone 5S would be if it could last 80% longer than the iPhone 5.
iPhone 5S with Wi-Fi 802.11ac
Apple's new MacBook Air models feature 802.11ac technology that allows for faster wireless Internet downloads and transfers between compatible computers and devices. Apple claims that 802.11ac is up to three times faster than the 802.11n standard found in its other MacBooks and mobile devices, which includes the iPhone 5. The new wireless standard also means devices can connect to routers and other computers from further distances.
Apple's claims stand up In our early testing with Apple's new Time Capsule router with 802.11ac and the new MacBook Air models. For example, four Apple 802.11n routers  (1 Time Capsule and 3 Airport Extremes) were previously required to cover a particular house in Wi-Fi coverage. A new Time Capsule with 802.11ac and a single old Airport Extreme are more than enough to cover the same house. Transfer speeds between the two new MacBook Air models via the new Time Capsule are blazing fast.
Apple will hopefully include 802.11ac Wi-Fi technology in the new iPhone 5S so that users will be able to stay on Wi-Fi networks more often rather than having to burn through 4G data plans. It would also allow users to quickly transfer files to other iOS 7 devices and back up their iPhones quickly over Wi-Fi.
iPhone 5S with 128GB of Storage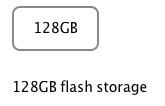 The new $999 11″ MacBook Air comes with a 128GB SSD that's twice as big as last year's basic 64GB SSD. The iPhone 5 starts at 16GB and maxes out at 64GB. That's simply not enough storage capacity for users that snap a lot of photos, record videos, play certain games or want to lug around movies.The iPhone 5S should ship with a minimum 32GB of storage and max out at 128GB.
That kind of capacity might sound like overkill to some users, but the iPhone 5's capacities are a limiting factor. Shooting videos on the iPhone 5 gobbles up about 75MB per minute. That means recording a couple of songs at a kid's recital can take over 1GB. HD movies from iTunes take about 2GB apiece. Sure, you could stream movies from Netflix or other services, but fast Internet connections aren't always available and it's prohibitively expensive for those on metered data plans.
So what about the cost? We've learned from the MacBook Air launch is that Apple's somehow able to offer more storage without raising the price. Apple could certainly offer the 32GB iPhone 5S for $199 with a two-year contract if it wanted to. The iPhone 5S 128GB model could retail for $399, which is what Apple currently sells the 64GB iPhone 5 for. Some iPhone users would be willing to pay even more for a 128GB iPhone.
iPhone 5S Does't Need a Diet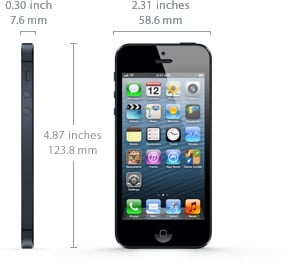 As mentioned above, both new MacBook Air models are indistinguishable fromt their predecessors. Apple didn't fiddle with what works and most importantly didn't try to go thinner. The gadget industry's obsession with thinness is really bad for mobile users since battery life and durability are often sacrificed.
At 7.66mm, the iPhone 5 is thin enough. In fact, it's so thin that people with big hands sometimes find it necessary to put a thick case on the iPhone 5 so it's more comfortable to hold.
Speaking of cases, it would benefit existing iPhone 5 users with tons of accessories if Apple took a page out of the MacBook Air's playbook and shapes the iPhone 5S in the iPhone 5's image. That would mean some iPhone 5 cases would fit the iPhone 5S. Expensive Lightning docks and dash mounts would still be usable. In other words, the pain of upgrading would be dampened.
iPhone 5S in Bare Metal Only
Apple's offered the MacBook Air in one single color since it launched the popular model all the way back in 2008. The anodized aluminum ages quite well, hiding minor blemishes and chips.
Read: iPhone 5: Black vs White
While we love the iPhone 5's industrial design the black version doesn't wear well, even when it's kept in a case. Compared to the white iPhone 5, the black iPhone 5 can look horrible after a few months in a user's pocket. While there are people with strong color preferences, it's clear that the white iPhone 5 is a superior product. If Apple carries the iPhone 5 design forward to the iPhone 5S it should leave the black model behind. The MacBook Air's single color option isn't keeping buyers away. iPhone loyalists might complain about being forced to buy a white/metallic iPhone 5S, but it won't drive them to Samsung or any other company.

As an Amazon Associate I earn from qualifying purchases.