5 Features The Nook Simple Touch Needs To Beat The Kindle
Whenever I talk to people about what kind of features they want in an eReader most mention the lack of lighting on the eInk screen. The new Nook Simple Touch with GlowLight solves that issue brilliantly and answers the needs of eBook lovers who curl up with a good book before bed.
The Nook Touch is my current favorite eReader, with or without the GlowLight. However, it's not a perfect device. There are several features I think it needs and functions it needs to do better to best the Kindle in every way.
Below are the top five features I wish Barnes & Noble would either improve upon or bring to the Nook Simple Touch. Are there any features you wish it had but doesn't? Let us know in the comments.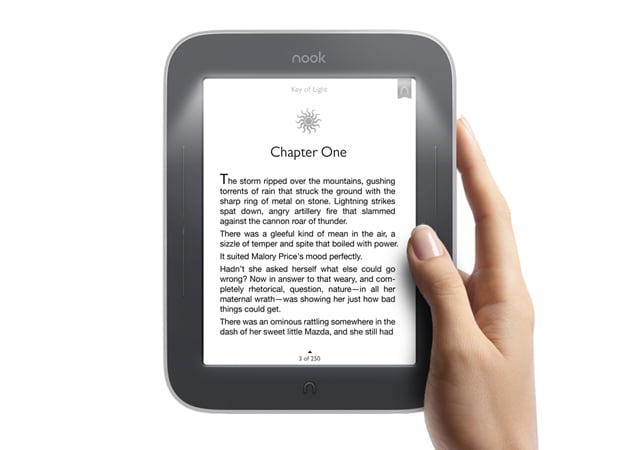 More reliable syncing. The Nook will sync your last page read across devices and apps, though the sync doesn't always work very well. I'll often open a book in the app after I've been reading it on the Simple Touch and the app will be anywhere from five pages to a whole chapter behind. And yes, this even happens when I make sure to press the sync button.
Export notes and highlights. Judging by the many forum and support posts I come across, I'm not alone in wanting this. The ability to take notes and highlight passages in a book is not the sole domain of students. Plenty of people do so in novels as well as non-fiction books. So why are those notes effectively trapped on the Nook? Users can sync them between Nooks, but not to the PC application. And there's no way to just get at that text.
Meanwhile, Amazon not only allows you to grab the file where notes are kept (My Clippings) from the Kindle, users can also access their notes and highlights via the online interface and from the PC and Mac apps. I'm sure Nook users would be happy to just get the text file.
(Related: Kindle Touch vs Nook Simple Touch with GlowLight)
Wider document compatibility. The Nook can read PDF files, but it would be nice to read (and make notes in) text and .doc/.docx files as well. This isn't a strictly reading-focused feature, so I can see why B&N left it out. Still, I've found this ability useful on the Kindle in the past since I do a lot of manuscript reading for professional purposes.
Receive files via email. This is the one feature I'd most like to see on the Nook. While some may think this is only useful for documents, it's actually a feature hardcore readers would love and appreciate. Due to the Kindle's ability to get files over email, users can send saved web pages from Instapaper, Readability and similar services wirelessly, even automatically. I save a lot of short stories and long-form journalism on Readability and would dearly love a one-click way to send them to the Nook since the eReader offers a better reading experience.
Easier library loans. The Nook and other ePub eBook devices get kudos for being compatible with digital library lending years before the Kindle. But once Amazon got in the game they made the process way easier. Instead of having to download Adobe Digital Editions and register devices and get out the USB cord, Kindle owners can get their library books wirelessly. Plus they sync to all apps and devices connected to your Kindle account. Considering how popular the library lending is, Barnes & Noble should do everything they can to make the process easier.

As an Amazon Associate I earn from qualifying purchases.