5 Fixes We Want from the January Black Ops 3 Update 5
The December Black Ops 3 patch delivered a huge number of changes that improved the gameplay experience, but there are still some Black Ops 3 problems and frustrations with gameplay that we hope Treyarch is able to fix in the January Black Ops 3 update.
While Treyarch is not talking about the exact release date of the next major update there are already changes and fixes to the December update live on consoles.
Treyarch called this latest patch Update 4, and since then we've seen three hotfix updates deliver almost a dozen changes to the game. Hotfixes are small direct to the game patches that arrive when you turn on game each time. These are eventually rolled into the next major update.
Although unannounced, Treyarch is already letting you try some of what's new in the January Black Ops 3 update. With competitive play taking place in December we don't expect major changes to the game, so the Black Ops 3 Update 5 release date will likely come in January.
The Black Ops 3 updates for PS4, Xbox One and PC typically include similar fixes for the gameplay and balancing. Although PS4 owners get early access to DLC, the updates usually arrive within a day of each other. The Xbox 360 and PS3 Black Ops 3 updates are handled by another company and are not as regular.
Here are five things we want to see from the January Black Ops 3 update 5 release. Some of these are bigger changes that may not arrive until the full patch, but others could come with a Black Ops 3 hotfix.
More Reliable Black Ops 3 Servers
The Black Ops 3 servers are better than we've seen in the first month for many games of this size, but there are still too many random disconnects from games when the host leaves.
We run into this more often in Hardcore playlists. Possibly due to a host being booted for team killing or simply quitting. Lately we've been seeing the unplugged network cable too often, and it's almost always showing up when we are on a roll.
When playing in a large party we are also seeing the party get disconnected at the end of a match, requiring everyone to get back into the party and start again. Another Gotta Be Mobile editor complains that after the December update his party of four to six players faces a lot of trouble connecting to and playing more than one match at a time. During two hours of trying to play Black Ops 3 the group managed about an hour of actual play time.
Lobby Team Balancing in Black Ops 3
Team Balancing is better than a month ago, but there are still times where team skill levels are out of whack. The video below explains the problem.
The latest hotfix includes matchmaking fixes, so we may see an early fix for this, but there are no detailed changes listed.
We're also hearing complaints from users about team balancing in the lobby, with un-even teams. The video above explains some of this.
Unbalanced Teams In Game
https://twitter.com/Frankie_Smith19/status/677941887886622720
There are many times we are stuck in a game down multiple players against another team, and no one fills the open spots.
https://twitter.com/CalebHecker/status/677939836863418368
Most gamers understand that when someone leaves a game there will be a temporary imbalance, but too often there are times when that spot is not filled. When you are down two players in a team match it is very hard to win, and may be hard to have fun at all.
Fix Black Ops 3 Player Collision
Lately when running around a map in Black Ops 3 there are too many times where we get stuck on another player who is messing around in a doorway or a corner. There are also a number of times where we collide while wallrunning above or below a team member and both fall to the ground.
We don't need to be able to run directly through team members, but on maps like Combine, where you need to clear doors and hallways to get from one spawn point to the next it is particularly frustrating to get stuck in what appears to be a very wide door. There are more details listed in this thread from players who are frustrated and offering input on the problem.
Tweak Player Inactivity Kicks
The last two Call of Duty: Black Ops 3 hotfixes included fixes that increase booting inactive players. This is an important fix because until Treyarch stepped in some players left themselves logged into select game types to earn crytokeys all day and night even when they were not playing. This ruins the experience for other players who are actually in the game.
@DavidVonderhaar i got kicked from HC TDM for inactivity…wait for it…WHILE RUN & GUNNING! 4 times last night, saved a video to prove it!

— jimmy_thepirate™ (@JamesTPirate) December 18, 2015
With the latest patches we are seeing a swing in the other direction with players getting booted while waiting to snipe or protecting and objective. Yes, this may cut down on camping, but in some game modes it makes sense to remain almost motionless in one area while playing even a fast paced game like Call of Duty: Black Ops 3. Hopefully Treyarch can fine tune this.
Black Ops 3 Tips for Busy People
Call of Duty: Black Ops 3 Tips to Level Up Faster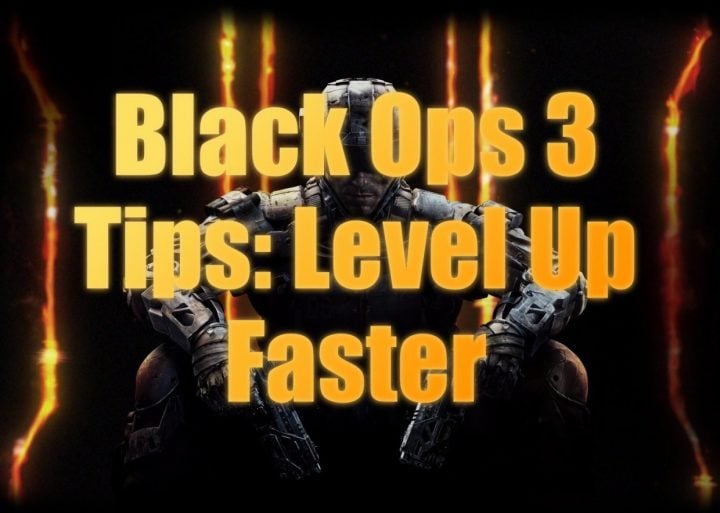 Even if you aren't grinding, you do need to use these Call of Duty: Black Ops 3 tips to level up faster if you want to unlock the fun weapons, attachments and perks that will help you be a better player.
Check out this guide with Black Ops 3 tips to level up faster and earn more XP. To rank up faster in Black Ops 3 you'll need to earn more XP. The video below focuses on how you can earn XP faster in Black Ops 3.
In addition to picking the right game mode, you should focus on the Black Ops 3 challenges that allow you to earn extra XP.
You can rank up your player, but you can also rank up your weapons. Find the right challenges and switch up your weapons as you play to earn more XP.
The consensus this year is that the best Black Ops 3 game mode to rank up fast in is Kill Confirmed. in this mode you earn 150XP for killing and picking up the dog tags left after the kill. Play this game mode with that focus and you will level up faster.

This article may contain affiliate links. Click here for more details.