5 Flappy Bird Replacements To Keep You Frustrated
The hit iOS and Android game Flappy Bird was a huge and nearly instant success that disappeared almost as quick as it arrived on the scene.
After huge success with hundreds of thousands of angry mobile gamers and tweets the developer removed Flappy Bird from iTunes and the Google Play Store. Being extremely simple to pickup and play yet frustrating on so many levels the game has seen attention similar to Angry Birds and Temple Run, but it's all over now. With Flappy Bird fans at a loss now that the game is gone, or eager mobile users who missed out, below we have a roundup of a few knock-offs, and other hard mobile games.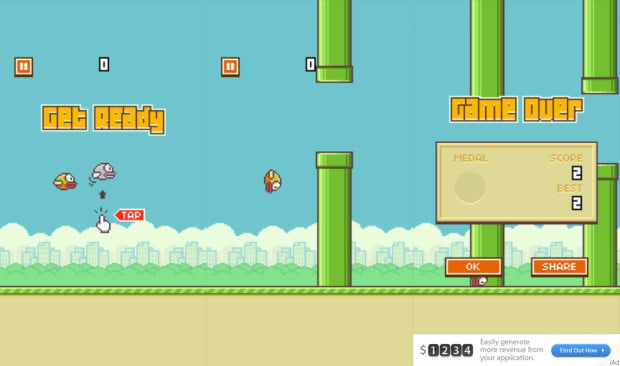 The classic graphics and ridiculously hard gameplay were extremely addicting, and now that it's gone there's plenty of knock-offs already on the App store and Google Play, not to mention plenty of other games worth checking out if Flappy Bird isn't your cup of tea.
For those looking for a new game to fill the void where Flappy bird once was. Considering many uninstalled it out of frustration and now can't get it back, meet Clumsy Bird. Offering nearly the same style and fun, only sadly there's no leaderboard for now. Hopefully that is added as that's half the fun.
Clumsy Bird
It's just as ridiculously fun, addicting, and frustrating as the original and I've managed to get a high score of 14. The game is available now from the Google Play Store. Alternatively there's Flappy Bee for iOS too.
Tiny Wings
For those looking for a similarly frustrating yet fun experience Tiny Wings is an older game, but still a classic on iOS. Available for a few years already, Tiny Wings will keep you frustrated and entertained for hours. Available on iTunes now. Android users can try Moon Chaser for a similar experience.
There's tons of exciting "bird" type games available that will deliver a fun experience like Angry Birds space, but there's much much more to our gaming options on mobile.
The Floor Escape
The Floor Escape starts off somewhat easy for average users, but you'll quickly get frustrated, teased, and have to rely on your brain for this ultimate teaser puzzle game. After tons and tons of levels and friends or family help we gave up on this game, but it's still a classic that should keep you entertained for hours now that Flappy Bird is gone.  Available on iTunes and the Google Play Store.
The Moron Test
Another game that will challenge your brain, not to mention your patience, is one called Moron Test. Now this is another game that's been available for years, but sometimes these old classics are long since forgotten, and a reminder can give you hours of fun all over again.
Available on both iTunes and the Google Play Store, the developers also have a second title the Moron Test: 2 on both iTunes and Google Play.
Super Hexagon
Then if you really want to lose any sanity you had left after hours and hours of Flappy Bird, we suggest giving super Hexagon a try. This upbeat techno music game will have you endless trying again and again with that "one more" mentality as all 6 walls cave in on the player. You better act fast and get ready to start over again, and again, and again.
Get it now from Google Play or the iTunes App Store.
Now these are only but a few extremely difficult and frustrating games available on Android or iOS, not to mention there's plenty of "next level" puzzle games, endless runners like Vector or Temple Run, and of course we can't forget classics like Angry Birds Space.
The Flappy Bird madness is over (at least for now) but there's still plenty of other exciting and frustrating games worth trying in your space time.

This article may contain affiliate links. Click here for more details.