5 Fun World Cup Apps for Android
After what seems like forever, the four year wait for another World Cup has ended and the games have finally begun. Fans all around the world are getting excited to watch dozens of extremely exciting Soccer matches (ok, football) and likely will want a few fun World Cup Android apps to keep them company.
While we've already detailed 5 Ways to Follow the World Cup earlier this week, below you'll find a roundup of five or so fun games or apps for Android smartphones and tablets that will better your World Cup kickoff and enjoyment.
Read: How to Watch the World Cup Live & Follow the Schedule
There are hundreds of apps on the Google Play Store with some sort of Soccer or World Cup affiliation trying to be recognized, but here are just a few that I find useful or fun myself. Below you'll see a few casual games you can play between matches and the awful (at times) commentary, and even a live wallpaper to show your Nations pride right on your device.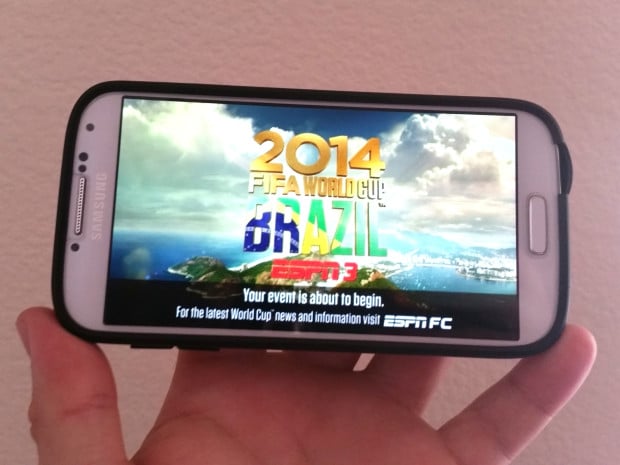 For starters, as usual Google is being the friendly search engine it always is, and has a World Cup Recommendation list right on the Google Play Store. This should be a first-stop for many fans and enthusiasts looking for a few suggested apps, games, or downloads. However, below I have a few of my own that are much different than what Google has to offer.
The 2014 World Cup officially kicked off yesterday, June 12th, and now fans and users everywhere around the globe get to enjoy unlimited amounts of Soccer until it all ends and we have a Champion come July 13th.
Check out our five random apps to enjoy the World Cup Below.
FIFA 2014 by EA Sports
It goes without saying that any gamer that also happens to be a fan of the Soccer will want to get the new FIFA 14 game by EA Sports. Just like Madden, Need for Speed and a few other titles you know you're getting a quality game. Of course there are plenty of in-app purchases, but those looking to battle with the best Countries around FIFA 14 is your best bet.
FIFA 14 is optimized for tablets but works great on smartphones, especially the new Galaxy S5 or HTC One M8, and they've even updated it with all the National teams to keep things interesting. Those that may have tried FIFA Mobile games a few years ago should certainly try again, as the controls and graphics are improved, and everything is much more intuitive and gamer-friendly.
The game is absolutely free, but you will see some optional in-app purchases. Aside from following and playing the World cup matches FIFA 14 offers 33 leagues and over 600 licensed teams, so surely you'll find what you want. Give it a try and don't get so involved in FIFA that you forget what's going on in the real games on TV. – FIFA 14 Google Play Link
Football Kicks
Over the past few years the simple and easy to play "flick" games for mobile devices have really taken off and are some of the most downloaded apps around. Heading through the Google Play Store you'll find dozens of these, but Football Kicks remains one of my favorite. Oh, and it's in landscape mode unlike most "flip" games.
The game is outdated when it comes to graphics, and surely won't look as good as others on a newer 720p or 1080p HD device like the Galaxy S5, but it's the gameplay you'll love. From perfectly curved kicks to aiming in the top right corner, this game is addictive, frustrating, and will keep you entertained for hours on end. This was surprisingly one of my favorite games last year I played far too much, and you will too, especially now that it's "Cup Time". – FootBall Kicks Google Play Link
Adidas 2014 World Cup Live Wallpaper
One of the best aspects of Android are the Live Wallpapers, and Adidas has an excellent option for all you World Cup and "football" fans. First released in 2012, the new Adidas 2014 World Cup LWP app is one worth checking out.
There's a standard 2D view like the previous version of the app, one which still lets you scroll around the entire stadium right on your device. This time it's staged at Maracana Stadium in Rio de Janeiro, of course, and the new 3D View is stunning.
This lets you add your Nation of choice (and its flag) at center field, and the 3D view will let you take shots at the goal with the flip of a finger. So while it isn't a game, while you're picking apps or launching Facebook you can casually take a shot, then continue on with your smartphone plans. – Adidas 2014 World Cup LWP Google Play Link
Flick Kick Football
As mentioned above, flick games are extremely popular but one that has always stood out for the multiple game types and overall experience is Flick Kick Football by PIKPOK Games. I'm a huge fan of their (USA Football) Flip Kick Field Goal game, and the Soccer option is just as fun.
Offering a simple time-based arcade mode that only gets more difficult as time goes on, to having defenders in the way you'll need to precision curve the ball around with just the right amount of touch. The aim takes a few minutes to get a good handle on, but once you do, you'll be shooting like Messi. Everything from bullseye, skill shots, to even pass and play type games, you'll love this free option as well.  – Flick Kick Football Google Play Link
Watch ESPN
Last but certainly not least is the Watch ESPN app. We've already detailed how to watch the World Cup, but this is an essential app that any fan or casual viewer will want to download. As long as you have a cable subscription that's supported simply download the Watch ESPN app on your Android smartphone or tablet and enjoy the World Cup anywhere you go.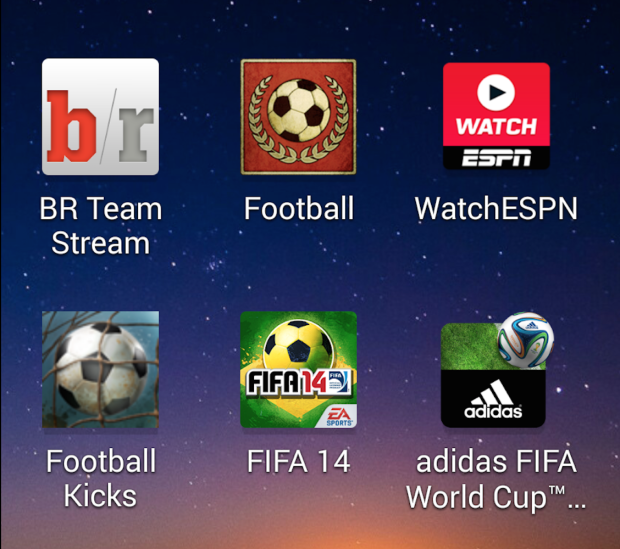 Watch ESPN gives you 24/7 access to nearly all the ESPN channels, mirrors games from other networks at times, and is dedicated to delivering tons of World Cup games to the palm of your hand. – WatchESPN Google Play Link
Obviously there are dozens and dozens of other quality apps worth checking out (Bleacher Report for latest news is one) and tons of excellent games, but these are just a few that we've been using ourselves. And don't forget to do a few Google Searches with Google Now for your favorite team or Nation you'll be following, as Google Now will give you alerts, reminders, and scores as the Cup moves forward.
Let the games begin!