5 Great 4th of July Android Apps to Help You Celebrate
It's that time of the year again. Here in the United States we'll be celebrating our Independence Day on Friday, July 4th, while hopefully enjoying some delicious food or a BBQ. These days there's tons of options when it comes to celebrating, so we've gathered a list of five great Android apps to help consumers celebrate the 4th.
The 4th of July is all about hanging out with friends and family while having a cold beverage at a BBQ, then eventually enjoying some pretty fireworks in the front yard, or from the rooftops of the Las Vegas strip. That being said, users also want to show their pride with wallpapers of the American Flag, live wallpapers with fireworks shooting off in the background of your smartphone or tablet, and even snapping tons of photos.
Read: How to Take Amazing Firework Photos on Galaxy S4 or Galaxy S5
While there are hundreds of Android apps on the Google Play Store with the 4th of July in mind, here we've gathered a mixed bag of five awesome apps that should help you enjoy the day (and hopefully a 3-day weekend) while showing some American spirit at the same time.
When you're not watching a parade, lighting fireworks while shooting roman candles at your friends, or enjoying an ice cold Newcastle and some delicious food, you'll likely have some down time. This is where the list of five Android apps below will surely come in handy.
Before you head to the Google Play Store and start downloading random apps or wallpapers to show some holiday spirit, check out the few we've gathered below, and don't forget to read to the bottom, as we even have something for the kids.
July 4th HD Live Wallpaper
First off, you'll want to change that background wallpaper on your smartphone to something a little more exciting. It's only one day a year. Here we chose a reputable and highly customizable app called July 4th Fireworks HD. You'll have a dark sky for a background with fireworks launching and exploding behind your screen covered in icons for apps and games. And there's even sound, but that can be disabled if you want, but it's a neat effect and addition.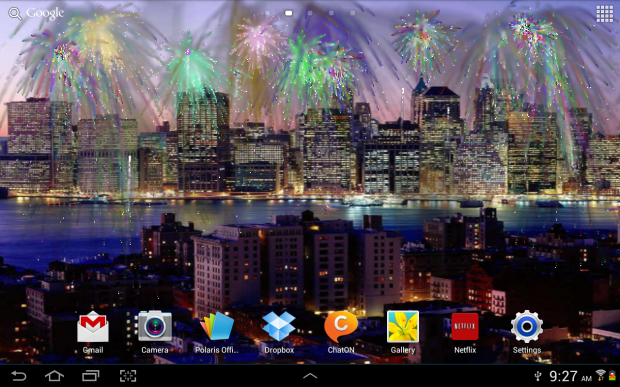 You can touch the screen to get more fireworks shooting off on your display, it works great with tablets, and there are tons of customization options if you head into settings. Get it from the link above and enjoy.
KoolrPix Celebrate AMERICA
Crazy name aside, this app will help you celebrate America and the Fourth of July by customizing any and all photos you take full of American flags, hats, fireworks and more. Rather than just upload a boring photo to Instagram or Facebook, deck it out with American spirit using this app.
This powerful editing tool and app will let you transform all your photos into fun images full of patriotism. Give it a try from the Google Play Store.
Fourth of July Coloring Book
We mentioned we would have something for the kiddos, and that's exactly what this app is for. While you're trying to enjoy some casual conversation with friends or family, keep the kids busy and patriotic by coloring some American flags, fireworks, and more, all using this app and your smartphone or tablet touchscreen.
This free app has tons of options when it comes to fun and easy coloring books, all geared for the holiday. Put it on a spare tablet and lets the kids enjoy some fun coloring while you're out and about this July 4th weekend. Get it right here.
Entertainment
Of course the Google Play Store is full of options to keep you entertained as well. While you're driving to visit friends and family download a movie from the Google Play Store, which now can be pinned and temporarily saved to your device for easy viewing while offline. We're talking about movies like: The Patriot, Top Gun, To Kill a Mockingbird, Forrest Gump, and maybe even Independence Day.
Don't forget to download Slacker Radio or Spotify so you can play some tunes while you're sitting around the pool or at a BBQ. I've been jamming to a little Creedence Clearwater Revival this week to keep my spirits up. Can't go wrong with some patriotic tunes all holiday weekend long.
History
Good company and food aside, today is all about a celebration. Take a minute to remember what Independence Day is all about. Commemorating the adoption of the Declaration of Independence on July 4, 1776, declaring independence from the Kingdom of Great Britain. There's no better way than to download the official History Channel Android app.
Users can watch full episodes, clips from the History channel, and much more with this app. Surely they'll be playing plenty of July 4th themed episodes, but users can also head into the topics section and search for something a little more specific. Take time to remember what this day is about, and learn something new. Our gadgets don't need to be all about social networks or games, and this is a good way to bring another option to the table this holiday weekend.
Better yet. Leave your smartphones and tablets at home inside, and instead get out to enjoy some company with friends and family, the fireworks, parades, or a BBQ.
That all said, we hope those in the U.S. enjoy their 4th of July weekend, and stay safe!