5 Great Asus Transformer Book T100 Accessories
It's kind of strange how hardware can define a generation. Last decade it was the iPod that struck a chord with users. When users thought of a media device, when they wanted to listen to music when not in front of a stereo, they thought of Apple's music player. That's sort of happening with the Asus Transformer Book T100 2-in-1.
Ever since Microsoft begin showing off the Asus Transformer Book T100 in its "Honestly" ad campaign the device has been at the top of sales charts for Windows devices. It could be that users identify with its design or really want a Windows device that isn't overly expensive.
It's more likely that the Asus Transformer Book is selling well because it is one of the few devices that represents the reality Windows 8 and users find themselves in today. Laptops are great for typing papers and getting work done almost anywhere. They're not so great at being entertainment devices. That is, many users find that having to deal with a keyboard and extra bulk isn't great if they're trying to watch a movie or enjoy a television show in bed or in a car. The Asus Transformer Book T100 essentially lets users create the device that's best for their needs at that particular moment.
The Asus Transformer Book T100 comes in two parts. The first is a tablet with a 10-inch display that includes all the necessary ports for acting as a standalone tablet. On the bottom of that tablet is a locking mechanism that allows users to drop it into an included keyboard dock. That dock includes a USB port and a trackpad. Users get all of this for just $349.
This device is key to Windows's future. Microsoft has created an operating system that allows users to decide how they want their device to work at that particular moment. The Asus Transformer Book T100 is a perfect example of what happens when hardware companies embrace new design concepts.
Having a robust line-up of accessories is also key to that. After all, many users buy based on the capabilities they can add to their device, and even if they aren't looking to add more capabilities they'll still need cases and more to protect their investment. Here are 5 of the greatest Asus Transformer Book T100 accessories.
iPearl mCover Hard Shell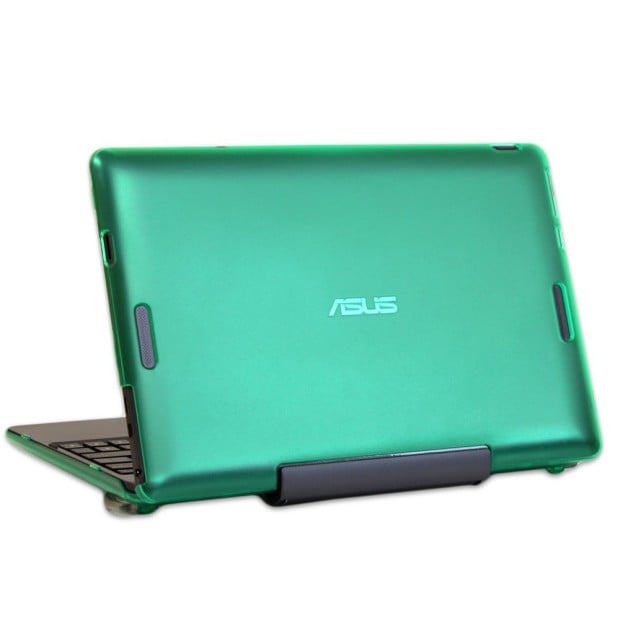 It used to be that new laptop buyers covered the front and rear of their devices with stickers to add a bit of flair. Users still do that, but a growing number of them are covering their devices in plastic shells that add color to otherwise drab hardware. That's where the iPearl mCover Hard Shell Case comes in. It acts as a barrier for any dings or scrapes that might otherwise end up ruining the curves of the Asus Transformer Book T100. There's also a handle that can be folded back to prop-up the laptop dock. Like the 2-in-1 itself, the shell comes in two parts so that users can separate for different activities.
[ Buy the iPearl mCover Hard Shell Case for $19.99 from Amazon ]
Cyber Acoustics Universal Tablet Stand
Tablets are great for doing just about anything in almost any environment, except for sitting at a desk. Most don't come with a built-in stand or dock and those that do aren't always adjustable. To some extend the Asus Transformer Book T100's keyboard dock addresses this issue. But there are going to times when users will  prefer having the screen sit up higher off their desk. Cyber Acoustics' adjustable Universal Tablet Stand can be maneuvered and adjusted to sit higher than if a user simply left the Asus Transformer Book's display in its keyboard dock. This allows users to get a better angle on the tablet's display and pairing it with a wireless keyboard and mouse could create the ultimate low-profile desktop PC.
[ Buy the cyber Acoustics Universal Tablet Stand for $35.99 from Staples ]
Anker USB 3.0 Dock
Like many other portables, the Asus Transformer Book T100 doesn't' include a wealth of ports. Don't misunderstand, the essential ones like USB 3.0 and HDMI video out are there, however, connecting and disconnecting a monitor, printer and other exttras could seriously hamper the device's usefulness.
Anker's USB 3.0 Dock allows users to neatly connect their Asus Transformer Book to everything at their desk by just plugging in one cable. On its rear is a DVI video port, three USB 3.0 ports, an HDMI port, an Ethernet port for connecting to physical networks at speeds faster than Wi-Fi, a audio port and four USB 2.0 ports.
The Anker Dock isn't cheap. It costs $119.99. Still, it's very useful and adds more ports than what's even available on most desktop PCs.
[ Buy Anker USB 3.0 Dual Display Docking Station for $119.99 from Amazon ]
Poetic Asus Transformer Book T100 Leather Keyboard Portfolio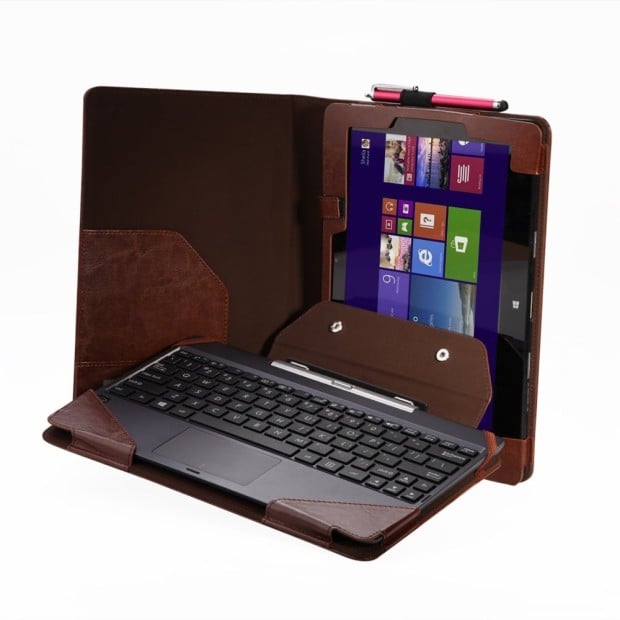 Protecting a device witch a bright plastic case is one thing. What about those who value a more sophisticated look? Poetic makes a wonderful leather two-part case that protects the Asus Transformer Book for almost anything. The screen & tablet portion of the case has its own portfolio cover with a stylus holder so that users who prefer to carry around just the tablet portion of the 2-in-1 have adequate screen protection. A second part of the cover protects the button of the Transformer Book T100's laptop dock.
The case coasts $19.99 but it's definitely worth it for users who don't mind a bit of added bulk.
[ Buy the Poetic Asus Transformer Book Leather Keyboard Portfolio for $19.99 from Amazon ]
Bamboo Stylus Solo
Unlike some other Windows 2-in-1's, the Asus Transformer Book doesn't come with an included stylus. Despite that, its design just begs for users to purchase a pin and recording information about classes and meetings in Windows 8's OneNote application.  In our experience, the Bamboo Stylus Solo has always been a great option for users who need a pen for their tablet. It comes in six different colors and requires no other special hardware. Users can completely control their Transformer Book with just the Bamboo Stylus Solo.
[ Buy the Bamboo Stylus Solo for $19.99 from the Wacom Store ]
Here's to hoping these accessories enhance your experience with the Asus Transformer Book T100. GottaBeMobile also has all the tutorials you need to learn more about the Windows 8 software running on your new 2-in-1 too.

As an Amazon Associate I earn from qualifying purchases.