5 Hidden Android L Features and Tricks
While many consumers are still waiting for Android 4.4 KitKat updates on their smartphone, Google is already busy working on the next update set to arrive later this year. Announced at Google I/O is Android "L Release" which was surprisingly released to the public as an early developer preview.
For the first time in over three years this week Google gave users and developers a look at what's in store for the next version of Android ahead of the release, which is expected to be sometime in the fall. While we've been busy enjoying and trying out Android L, we've also found a few new and hidden features worth sharing.
Read: Android L Release Hands-On Video
There are tons of changes present in Android 4.5 or 5.0 (L Release) as you can see from our initial hands-on above, but this is still an early developer look and most of the changes aren't system wide. That being said, Google's added tons of little tweaks and improvements on top of the drastic changes to the user interface.
We're still busy seeing what's new, getting used to the changes, and finding additional features, but below we'll detail five or so hidden features of the Android L release.
In the past Android has been rather bare-bones and essentially the platform in which manufacturers like Samsung or Motorola can add to and build on top of for their own devices, which has been the case for years. However with Nexus devices being popular, and Google always evolving the experience, Android L looks to offer the biggest changes yet to deliver an overall better experience.
Aside from having a brand new interface full of animations, transition effects, and touch responses, there's also a few smaller features Android was missing. Stock Android at least. So here's a few fun things we've found in the past 24 hours of using Android L since it was released yesterday.
Read: How to Get the Android L Beta Right Now
Android is always changing, especially with Samsung, HTC, and other manufacturers customizing it. So while some of these aren't new to smartphones they are brand new to stock Android with the L release.
Battery Charge Until Full
Plugging in our Nexus 5 after a few minutes of gathering info Android L now predicts the time until the battery is fully charged. On the lockscreen and in the battery info page in settings you'll now see a time until full meter and estimate. This is a nice way to know that you have about 40 minutes until you're at 100% and can start your day.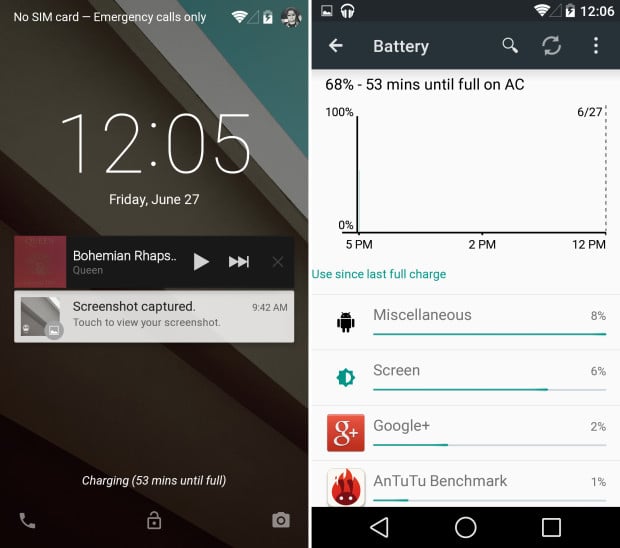 This is a small change to Android, but it's the little things that matter sometimes.
Battery Life Remaining
While we're talking about battery life, there's also a new battery life remaining option. This isn't on the lockscreen, but the Battery page in settings will go from saying how long until full while charging, to estimating how much battery life is remaining. Saying you have 7 hours of usage left. This obviously will fluctuate based on usage, but is a nice touch.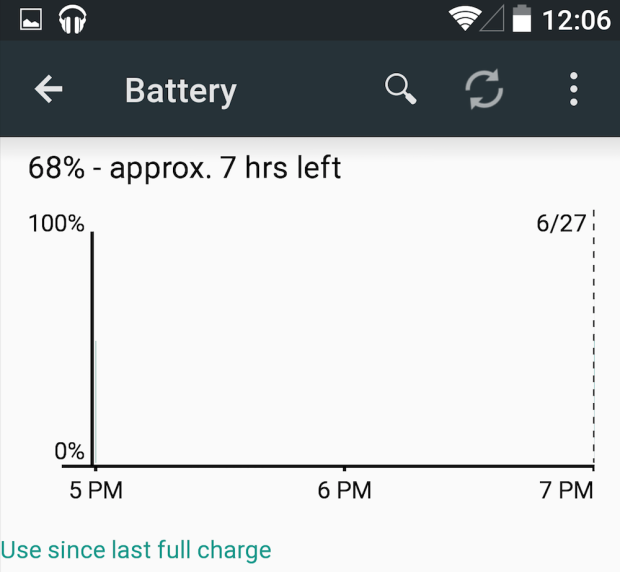 Battery Saver Mode
We also have another feature that's popular with 3rd party manufacturers, but new to stock Android right from Google, and that is a battery saver mode. Head into settings > battery > and tap menu and you'll find the Battery Saver mode.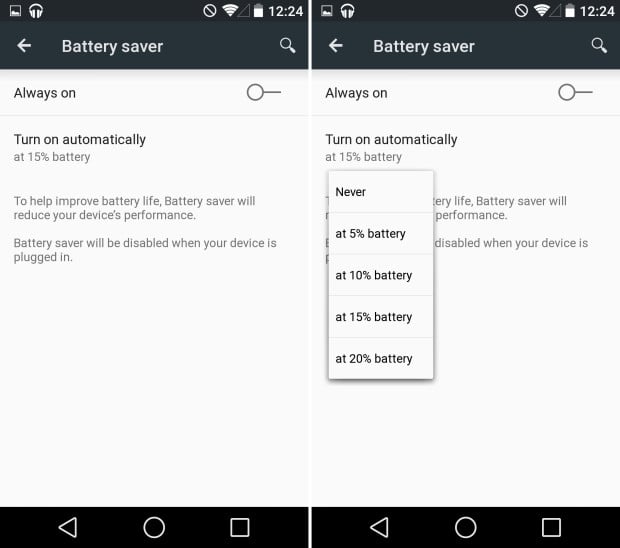 From here just as you expect, you can set it to manually turn on battery saving mode at 15% remaining, or set one of multiple options. There's also a toggle so while traveling or out of town (or camping) you can simply set it completely into battery saving mode no matter how much battery is remaining.
This isn't nearly as in-depth as the new Ultra Power saving mode on the Galaxy S5, but it's a good start.
Material Keyboard
Users probably noticed from Google's introduction and our videos that there's a brand new keyboard. The keys aren't split up and all blend together, and the gesture trail for swiping is a new color. The keyboard still works wonders, and is one of the best options available, but there's no apparently three keyboard options.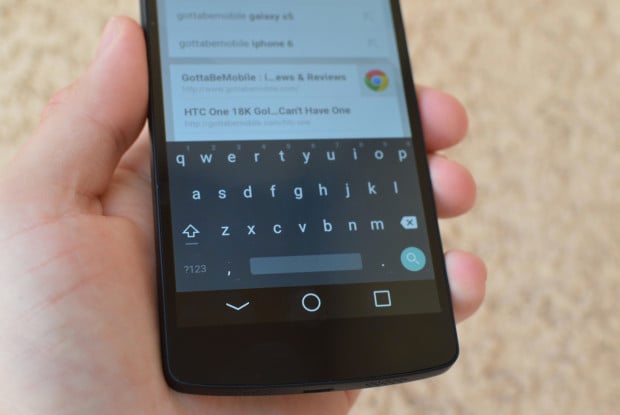 Heading into Language & Input you'll find the settings button for the Google Keyboard, and there's now three theme options. Material, Blue, and the white option we have today on most Nexus devices. It's nice to see all three here, but we don't know if they'll make it to the official release.
Do Not Disturb
Last but not least is the new "Do not disturb" setting. Again, nothing new to Android, but something stock Android built right by Google was lacking. This update is about making an all-around solution end to end. Adding many of those fine-tuned features Android was missing.
Rather than have to rely on phones from Samsung or others to get the popular Do not disturb, this will be present on Android L. There are options to block calls or messages, and you can customize it not only by time of day, but by starred contacts. I'll be setting this to only allow messages from my starred contacts at night.
Of course there's tons of new changes to Android L, but these are a few of the less noticeable changes we've spotted in the past few hours while using the brand new version of Android.
Consumers can expect tons of additional features and changes as Android L (4.5 or 5.0) is improved and updated as the release date grows near. We don't have solid details yet, but given previous release cycles we can expect the new and improved Android L to arrive sometime this fall around October or November.