5 Hidden Windows Phone 8.1 Features iPhone Users Would Kill For
Microsoft's formal announcement of Windows Phone 8.1 a couple of weeks ago seemed to go mostly unnoticed. Except for Windows Phone users the world over, who took note at just how revolutionary the free update would be for users with Windows Phone devices already.
Yesterday that all changed. Traditional news outlets and online gadget taste makers like Gizmodo praised the latest release of Microsoft's mobile operating system. Wired even went so far as to say "Windows Phone 8.1 does a lot of things, and does them with a unique flair all its own." That's no small endorsement, especially since Windows Phone 8.1 comes nearly four years after Microsoft reentered the mobile space aggressively with Windows Phone 7. Since then, Apple's iPhone has continued to pack on new features and completely dominate smartphone sales the world over.
Fortunately, Microsoft has caught up to the iPhone 5s's feature set. It's also managed to improve over the iPhone in small but key ways that make it compete with Android competitor as well. With just two days of experience under my belt and five months spent with the iPhone 5s, here are 5 Windows Phone 8.1 features that iPhone users would kill for given my experience with both platforms.
Word Flow Keyboard
Until I spent six months using the HTC One (M7) last year, I had no appreciation for on-screen keyboards that allow me to leave my finger on the screen and just move it to spell out words. Admittedly, it wasn't one of my favorite features from the device, but when I switched to the iPhone 5s immediately after my time with the HTC One, I found myself longing for the days where I could just move my fingers around to spell words. But, by the time I made my switch back to Windows Phone in February I'd forgotten about gesture based keyboards entirely.
Then I spent some time using the new Word Flow keyboard that's built into Windows Phone 8.1 on Monday, and all that changed. I type for a living. In fact, my hands come in contact with a keyboard of some kind probably every hour of every day when I'm awake. Being able to save more taps and type out words quickly is a godsend for my fingers, and I suspect office workers will appreciate it too. Unfortunately, the iPhone 5s and iOS don't feature anything like the Word Flow keyboard and Apple doesn't allow users to add custom keyboards of their own.
It's worth noting that Microsoft says Word Flow is the fastest keyboard of its type in the world. I don't know if I'm ready to buy into that necessarily. Still, it's very impressive and very useful.
Sense Apps
Battery Saver, Storage Sense and Wi-Fi Sense are all what I consider to be low-key additions to Windows Phone 8.1. Neither are flashy, and none of them are instantly going to make longtime iPhone users suddenly decide to pick up a Windows Phone. That's a shame because each one is incredibly useful.
Battery Saver allows grants Windows Phone the same detailed power usage statistics available on Android. Want to figure out which app you've installed is completely depleting your phone's battery? Battery Saver is how you do it. Battery Saver can also drastically cut a device's power output.
Rather than being a simple storage meter, Storage Sense is an integrated default storage system. When paired with a device that has external storage, users can tell Windows Phone 8.1 where they'd like their stuff stored. There are options for media, photos, apps and downloads. Suddenly, the storage situation on Windows Phone is miles ahead of what's available on the iPhone. Of course, the iPhone would need to support external storage for this to be useful, which it doesn't. However, I suspect may iPhone users, particularly those who purchased the new 8GB iPhone 5C, wouldn't mind having both.
Of the three, my favorite has to be Wi-Fi Sense. I hate having to type in and agree to random Terms of Service requests when I'm simply trying to use a public hotspot. Wi-Fi Sense not only tracks down local free internet hot spots, but can also be configured to enter dummy information so that users don't need to tap on any agreements or enter their real email accounts just to access a network.
I should note that the not entirely new Data Sense app also provides users with something iPhone owners would kill for: it tracks exactly how much data, whether it be Wi-Fi or mobile, is being consumed, and by which apps. This way users know just how much of their data plan is left before the end of the billing cycle, and which apps are causing the most drain on their resources.
Customizable Lock screen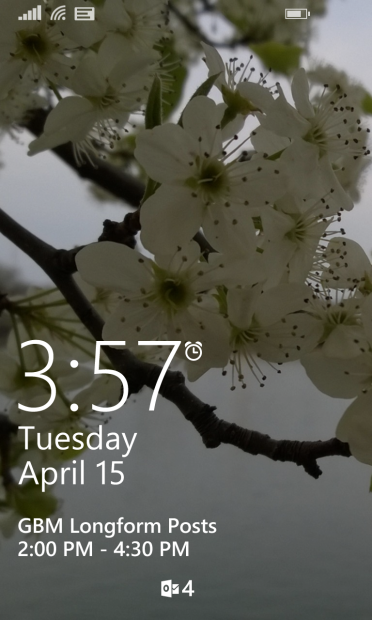 Microsoft didn't have that much new to share about Windows Phone 8.1 during its announcement, much of the operating system had already leaked to users weeks before. One of the surprises that did make it onto the stage was how Windows Phone users would be able to customize their lock screen.
To be clear, this isn't just about changing the image that the lock screen uses. Instead, users will be able to alter their lock screen's layout entirely. Unfortunately, the company has yet to say anything more beyond that. About the only thing we do know is that users will be required to download separate applications that add this functionality from the Windows Phone Store.
Customizable Settings Shortcuts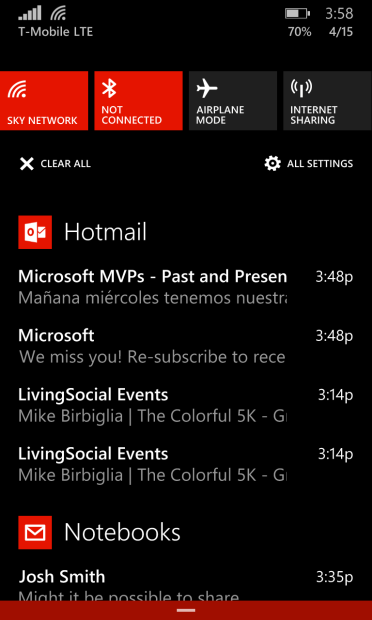 Apple finally added the ability for users to quickly manage their settings with Control Center in iOS 7 last year. I frequently used the feature. In fact, not being able to do the same thing in Windows Phone 8 made my transition back to the operating system very painful. Thankfully, Microsoft added this functionality to Windows Phone. It also took it one step further.
Windows Phone's interpretation of Control Center is user customizable. That means users can have the features they care about most show up there, instead of the ones Microsoft thinks are important. I've added Wi-Fi Hotspot functionality there so I can get to it without having to dig into Windows Phone's settings.
A File Picker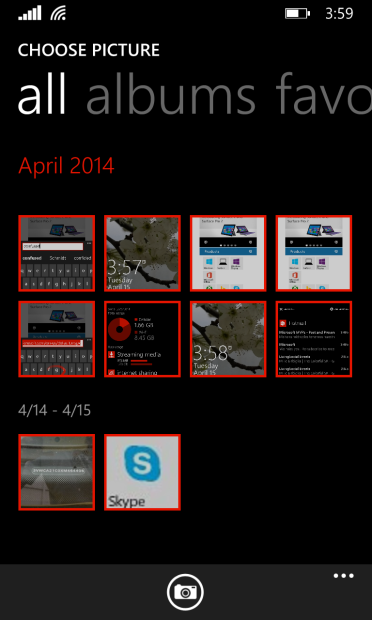 What Windows Phone 8.1 doesn't offer is a File Manager, an app that allows users to move files around on their device into different folders for organization. That's unfortunate, especially since rumors swirled of Microsoft adding exactly that functionality early on.
Microsoft did add downloading capabilities and an accompanying folder to Windows Phone 8.1. There's also a new File Picker that developers can integrate their apps with. All of this allows Windows Phone 8.1 users to treat their device roughly like they would a computer or tablet. Downloading and uploading files to apps and utilities has never been this easy on the iPhone, and would likely rival what's available on Android if Microsoft had actually added a way for users to move files in between different folders on their phone other than plugging their device into a PC.
Windows Phone 8.1 is available for developers & enthusiasts to download onto their existing Windows Phones right now at absolutely no charge. It'll be available on newer Windows Phones in the early summer.