5 HTC M8 Features I want in the HTC One Successor
It may seem like it was only yesterday that HTC unveiled the HTC One, it's now current-generation smartphone that gives even Apple's iPhone a run for its money in terms of build-quality. Since the smartphone's début, I've had the chance to pick one up. In fact, I used it exclusively for four months before switching to the iPhone 5s.
In that time I had the chance to really understand HTC's motives for creating the device. I've also learned where those motives led HTC to make wise decisions and where it didn't. Now with the HTC M8, the HTC One's rumored successor, is rumored to be on its way to store shelves. Here are the hardware and software features HTC needs to introduce to make the M8 a worthy sucessor to the HTC One.
Bring back the hard button or eliminate hardware buttons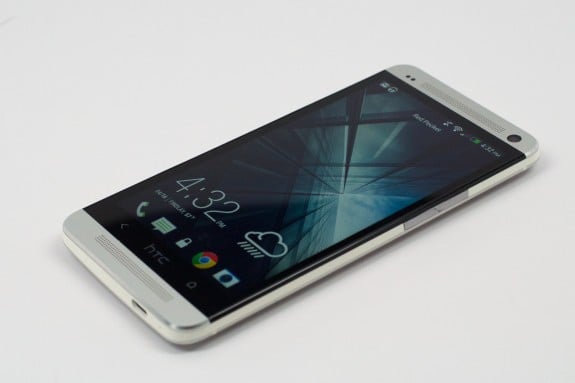 Personally, I happen to prefer hardware buttons. The HTC One's were especially nice, giving me the tactile feedback I needed and not taking away from the streamlined look of the device. Unfortunately, what could have been an easy win for the HTC One turned into a loss thanks to HTC's decision to only include two hardware buttons. My problem is not that HTC attempted to rid their flagship device of the menu button as much as it's that placing the Home button on the right side of the device makes the phone awkward to hold and use with one hand.
If HTC's so obsessed with getting rid of home buttons, maybe the HTC M8 shouldn't have them at all. That way users could get the default virtual key layout back and the home button in its logical place: the middle bottom portion of their screen.
Read: HTC M8 Release & Rumor Roundup
A front-facing Fingerprint Reader
My favorite features of the iPhone 5s isn't Siri or its great camera. It's the built-in Touch ID fingerprint reader that allows me to unlock the device. While rumors of the HTC M8 featuring a fingerprint reader are solidifying, those rumors peg it for a position on the device's rear. That means that I'd need to pick up the device and maneuver my finger around the its rear before unlocking. That's simply introducing issues were there shouldn't be any. If the HTC M8 is going to have a fingerprint reader it needs to be where I can see it on the front.
Read: HTC M8 Leak Points to Fingerprint Tech on Back
Less Sense Makes More Sense
I don't doubt that for some people the HTC One's Sense 5 Android skin made it their first choice for new device. Blinkfeed is useful and the device's built-in media remote also comes in handy some days. On the other hand, Sense 5 as a whole feels like a complete wreck. Mixed in with useful things like HTC Zoe highlights are questionable design decisions and user interfaces that defy logic.  For example, the TV app, which allows users to browse what's airing and activate their home entertainment equipment, is a usability nightmare.
I think less Sense on the HTC M8 would make more sense for users. HTC needs to tone down the changes to Android if they can't get it right from a usability stand point. I'm not saying they shouldn't make any changes. They should just be smarter about the changes they do make.
Bump Up the Camera but Change Nothing Else
I must admit to having first thought that the HTC One's UltraPixel camera was a cheap gimmick. "Sure, the sensor is a bit bigger but why in the world would anyone choose it over a smartphone that has more megapixels", I thought.  I was wrong. Don't misunderstand, I hope that HTC does bump up the HTC M8's camera to 5 megapixels for marketing and clarity's sake. Sometimes I wish pictures taken with the device had a bit more clarity. Other than that they should change nothing about it.
Add Always on Voice Commands
In the last year always on voice commands have permeated everything. In a world where the Xbox One and the Moto X both allow users to give their phones commands without having to hit a button first, I think it wouldn't necessarily be a bad idea for the HTC M8 to do the same. I'm not necessarily saying that it needs to be turned on by default. However, the M8 needs this to stay current, I think.
Read: 5 Reasons Why You Should Wait For The HTC Two
Rumors have pegged the HTC M8 or HTC Two for a reveal sometime early this year. The HTC One turns one in March.

As an Amazon Associate I earn from qualifying purchases.