5 iOS 7 Cydia Tweaks for Improved Sound Settings
Here are five iOS 7 Cydia tweaks that give you more options and better features for managing the sound on your iPhone or iPad.
Hot on the heels of an iOS 7.1.2 jailbreak, we decided to discuss some jailbreak tweaks that iPhone and iPad users can take advantage, and this time we're focusing on how you can improve iOS 7's sound settings with a few tweaks that you can download and install from Cydia.
We already discussed a ton of iOS 7 Cydia tweaks that dramatically improve the iOS 7 experience, but volume control and other sound settings on iOS is something that needs a slight improvement, and jailbreaking gives users that ability.
As with our previous lists of essential jailbreak tweaks, we want to point out that there are a ton of great Cydia apps and tweaks out there, but a lot of them are fixes for problems that don't even exist (like a tweak that hides the app name under the icon, or hides the carrier name at the top — unnecessary, but to each his/her own).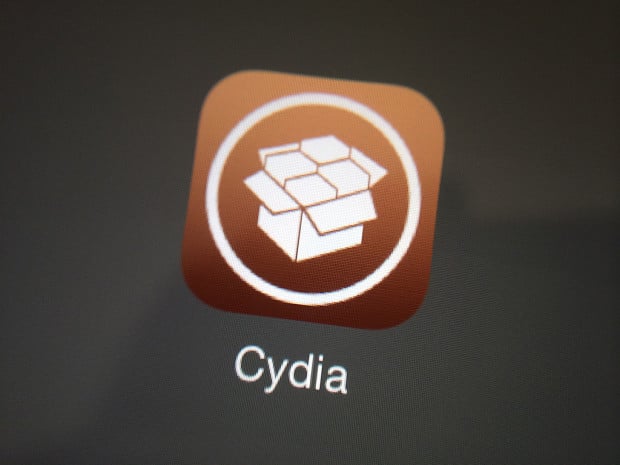 The tweaks that we mention are ones that can be huge boons to your iOS 7 experience, and they fix real issues that have annoyed iOS 7 users since day one, so here are five tweaks that give you more options and better features for managing the sound on your iOS device.
Ringer & Tones
If you've been yearning for a way to customize ringtones and vibration behaviors on an app-to-app basis (or even contact-to-contact basis), then Ringer & Tones is a jailbreak tweak that you'll want to check out.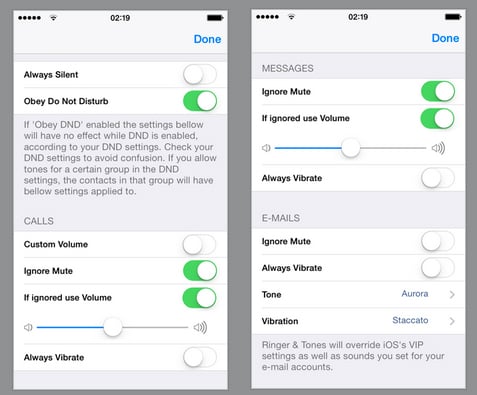 This tweak allows you to customize ringing and vibration behavior for app notifications, calls, text messages, and emails. It even will let you customize all of this based on the contact or the app. There are also settings for muting the ringer and vibration, which is especially useful if you're already in a call or are using your phone.
Arise
The built-in alarm clock function works well and it gets the job done, but sometimes you just need a few more option to make it great. This is where Arise comes in.
Arise only has a few settings that you can change, but they make the built-in alarm clock infinitely better. You can set a custom volume for alarms, and even have the sound fade in so as not to surprise you and jolt you awake. You can also set a time period for how long the alarm plays before it automatically shuts off, and you can even disable vibration for alarms only (thank God!).
Headphone Assistant
The inline controls of your iPhone earbuds are great for easily controlling music and volume, but there are limitations as far as what the controls can be used for. Not anymore, as Headphone Assistant comes to the rescue.
This tweak allows to customize what the buttons on the inline controls can do. For instance, you can set it up so that pressing the volume down button can read you the current time or tell you what the notification is that you just received. It essentially uses Siri for this information, but it's pretty much like a hands-free Siri for instant access to particular types of info.
StatusHUD 2
I don't know about you, but whenever I'm watching a video and want to adjust the volume, I hate when the volume status graphic pops up right in the middle of the video and won't go away until a few seconds after you're done adjusting the volume. This is really annoying, but thankfully there's a jailbreak tweak to fix that.
StatusHUD 2 moves the volume status to the top of the screen onto the status bar so that it's always out of the way. You can even change some of the settings for the tweak, including the shape (either circles or squares), and even change how long it takes for the volume status to disappear after you've adjusted the volume.
If you still prefer having the traditional pop-up, but maybe just want it faded a bit, you can download TransparentVolume, which tones down the opacity of the pop-up so that you can still somewhat see the whole screen without the volume pop-up blocking anything entirely.
Volume+
Speaking of the volume pop-up, it's a pretty plain HUD that takes up quite a bit of pixels, so why not put that space to some good use. Volume+ adds more features and options to the volume pop-up.
The tweak adds buttons like the Share menu, Camera, etc. and even shows the artwork for music if it's playing. There's even a little scrubber at the top of the pop-up that shows what song is currently playing. Control Center can do all of this, but it's nice to have these features even closer with a simple press of the volume buttons.

As an Amazon Associate I earn from qualifying purchases.