5 iPhone Bluetooth Car Kits to Upgrade Your Ride
Modern cars come with Bluetooth connections and smart stereos capable of hands free operation, but not everyone can upgrade to a Ford Escape tomorrow.
Instead of buying a new car, why not add a Bluetooth car kit to your existing car to prepare for your next summer road trip or the daily commute.
For as little as $50 you an upgrade your car with Bluetooth, for a wireless iPhone experience.
Unlike many adapters that only add a speakerphone on the visor, these iPhone Bluetooth car kits include the ability to stream music and to make calls over your car stereo.
Keep in mind that a Bluetooth connection will not offer the same sound quality as a wired connection, so be sure to test these options thoroughly before the return period is up, or stick with a wired connection if you are picky about sound quality.
iPhone Bluetooth Car Kits
Most of these solutions are easy enough for the average user to install in a matter of minutes. Look for notes on those that require advanced skill. For the best results, connect to an aux-in or line-in port, but  an FM transmitter is included for cars without a direct connection.
Belkin AirCast Auto
Bluetooth car kit with ability to activate Siri without touching the iPhone
The Belkin AirCast Auto is one of the most attractive Bluetooth care kits for the iPhone because it installs fast and includes a small button that acts just like the button on Apple headphones. The Belkin button allows users to pause music, skip tracks, answer calls and use Siri. This small button attaches anywhere in your vehicle and include s microphone. Some users will need an audio cable extension to place the microphone where they want it. Find extensions for a few dollars at a local retailer.
The iPhone will not automatically connect when you turn your car on, but pressing the Belkin button once when you enter the car will connect to your iPhone. Users can switch between the iPhone and the Belkin adapter while on calls without hanging up.
$57 @ Amazon
Scosche MotorMOUTH II
Small, portable Bluetooth adapter for almost any car.

The Scosche MotorMOUTH II is a small Bluetooth adapter that plugs into the AUX jack and delivers wireless audio streaming to almost any car. The small adapter fits in a pocket so it's easy to take on trips and plug into rental cars or to switch between cars in the same house.
Read: Scosche MotorMOUTH II Review
The Bluetooth audio streaming works as advertised, but the call quality is so-so. Users who mainly plan to listen to music and want a very portable solution will like the MotorMOUTH II. The adapter has batteries, so be sure to keep it charged up with an in-car USB adapter. The small button turns the device on and off as well as activates a call, but the LED is hard to see in bright sunlight.
$59.99 @ Amazon
GOgroove FlexSMART X2 ADVANCED
Bluetooth iPhone car kit that connects to car over FM.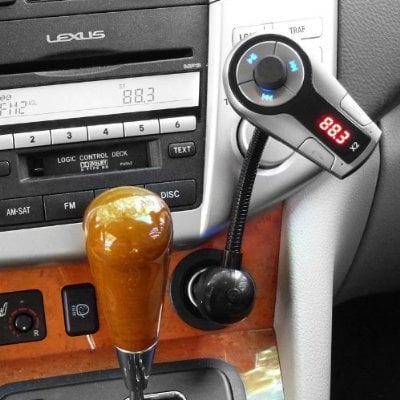 The GOgroove FlexSMART X2 brings the joys of Bluetooth hands free calling and wireless music streaming to cars without auxiliary ports thanks to the built-in FM transmitter. The small adapter plugs into the car's cigarette lighter and includes a microphone as well as a number of controls for music and making calls.
To connect, tune the car to an empty radio station and the music and calls will stream to the radio. FM transmitters are lower quality than a line-in or aux connection, so only pick this option if the car you drive has no way to plug-in.
$44.99 @ Amazon
Parrot MKi9000
Bluetooth streaming and speakerphone with a wireless remote control.
Parrot makes some of my favorite in-car Bluetooth accessories, including the MKi line of in car Bluetooth adapters. Unlike many of the adapters here, these Parrot adapters can connect to two phones at the same time, and include phonebook sync and text to speech capabilities.
The MKi9000 is the entry-level unit, but comes complete with a microphone and a wireless remote that mounts to the dash or steering wheel.Experienced DIY users can install these units, or look for a Parrot installer.
$139 @ Amazon
New Car Stereo With Bluetooth
Install a new car stereo to add Bluetooth connectivity and upgrade sound quality.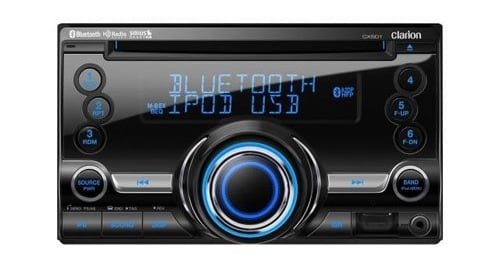 Installing a new car stereo with Bluetooth connectivity like the Clarion CX501 is a good way to upgrade the sound in your car and add Bluetooth streaming and calling.
Because everything is built into the stereo, there are no wires to route through the car for a microphone. Many of these stereos include controls for the iPhone and integrate with steering wheel controls.
Make sure to pick on that fits the opening in your car's dash, and to find an installer if you aren't comfortable with doing it yourself.
Clarion CX501 – $185 @ Amazon
—
What's your favorite way to connect the iPhone to your car?