5 iPhone Camera Features I want in iOS 6
When Apple announces new iOS features and the new iPhone, I expect to see a number of new camera features and functions.
It is very likely that we'll see some of these features in June at WWDC, when Apple typical shows off new iOS features, but we could see Apple hold off on announcing all the features to keep some exclusive to the iPhone 5.
Read: iPhone 5 Release Date and Rumor Roundup
While the iPhone 4S' camera is one of the best smartphone cameras available, Android phones like the Galaxy S III and the HTC One X are upping the ante with new features that users would love to pair with an awesome camera sensor.
5 iPhone Camera Features for iOS 6
Most of these features are already available in third party apps, but it is much more convenient to have features like this built into iOS and available with the tap of a single app instead of trying to find the right app for the right shot. If these features are built in, they will also be accessible from the lock screen.
Video and Pictures at the Same Time
One of the cool new features found on new Android smartphones is the ability to take pictures while recording video. This feature was once a selling point for expensive point and shoot models and DLSRs, but is now a standard feature for the Galaxy S III and the HTC Droid Incredible 4G LTE.
With this feature parents and pet owners no longer need to choose between recording Buffy's cute face and taking photos.
One downside is that the pictures are lower resolution than those taken when not in a movie.
QuickPix already offers this in a standalone app, but it would be great to have built into the standard camera app.
Burst Mode
The iPhone has almost no shutter lag, but it would be awesome to see a Burst Mode that captures five to ten photos in one touch. This type of mode is perfect for capturing sports on the iPhone or just trying to capture a beautiful moment.
Jailbroken iPhones using PictureMe can shoot in Burst Mode, as shown in the video above, which shows how burst mode might work in iOS 6.
Remote Viewfinder
How often are you forced to retake group photos because there is no way to know if everyone is in the frame. Whether it's an outstretched hand holding the iPhone or a tripod, it's tough to know what the image will look like without using the crappy front facing camera.
If Apple added a remote viewfinder feature, two iPhones, or an iPhone and an iPad could pair to turn one into the camera and the other into the viewfinder.
Apps like Remote Shutter and Camera A / Camera B offer this functionality, but Remote Shutter requires the same Apple ID or a separate purchase and Camera A / Camera B requires the installation of apps before hand.
A native feature would automatically sync up with another iPhone using Bluetooth or WiFi, providing the choice of nearby iPhones based on the name of the device.
Share to Facebook
Sharing photos in iOS with Facebook is a pain, especially compare to Twitter. It would be great if Apple finally offered Facebook integration with the camera and photos app.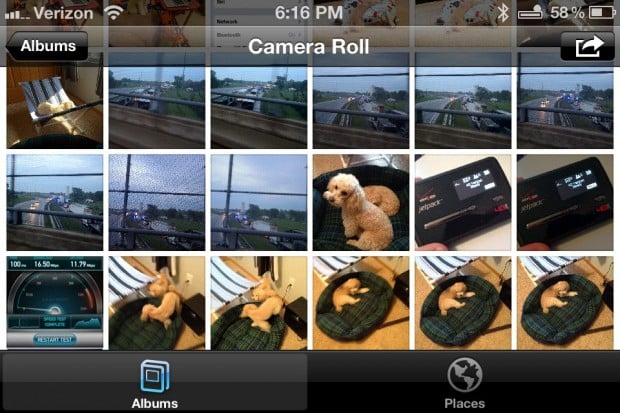 While Apple's at it, support for multiple photo uploads to Facebook from the photo gallery would be an awesome addition.
Panorama Mode
A hidden panorama mode never made the cut with iOS 5, but Apple might bring it to iOS 6. The iPhone panorama mode would allow users to capture wide, sweeping panoramas for sharing online.
Unlike Panorama apps that force users to take multiple pictures and stitch them together, this mode allows users to press the shutter once and slowly sweep the camera from left to right.
I'm hoping a full featured version of this would also support vertical panoramas. The great panorama feature on my Sony point and shoot is one of the few things I miss when I go out to take photos with the iPhone 4S.
—
Separately these new features don't mean much to me, but combined they mean I can leave my point and shoot at home without missing out.
What iPhone camera features would you like to see in iOS 6 or as part of the iPhone 5?