5 Killer iPhone 6 & iPhone 6 Plus Apps
After months of rumors and speculation. After days of hardware leaks and cases being posted online, Apple finally revealed the iPhone 6 and the iPhone 6 Plus. The company also showcased a few of the apps that'll make owning the two new devices a dream for longtime Apple users.
Inside the iPhone 6 and iPhone 6 Plus are the best processors, screens and motion sensing technology ever included inside a mobile device. That alone would be enough to get excited about, but it's how different apps available inside the iTunes App Store and on-board the iPhone 6 and iPhone 6 Plus will use that hardware that has people excited.
Here are 5 killer iPhone 6 and iPhone 6 Plus apps that GottaBeMobile spied during Apple's iPhone 6 and iWatch Keynote. Each will be available for the devices later this year in the iTunes App Store or come included on the iPhone 6.
Vainglory
As is customary with each iPhone update, the iPhone 6 and iPhone 6 Plus come with faster and more robust processors than the iPhone 5s did just a year ago. A new A8 processor grants the iPhone 6 and iPhone 6 Plus unprecedented horse power and Metal, a new iOS 8 API allows developers to harness that power for their apps and games.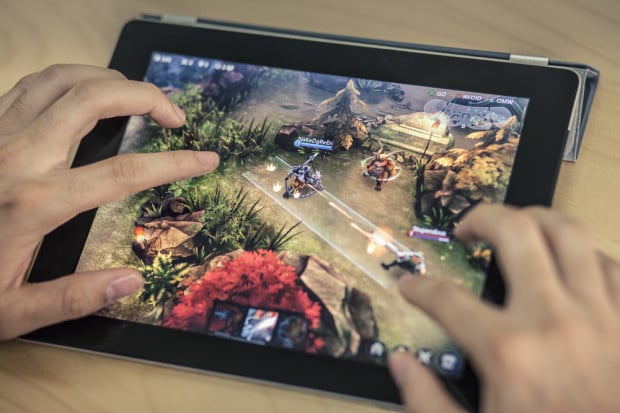 Vainglory is the iPhone game that Apple used to showcase the power of Metal and the new A8 processor on stage for everyone to see. For the most part Vainglory looks like a pretty standard top-to-bottom first person shooter with LAN multiplayer support, except that it looks absolutely gorgeous. A blog post by the game's developer indicates that Vainglory will run better than what's possible on some gaming console made for the living room.
Read: Vainglory & Metal: How the iPhone 5 Plus Even Beats Consoles
Nike+
Nike+ has been on the iPhone for a while. With a Nike Fuelband, users are able to track how many calories they're burning and how active they stay, all from within the Nike+ iPhone app. Onstage this morning Nike showed off a refreshed Nike+ app that uses the new M8, motion processor inside the iPhone 6 and iPhone 6 Plus to track all sorts of new activities that weren't possible before. So for example, a barometer now means that Nike+ can track elevation.
Apple Pay & Passbook
If there was ever an idea that Apple kept coming back to it was the iPhone actin as a digital replacement for membership cards and gift cards. This morning Apple announced that the iPhone 6 and iPhone 6 Plus will add a new way for shoppers to pay for their items: Apple Pay. Apple Pay is all about allowing Passbook users to eliminate another piece of plastic from their pockets: credit cards. Users can configure Apple Pay with their Chase account and tap their phone at big chains like Staples and Whole Foods to pay for their entire purchase. Apple Pay will allow users to pay for stuff using Apple's Apple Watch too.
Mint & More
Mint is another one of those key apps that have been available on the iPhone for years. The app and service is pretty basic, users are able to track their purchases and create a personal budget that updates in real-time with the transactions being reported on their bank account. Staying fiscally responsible has never been easier than it is with Mint. The trouble is that there's never been a worse time to have your financial information on your mobile device.
Thanks to a forthcoming update to Mint and the new iPhone 6 and iPhone 6 Plus' TouchID fingerprint reader, users can lock this information up and keep it away from prying eyes. Better still, iOS 8 actually opens up this ability to all developers.
Camera
The iPhone is the darling of the camera industry at this point. No longer do users rush out to purchase slightly expensive point-and-shoot cameras with their terrible battery life and need for external storage. Instead, the iPhone is the only camera users need – mostly because it's competent and always with them.
With the iPhone 6 and iPhone 6s, users are in for a key camera upgrade. Hardware and the new Camera app allow iPhone buyers to enjoy high-definition video that can move as slow as 240 frames per second or as fast as 60 frames per second. The result? The iPhone 6, iPhone 6 Plus and the new Camera app are a memory hoarder's dream. 60 frames and full resolution means that users will get the highest quality video recordings possible. 240 frames per second guarantees that users will be able to record every last moment and savor it frame by frame.
Read: iPhone 6 Release & U.S. Carrier Breakdown
The iPhone 6 and iPhone 6 Plus will arrive on store shelves September 19th in the United States, but be available for pre-order on September 12th. The iPhone 6 will cost users at least $199 while the larger iPhone 6 Plus will cost at least $299.

As an Amazon Associate I earn from qualifying purchases.