9 Microsoft Android Apps Users Need Now 
The Microsoft of today feels like a very different company. We have a large assortment of Microsoft Android apps to prove it.
When you're the world's largest software maker and a distant third-place in smartphones and tablets, you have to make some sacrifices and evaluate your goals. For the longest time it seemed Microsoft hoped to win at mobile by copying what made Windows successful. Its Windows Phone operating system had exclusive features you couldn't get anywhere else. Contained in it were free copies of Microsoft Office for Mobile, an upstart music subscription service and access to one of the best cloud storage services available anywhere.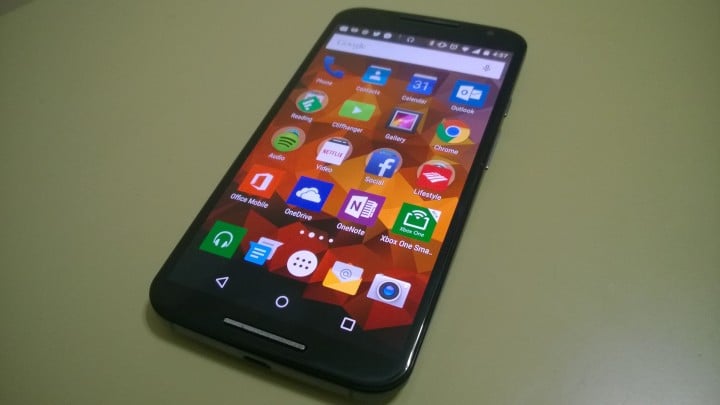 Today, all of those things are available in Microsoft Android apps. Exactly how helpful that is for Windows Phone remains unclear, but it is clear that Microsoft has set out to snatch users for its services no matter where they are or what software they're running. It's a good move, because it means Microsoft's best services are available for anyone and everyone to try.
Here are 5 Microsoft Android apps users need to try on their phones now.
OneDrive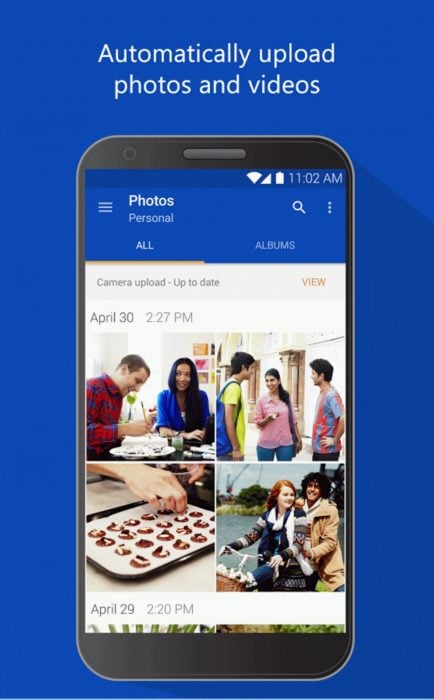 OneDrive is a behemoth. The service is available on everything from Android phones to Android tablets. It's built into Microsoft Office and available in Windows 8 and Windows 10. The idea is simple, everything stashed in the OneDrive folder gets uploaded automatically to Microsoft's servers. There, it's available on any device as long as there's an internet connection.
Microsoft gives users 5GB of free storage. OneDrive for Android lets users sync the pictures they upload to Microsoft's servers in the background, acting as near instant back up if something happens to the device.
Microsoft Health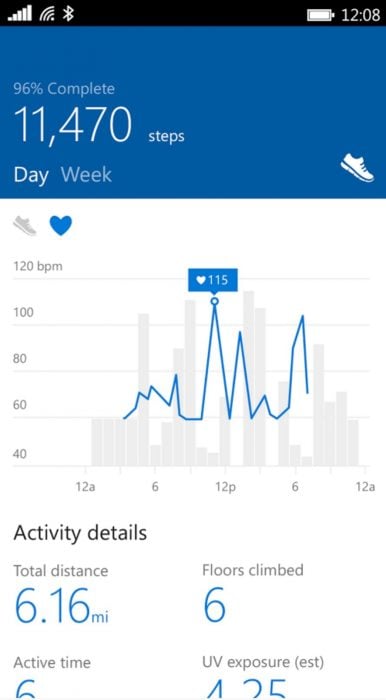 A few short months ago Microsoft shocked everyone by beating Apple to the wearables market. The Microsoft Band isn't a wearable computer in the same way the Apple Watch is though. Instead, it's custom-made for health and fitness tracking and it connects directly to an Android and iPhone app called Microsoft Health.
Microsoft Health is free and lets users track their steps, and get guided fitness workouts. In addition to that, it enables some of the productivity features of the Microsoft Band for Android users. There's also a Microsoft Health app for Windows.
Microsoft Office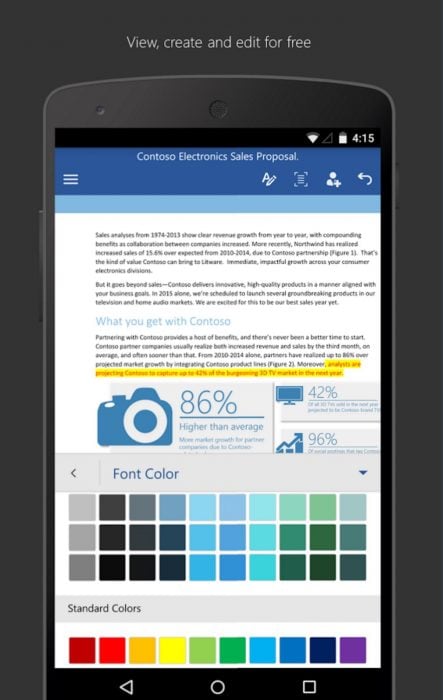 Microsoft Office is the world's leading piece of productivity software. The Microsoft of old was built on just two pillars: Office and Windows. Now with its businesses interests diversified, Microsoft is changing how a new generation of devices get Office.
Office for Android tablets isn't a single app. Instead, it's a series of newly released apps all built to support Android tablets natively. There's Word, PowerPoint, OneNote and Excel. Each is fully compatible with Android and connects directly to OneDrive for document storage and syncing. Alongside them is Office Mobile. Office for Mobile contains Word, PowerPoint and Excel too, but each is optimized for smartphone screens. All of these apps are free, though signing up for Microsoft's Office 365 subscription service adds more OneDrive storage and features.
Groove Music
You may have never heard of Microsoft's Groove Music subscription service before. Long before it was called Groove Music, the service existed as Zune and its $9.99 a month streaming plan included 10 free MP3 downloads a month. Today, the free music streaming and MP3s are gone, but Groove Music is getting marginally better.
Upload your music to OneDrive and Groove Music will act as a seamless local jukebox for it. If you'd like to, you can also subscribe to Groove Music Pass and stream from Microsoft's library online, on your Android phone and on Xbox.
[ Download Groove Music from the Google Play Store ]
Outlook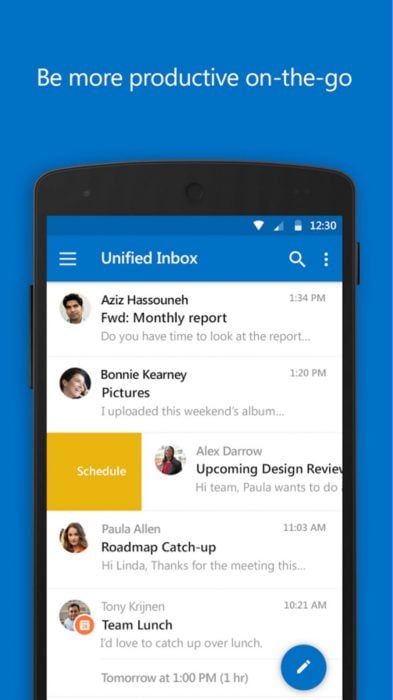 Unlike the Outlook of old, this new Outlook is a complete replacement for built-in email apps. It connects to Outlook.com, Yahoo and Gmail. It also has Exchange support; but best feature of the app is its ability to decide on what emails you should care about now and which can just wait until later. It's second best feature is the ability to swipe and schedule follow-ups and events for each email in your inbox.
[ Download Outlook From the Google Play Store ]
Cortana
Originally meant only for Windows Phones, Cortana has blossomed in recent months. The personal assistant arrived on Windows PCs last year. iPhone and Android versions of the app followed soon after.
In 2016, Cortana for Android will become the second most powerful experience of any Cortana app. The app will be able to talk to Windows PCs and share battery information and the latest text messages. The app already provides a single personal assistant for Windows users to set reminders, add calendar items, track packages and stay abreast of the latest news across all their devices.
[ Download Cortana Free from the Google Play Store ]
Office Lens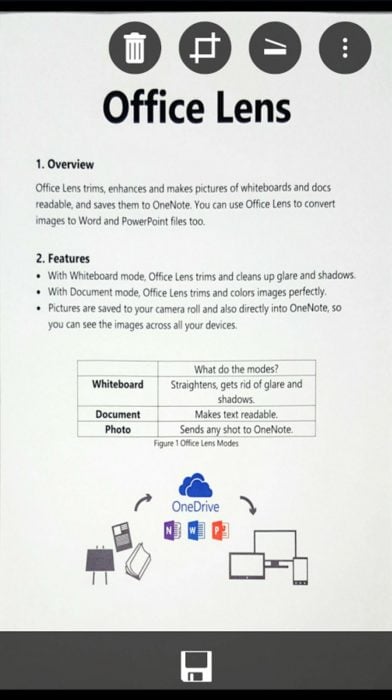 The Office Lens apps are another feature of the Windows ecosystem that got their start on Windows Phone. The app integrates with OneDrive and Microsoft OneNote, allowing users to easily turn full sheets of paper and whiteboards into digital notes with just the camera on their Android device.
The app is perfect for anyone strongly considering a switch to an all digital office instead of paper filing.
[ Download Office Lens Free from the Google Play Store ]
Arrow Launcher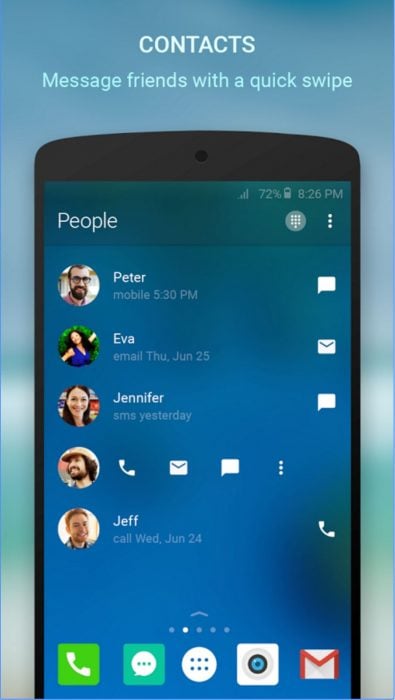 Microsoft Garage apps are tiny experiments. Company employees make them in their spare time and Microsoft releases them to the public, garnering feedback and improving on them steadily. Arrow Launcher is the first of two apps to make this list of must-have Microsoft apps on Android.
Arrow puts contacts, appointments and your recently-run apps at our fingertips, with different home screen panes. Additionally, it includes a customizable settings drawer that floats out from the bottom of the screen. The drawer isn't all that different from the Control Center that's available on Apple's iPhone.
[ Download Arrow Launcher Free from the Google Play Store ]
Mimicker Alarm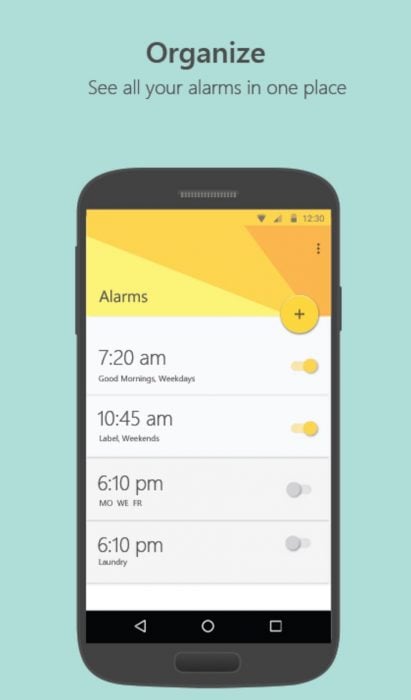 Mimicker Alarm is that other Microsoft Garage project. It's a replacement for the default alarm that makes it far harder to just snooze away your morning.
Sometimes you'll need to mimic the facial expressions that the app tells you to get your Alarm to silence. Other times, you can have the app force you to say a tongue twister or capture a specific color. It's all about making sure that you're alert and ready to start your new day.
[ Download Mimicker Alarm Free From the Google Play Store ]
All of a sudden, Microsoft has some of the best software available anywhere. No doubt you'll find at least one of these apps enhances your Android experience.

As an Amazon Associate I earn from qualifying purchases.