The Xbox One isn't necessarily a complicated machine. That being said, it is fully featured. You could spend days or months with the Xbox One and still not know about some of the features the console has at its disposal. Gotta Be Mobile last shared a comprehensive list of Xbox One tips in February to a lot of fanfare. Now, we're sharing even more Xbox One tips.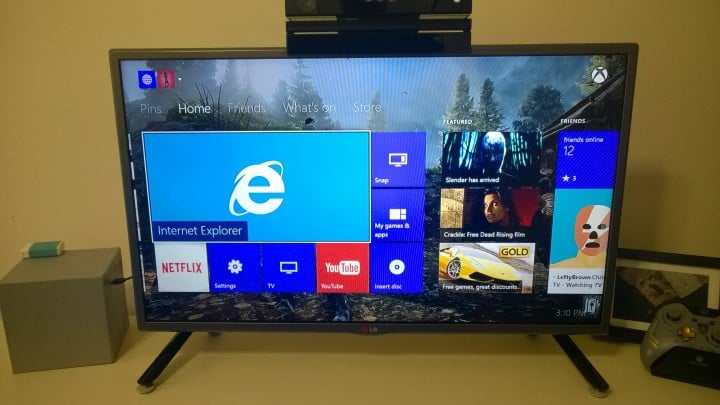 Some of these Xbox One tips are pertain to features coming down the road. Others are features or enhancements that didn't make it into our first round up for whatever reason. All of these tips should help you get the most out of your Xbox One console.
Read: 21 Xbox One Tips
Make Live Tiles Transparent With Your Background
Microsoft added backgrounds in an Xbox One Update last year. As most expected, having backgrounds breathed new life into what could have been accurately described as a mostly sterile interface. When it launched back in 2013 the Xbox One didn't have a lot of customization options at all.
The month after it added backgrounds to the Xbox One Microsoft added an option to let users modify the transparency of the Live Tiles in the Xbox One dashboard. The change means that users can see more of the background pictures and achievements they select.
Go to Settings app and choose My Xbox from the menu in the bottom-left corner of your screen. At the bottom of that screen is an option for Tile Transparency. Options range from completely solid to mostly transparent.
Download Games to one Hard Drive for Multiple Consoles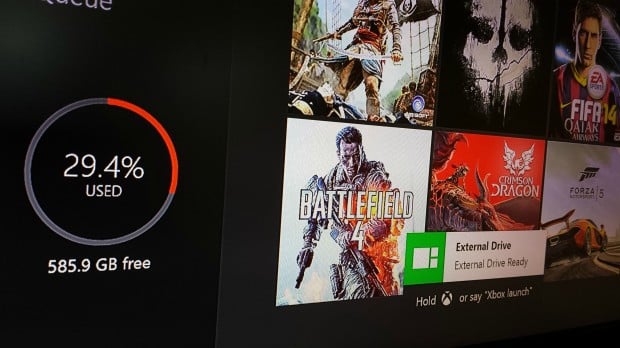 In that previous round-up we told you about how Microsoft now lets users choose an external USB hard drive for game installs and app downloads. If you're rapidly running out of space and don't want to delete your games, this tip is still very important.
Read: Xbox One Hard Drives Arrive – What You Need to Know
Cheaper Xbox One consoles and the all-in-one entertainment nature of the Xbox One itself is slowing making it more reasonable for people to purchase more than one. For those who do have more than one console, digital downloads go from an inconvenience to full-blown nightmare. Instead of downloading digital copies of your games to all the Xbox One consoles use regularly, set them to download automatically on one console and then copy them to your external hard drive. You save yourself from coming close to any data caps your internet service provider has and you can quickly play your games at a friend's without a download too.
In the Games and Apps area, select a game and then press the View button to the left of the Xbox One logo on your controller. If you have a compatible hard drive you can then move the entire game.
Checkout the Xbox Live Deals with Gold from the Xbox One Itself
Each week Microsoft teases users with its Deals with Gold promotion. Essentially, Deals with Gold is a hook, a way for Microsoft to convince users to pay for its Xbox Live Gold gaming service. The company slashes the cost on around a half-dozen Xbox 360 and Xbox One titles. Within the last year, Microsoft has made it ridiculously easy to find the deals included in each week's Xbox Live Deals with Gold Promotion.
There's a dedicated Xbox Live Gold hub that sits in the Featured area of the Xbox One Dashboard when a Gold user is connected to Xbox Live. Beyond showcasing the amount of time a user has been an Xbox Live subscriber, the hub also includes a look at the free games Microsoft is giving away plus the titles that are included in the Xbox Live Deals with Gold promotion for that week.
Cut Cable With Sling TV and the Xbox One TV Adapter
Last year Microsoft introduced a dedicated television adapter that lets users abroad watch over-the-air broadcast channels through the Xbox One's built-in TV app and OneGuide. This week the company confirmed a new partnership that adds support for the WinTV Tuner add-ons that have been available for PCs for some time. Anyone can pick up the accessory and add broadcast television support to their console.
Read: Microsoft Tumps PS Vue TV with new Xbox One Add-On
Microsoft is planning a dedicated adapter accessory for release sometime later this year.
Share Screenshots to OneDrive
Taking screenshots is one of those things we take for granted on our smartphones and tablets. Until fairly recently, screenshots weren't something the Xbox One could do, even though it could record small video clips.
Today, taking a screenshot is as easy as saying, Xbox, "take a screenshot," if you have a Kinect sensor. Those who don't need to double press the Xbox button on their controller. You can now share those screenshots online using Microsoft's OneDrive cloud storage utility too. Just select the Share option after you've taken your screenshot or once you're inside the Upload app.

This article may contain affiliate links. Click here for more details.