Five Most Affordable Music Streaming Apps
The way users listen to music has changed. And with advancements in mobile technology, streaming music has become particularly more commonplace. Streaming music can be cheaper for listeners than buying music from iTunes, and also offer more variety. With an audio stream the user can change what they are listening to, as opposed sticking to only what's on their device, where their options are limited.
Below are the 5 best music apps for listening to the latest tunes, and at the lowest cost.
Top 5 music streaming apps
Pandora
The Pandora iPhone app is extremely well rounded. It offers music streaming based on Artist, Song or Composer. The user also has the option to like or dislike tracks that appear on the station to help tailor the listening experience. Tracks can be paused and skipped, but not started from the beginning, which is a slight disappointment. In terms of pricing Pandora allows free, ad supported, listening but also has tiered pricing. Users can pay $36/year or $3.99/month for ad-free listening, unlimited skips and higher quality audio.
Spotify
Spotify is a music service that is a lot like Pandora, but it also has some additional features. With Spotify users can listen to their favorite individual tracks and artists, as opposed to just a station based off of them as Pandora offers. Spotify also allows users with a paid subscription to download the tracks they listen to.
You can listen to radio stations for free. For $9.99/month users get unlimited streaming, downloads and mobile access.
Rhapsody
Rhapsody is another option users have when choosing a music streaming service. Rhapsody is a lot like Spotify, letting a user choose the individual tracks and artists to listen to. The Rhapsody music store has a decent content selection, and it is competitively priced. Depending on if the user chooses a monthly, quarterly or annual contract, Rhapsody is a little cheaper than Spotify. The costs: a monthly rate is $9.99, if you pay quarterly the rate comes out to $9.33/month, and if you pay annually the monthly cost ends up at $9.17/month.
iHeartRadio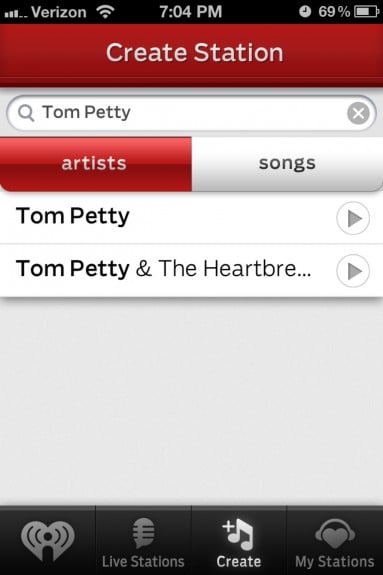 iHeartRadio is an app that allows users to stream their favorite music, much like how Pandora operates. There are over 1,500 channels to choose from by default, plus the option to create a station from a particular song or artist. A neat option of iHeartRadio is that the user can select if they want to listen to music related to a certain artist, or less familiar music and even a mix of both. iHeartRadio is free when you sign up by email or through Facebook.
Rdio
Last, but not least, on this list of streaming applications is Rdio. Rdio is similar to Spotify, but it differs in a few areas. Rdio focuses more on social integration. Users are prompted to share what they are listening to with friends and family. Rdio also has a lot of music to choose from, with over 18 million tracks. A subscription to Rdio costs $9.99/month for unlimited streaming, downloads and ad-free listening.

This article may contain affiliate links. Click here for more details.