5 Navigation Apps to Replace Apple Maps in iOS 6
When Apple replaced Google maps on the iPhone 5 and in iOS 6, users howled due to the incomplete search results and inaccurate turn-by-turn directions the new app shows.
We recommended that users wait before relying on Apple's new Maps app during emergencies and even showed you how to replace it with the Google Web App version of Maps. Apple may understand the problem now that reports say they're looking for former Google Maps engineers to help improve their app.
To keep users from pulling out their hair thanks to the Maps app weaknesses, we offer the best five alternative apps that will replace the built-in Maps app with better directions and hopefully more complete point of interest search results. These apps range from free to costly. In every case, these apps will work better than the Apple Maps app if its failing for you.
Apple Maps Alternatives for iOS 6 & iPhone 5
Waze doesn't cost a dime and gives users GPS navigation as well as traffic information. It draws traffic notices from the user community making it accurate so long as the user lives near a bunch of other Waze users. I live in a semi-rural area and still saw some notifications in my limited use. Since an iPhone owner can download the app for free and try it out, there's no risk. If the person's area doesn't show any traffic information, try one of these others, but I'm guessing readers will find the app impressive.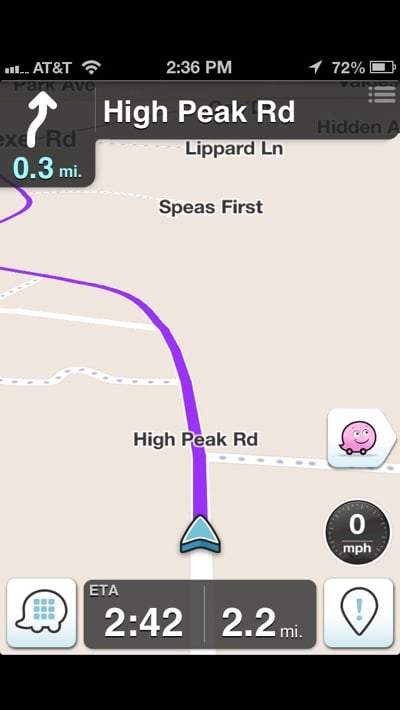 The app grows with the user by learning frequent routes and destinations. It also shows the cheapest place to buy gas, based on the community recommendations. Aside from traffic, learn about road hazards like construction or police radar traps. The app offers voice-guided directions and will re-route the directions when the GPS discovers a missed turn.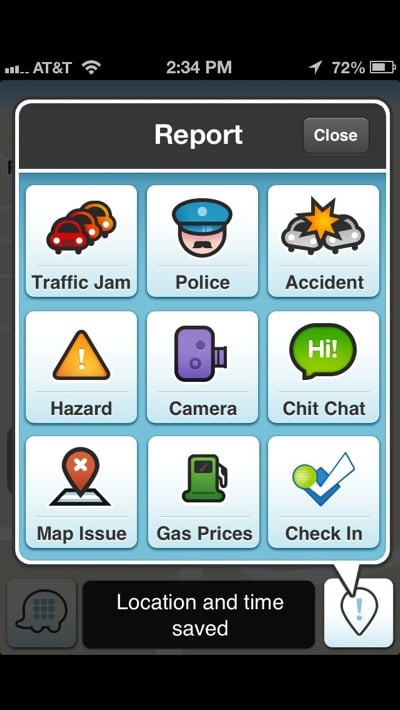 For those who like social interaction in apps, Waze offers the ability to create and discover meet ups, sharing of destinations to social networks and telling others the ETA for the route in case the person is running late.
Keep safe by using the voice commands for finding places and directions. When a user finds mistakes, he or she can submit them to improve the maps and directions.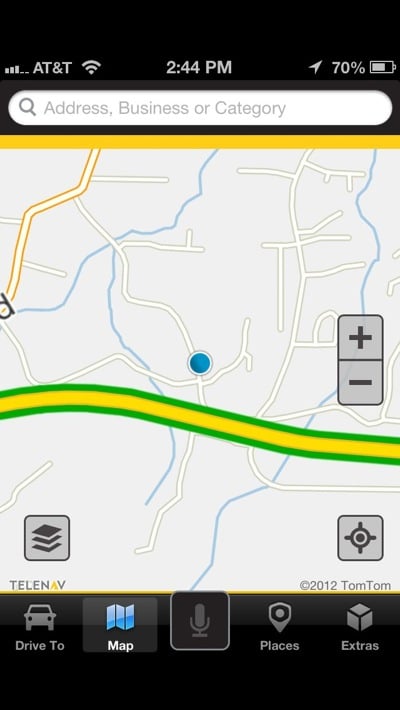 GPS by Telenav offers another free navigation app for the iPhone, however, it charges a subscription for the advanced features. Here's what users of the free app get.
Navigation with visual turn-by-turn directions without voice
The ability to search for points of interest including gas stations with a database of gas prices
Up to date maps and traffic info
Users who pay the $2.99/month or $9.99/year in-app purchase price get more. The app adds voice searching and and announced directions so the user can keep his or her eyes on the road. The app also will re-route the directions based on traffic and road hazards discovered. The app warns of speed traps, traffic light cameras and it tells when a user must change lanes to get their next exit.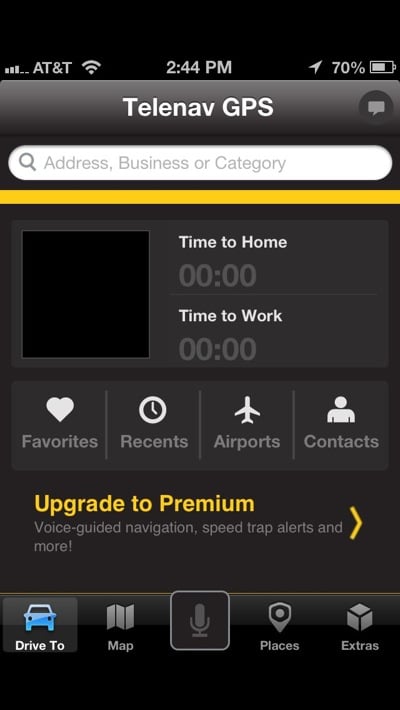 For owners of a Sony auto stereo system, the user can connect to the dash system.
GPS by Telenav also impressed me with all the user gets for free or the very lost cost in app purchase.
Motion X GPS offers another low-cost GPS navigation app. Users can get driving directions along with other kinds of navigation in non-driving situations like walking, running, boating and more. The company offers more than one version of the app. The above link works for most people's use, but driving focused navigation comes with the Motion X GPS Drive app, also $.99.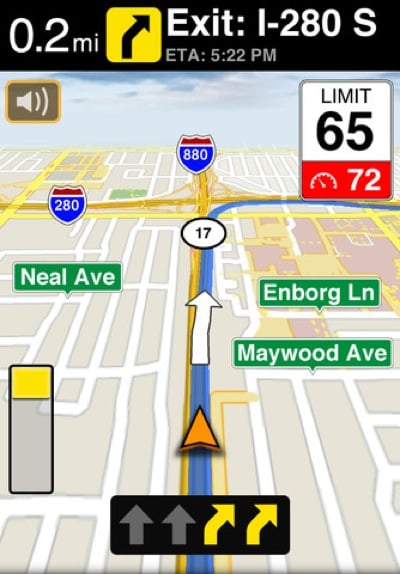 The app offers turn-by-turn directions but the voice version costs an extra $9.99/year. It only costs $2.99 for 30 days, which might offer a better alternative for people who don't need voice directions all the time. Pay just for a month when you go on a vacation. The app also offers other voices for $.99 each.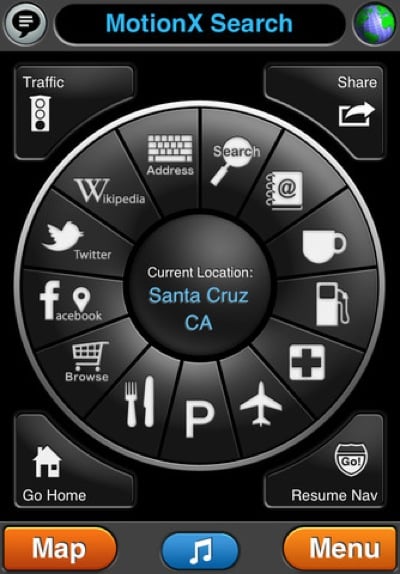 The search wheel lets users find various kinds of information as well as share their location via social networks. The music icon at the bottom lets the user control the iPhone music app.
CoPilot offers a bunch of different apps including one for truckers ($149.99) and a version that gives maps of the U.S. and Canada for a little more.
This system offers a high-end GPS solution for those who want maps residing on the iPhone instead of streaming them via the web. People who live in areas with poor data connections or who use a limited bandwidth data subscription will want an app like CoPilot or the next app from Navigon.
Like the above apps, CoPilot comes with a full databases of points of interest and shows how to find them with voice turn-by-turn directions. It offers 3D maps as well as traditional top-down 2D maps. The app gives users a greater control over the route that the app suggests. Find detours and quick interim destinations. That's great when taking a long trip. Find a quick place to turn off and grab a bite or see the sights along the way.
This version comes with a complete set of U.S. maps. Add the Canada maps by getting the app linked above for $2 more. The truck version takes into account the special navigation needs of truckers who can't drive on all the roads I can in my car.
For my money, the best premium GPS app comes from Navigon. LIke CoPilot, Navigon offers multiple versions depending on geographic needs. This one offers maps for the U.S., Mexico and Canada. It uses Google search engine to find points of interest and offers 3D maps that look great. It also offers complex routing control like CoPilot. Save favorites and hit the quick "Go Home" button to find the way home with one tap.  The user can install only the maps they need selecting by state or territory. Since I mostly drive in North and South Carolina, I can save some room by not installing the Western United States, Canada and Mexico until I need them for a special trip.
The maps look good with day and night modes. A 3D look at the exits and turns help me see where I'm going before I get there. I've used this app for more than two years and it never leaves me wanting. I can't remember it disappointing me once during that time with trips from Boston, Massachusetts to the Midwest, New Orleans and South Florida all from North Carolina.
Some in-app purchases add Zagat Restaurant Guides and better traffic data. Most people will get by with the basic app forgoing the in-app add-ons.
Some cool extras include location information like parking nearby, walking and public transit navigation and park and then walking directions for big cities.