5 Pokemon GO Apps for Capturing & Training
It's been almost two weeks since Niantic Labs and Nintendo took the world by storm with the Pokémon GO release. Before the game arrived, finding someone that understood what Augmented Reality meant was a challenge. Game mechanics were understood to be things that governed how your character worked in a game world, not the real-world exercise you accidentally got chasing Pokémon around your neighborhood. It's still early days, but the Pokémon GO release may have just altered the future of mobile games. Expect more games like Pokémon GO to fill the Google Play and iTunes App Stores. Game makers are going to want to dethrone Pokémon GO is the World's Most-Downloaded Mobile Game for sure.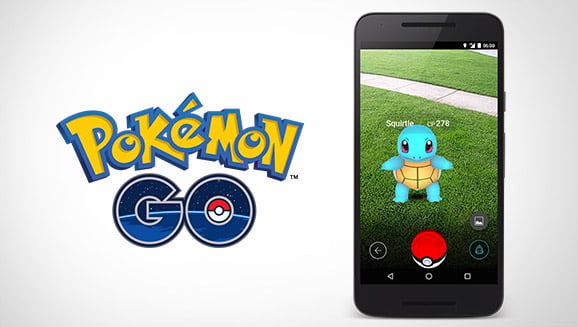 Read: Pokémon Go Release in 2016: Mid-July Update
For now, all we have is Pokémon GO itself. In the absence of new games, developers are starting to fill app stores with all kinds of extras and extensions for Trainers that enjoy the game. These apps allow users to find Pokémon faster and communicate with each other to and from their local Gyms.
Here are some useful Pokémon GO apps to make playing the popular role-playing game easier than ever. Some will make capturing the specific creatures you're excited about a bit easier. Others enhance the sense of community surrounding the new game.
Best Pokémon GO Apps: PokeChat for iPhone
Some have described PokeChat as the essential Pokémon GO app for iTunes and Android users. Certainly, it's very useful; so useful that you have to wonder why Niantic Labs and Nintendo didn't bother adding something like it to the game itself.
PokeChat allows Trainers around the world communicate with each other. The closer another Trainer is, the more solid their image in the app becomes. Chats can be deleted, and users can chat with only those closest to them.
Download PokeChat from the iTunes App Store
Best Pokémon GO Apps: Poke Radar for Pokémon GO
The in-game Nearby Tracker is useful, but cumbersome. In its place, try out the crowd-sourced Poke Radar.
The app uses pins to tell Trainers exactly where other players have reported seeing specific types of Pokémon and where some creatures surface consistently. The app is great for tracking down rare Pokémon or filling out your Pokedex with creatures you're still missing. After all, the point of Pokémon GO is to fill out your Pokedex with as many creatures as possible and share that information with Professor Willow.
Download Poke Radar from Google Play and the iTunes App Store
Best Pokémon GO Apps: Server Widget for Pokemon GO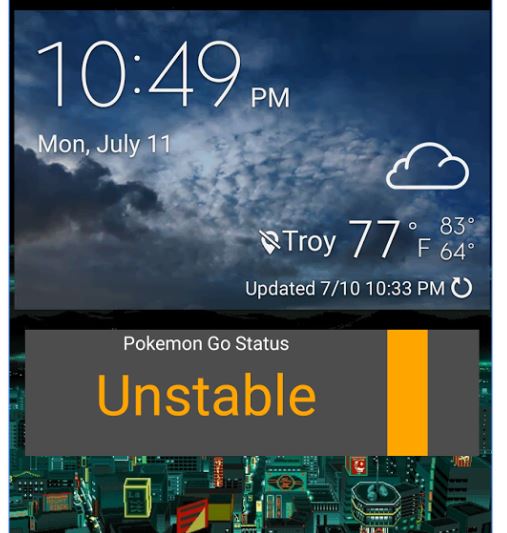 Let's be honest with ourselves. Pokémon GO may be a great app that takes mobile gaming in some interesting directions. It's also buggy and unstable.
Read: 13 Pokémon GO Problems & Fixes
Most of the problems are directly related to what are generally just called "server issues". Pokemon GO frequently goes down when there's too many people all trying to connect to its servers at the same time.
There's no way that users can prevent the server issues. What they can do is check to make sure the game is working correctly before they dive into the app and get their hopes up. For Android users, there's the Server Widget for Pokémon GO. It's free, simple and lets you know when to bother with the game and when not to.
Download Server Widget for Pokémon Go from the Google Play
Best Pokémon GO Apps: PokeGoDex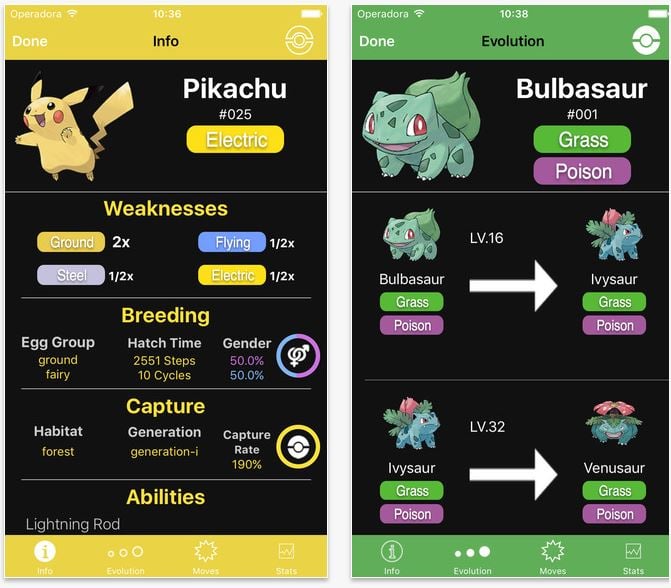 Pokémon GO has its own built-in PokeDex, but you don't get any information about creatures in the game until you've already found them. PokeGoDex allows you to get a breakdown of each Pokemon's general information before you've found them in the wild.
To be clear, PokeGODex is not specific to Pokemon GO; instead its a breakdown of every creature across the entire game franchise. Some of the information it contains won't be relevant to GO. Some of it, like details on weaknesses, is important to all games in the franchise.
Download PokeGoDex from the iTunes App Store.
Best Pokémon GO Apps: Guess the Monster
Finally, there's Guess the Monster, which isn't necessarily a Pokémon GO app directly. It's another game, but it focuses on memorization. The game only shows each creature's silhouette, forcing players to learn how each creature looks.
Learning silhouettes is essential to Pokémon GO because the Nearby Tracker in the game uses them to let you know when a creature unknown to you previously is nearby. By learning them, you're better able to decide whether going after the creature is the best idea for your current mix of Pokémon, or not particularly worth it in the long run.
Download Guess the Monster from the iTunes App Store
Read: 15 Ridiculous Pokémon Go Stories
Good luck playing Pokémon GO on your iPhone, iPad or device running Google's Android operating system. Here's to hoping that these apps help you get more out of the game and community.