5 Quick Chargers for the LG G5
The unique new LG G5 and its modular design is set to go up for pre-order later this month, and will be released soon. LG's latest is loaded with fancy features, two cameras on back, a micro-SD slot, removable battery, and more. However, one feature all owners need to know about is Quick Charging, and the LG G5 features Quick Charge 3.0 technology. It will recharge faster than almost any phone on the market with the right charger.
On February 21st LG announced it's new LG G5 smartphone, but they didn't reveal an exact release date. And while we know most pre-orders should start around March 18th, which is soon, no release date is know. That said, buyers will want to have cases, accessories, extra chargers and more in time for the LG G5 release date.
Read: LG G5 Release Date, Specs & Videos
Quick Charge, Turbo Charging or  Fast Charging are all names manufacturers use. With battery sizes not getting much bigger without making a phone bulky, new ways to recharge our smartphone faster has emerged. Basically allowing the battery to turbo charge at an extremely quick pace when it's nearly depleted. Many phones last year had this, but the LG G5 has the latest Quick Charge 3.0, which we'll explain below. Read on for more details and some awesome chargers worth buying.
A new technology called "Qualcomm Quick Charge" was announced a few years ago, and allows smartphones to recharge faster than ever before. The powerful new Quad-core Snapdragon 820 inside the LG G5 features the latest Quick Charge 3.0 which can recharge the phone from 0-80% in just 30-35 minutes. This is 40% faster than Quick Charge 2.0 found in the LG G4 or the new Galaxy S7.
Almost all Snapdragon 820 powered devices set to be released this year will include this, with an exclusion being Samsung who stuck with Quick Charge 2.0 for whatever reason. What this all means is the LG G5 recharges fast, for when owners can't simply replace the removable battery.
Quick Charge Technology
Essentially when the battery is below 10%, it charges at an incredibly fast rate and gets you nearly to 50% battery capacity in 30 minutes with QC 2.0. After 30 minutes it slowly goes back to regular speeds to preserve the life of the battery, and still get you fully charged. With the LG G5 that same 30 minutes will take the phone to nearly 80%. Enough for an entire night out or long work day, all in less than a half an hour. Below is a preview of what quick charging does, shown by Qualcomm.
As you can see, Quick Charge is very fast. Using any old regular charger from an older device, or a cheap one from a gas station won't work. It needs to support Quick Charge, and the manufacturer needs to as well, and LG does. Regular chargers will still recharge the G5, but over 50% slower. That's over 2 hours to get full, instead of only 70 minutes.
Read: 11 Official LG G5 Accessories
What this means is those who buy the impressive new LG G5 later this month will want to use the Quick Charger if one is included in the box, otherwise buy one of the five great options we've tested and detailed below with link to buy them. Keep in mind the LG G5 has a new USB Type-C port on bottom, not the old micro-USB port. Meaning you'll need new Type-C cables on one end, or both ends, or use the cable included with the phone.
The new LG G5 has a beautiful 5.3-inch display, an all metal design, fingerprint scanner and even a modular frame that allows the battery to be removed and replaced. Something most phones in 2015 or 2016 don't offer. And while replacing the battery is the fastest way to get to 100%, the next best thing is buying one or two of the Quick Charge 3.0 LG G5 quick chargers detailed below.
Anker 18w Quick Wall Charger (QC 3.0)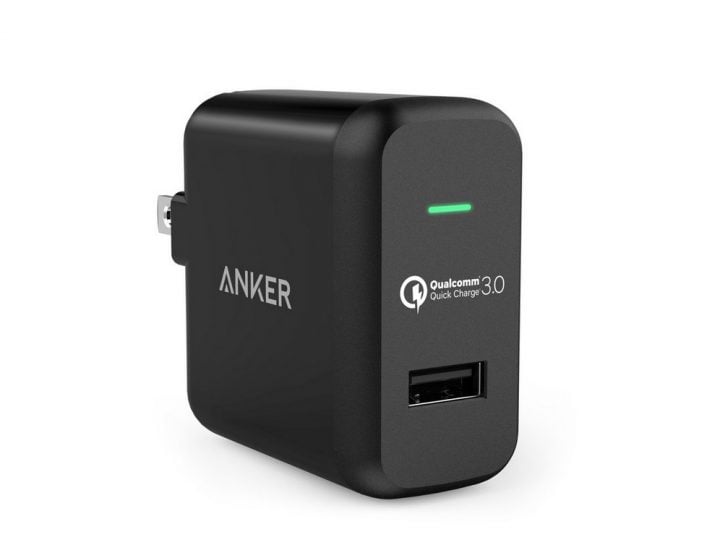 Anker, a popular accessory maker that has some excellent 10ft micro-USB charging cords that are amazing, also offer a quick charger you'll want to consider. It has a high 18w output and is Qualcomm Quick Charge 3.0 certified. Many manufacturers are offering QC3.0 accessories now, and they're backwards compatible with QC 2.0 phones from last year, the iPhone, and will recharge any USB device safely. So buy one and use it for the G5, and any other device you own.
The Anker 18w Quick Charge 3.0 certified charger will power up your device up to 75% faster than typical chargers. These work wonderfully with the LG G5, and comes with a durable micro-USB cable too. Keep in mind, the LG G5 uses a new USB Type-C cable, not old micro-USB cords. It comes in Black or White, and has a fold-away prong design. Perfect for those on the go.
Buy it Now for $21.99 from Amazon
While you're at it, get the Anker Quick Charge 3.0 Car charger for the same great speeds while in your car.