5 Reasons to Upgrade to iOS 5.1 Today
Apple has released iOS 5.1, a new version of the software that powers you iPhone, iPad and iPod Touch.
There are a ton of great new features in iOS 5.1 that make it one of the best updates to iOS yet. While many users are already on iOS 5.0.1, this update is the perfect reason for those who lagged behind on iOS 4 to upgrade as well.
(Read: How to Upgrade to iOS 5.1)
No matter which version of iOS you're coming from or what device you have, there are plenty of reasons to upgrade to iOS 5.1 right now.
5 Reasons to Upgrade to iOS 5.1
Faster Access To Your Camera
In iOS 5.0 you could double tap on your home button to get to your camera from the lock screen, but iOS 5.1 makes it even easier. The new iPhone lockscreen has a slider to launch the camera so you can just flick the camera icon up and you're ready to take photos.
If you often miss snapshots, this alone is a reason to upgrade. I hope they'll let us swipe down to launch the camcorder function in the next update. In addition to the new lock screen camera shortcut, iOS 5.1 adds a new camera app and fixed an issue so that Face detection now highlights all faces.
New Apps
If you want to use iPhoto for the iPhone and iPad, you'll need to update to iOS 5.1. Even if you don't want iPhoto, you'll need to upgrade to get the latest versions of iMovie and GarageBand. Rounding out the list of apps that require iOS 5.1 are Pages, Keynote and Numbers.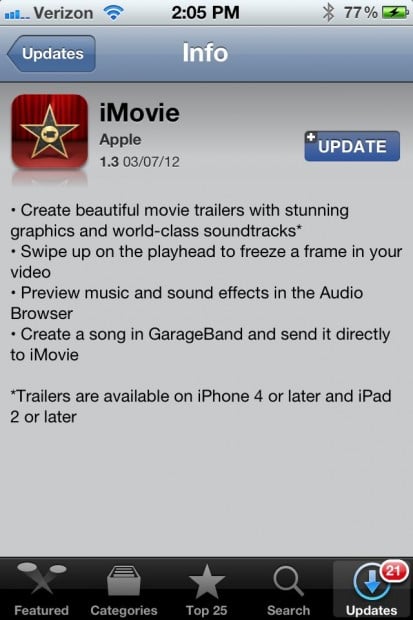 I haven't run into any third-party apps that need iOS 5.1 yet, but if you use these apps you will want to upgrade to get the latest features and bug fixes.
 3G Toggle
If you ever want to turn off 3G on your iPhone to help your battery last longer in poor 3G coverage area, or if you need to get connected in a crowded area, this option can help. Apple removed it on iOS 5.0, but now it's back for your toggling pleasure.
I don't recommend leaving 3G off all the time, as you'll have incredibly long delays in browsing the web and downloading anything from the App store.
Better iPhone 4S battery Life
If you have suffered from bad iPhone 4S battery life, iOS 5.1 may bring a fix. Some users are reporting better battery life after the upgrade, even though they have used it for less than a day.
Apple claims that iOS 5.1 "Addresses bugs affecting battery life", so this isn't all in user's heads. Even if you haven't hd horrible battery life, iOS 5.1 could give you even more.
You Listen to Music or Watch Movies
Odds are if you own an iPhone, iPad or iPod Touch you do one of these activities. Apple has issued a number of fixes and new features to help you enjoy your movies and music more in iOS 5.1. Below you'll find out how iOS 5.1 makes the entertainment experience better on the iPhone and iPad.
Genius Mixes and Genius playlists for iTunes Match subscribers
Audio for TV shows and movies on iPad optimized to sound louder and clearer
Podcast controls for playback speed and a 30 second rewind for iPad
I know I can't wait to have better audio for TV shows and movies on the iPad, and I appreciate the new controls for podcasts on the iPad.
—
If you haven't already upgraded to iOS 5.0, you will need to plug into your computer to get this upgrade, but don't let that stop you. There are a number of new features you are missing out on in addition to those listed above. The most popular iOS 5.0 features for the average user are iMessages, which lets you send free text, photo and vidoe messages to other iPhones and the Photo app that lets you quickly edit photos on your phone before you share them.
You'll also get iCloud, which automatically backs up your iPhone and iPad as well as keeps many things in sync between your various iOS devices. And, in the future you'll be able to upgrade without plugging into your computer.
Even older devices like the iPhone 3GS perform great with iOS 5.1.