11 Reasons to Wait for the iPhone 12 & 5 Reasons Not To
Wait for A Smaller Notch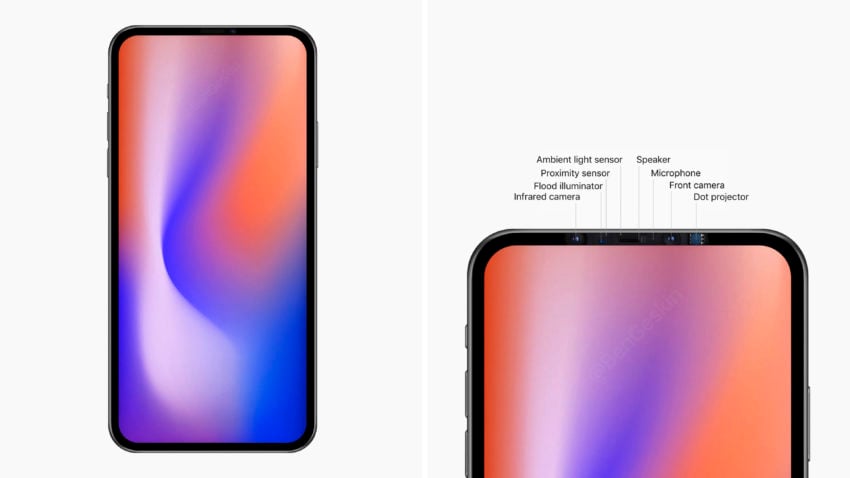 The 2018 iPhones featured a notch that's similar to the notch found on 2017's iPhone X. The notch houses important sensors, but it's drawn the ire of many smartphone users due to its intrusiveness.
The 2019 iPhones come with the same notch area as the 2018 iPhone models, but the company is reportedly looking to slim down, and/or eliminate, the notch on the 2020 iPhone models. So if you aren't a huge fan of the notch you'll want to keep your eyes on the iPhone 12.
Leaker Ben Geskin claims Apple is currently testing different Face ID prototypes that could allow the company to use a smaller notch on the 2020 iPhone models.
Geskin's released concept images (seen here) of a rumored 2020 iPhone prototype with a 6.7-inch display and a Face ID and TrueDepth camera system housed in the top bezel.
According to analyst Ming-Chi Kuo, at least one 2020 iPhone will come with a smaller front camera lens that could lead to a slimmer notch. This is not the first time we've heard this.
Bloomberg's Mark Gurman says Apple is indeed aiming to reduce the size of the notch on the iPhone 12 series.
Apple is reportedly exploring ways to combine Face ID and the front-facing camera a move that could reduce the size of the notch. A leaked image of potential iPhone 12 schematics shows the speaker integrated into the bezel.
Nikkei says the iPhone 12 will include Face ID and that means there will still be a notch on the top of the iPhone. The publication states that "Apple was unable to integrate the Face ID module into the display."
An analyst from Credit Suisse in Asia believes that Apple will release an iPhone without a notch or Face ID in 2020.
The same analyst believes Apple will completely eliminate the notch by 2021 with the phones relying on full screen fingerprint sensor.
Economic Daily News claims Apple is meeting with a Taiwanese touchscreen manufacturer to discuss the development of an iPhone with an under-the-screen fingerprint reader.
The publication states that Apple plans to use Qualcomm's ultrasonic fingerprint sensor inside an iPhone in 2020 or 2021.
A report from the same outlet doubles down on this claim and states that the technology could appear on at least one of Apple's upcoming 5G iPhones.
That said, Bloomberg's Mark Gurman says under-screen fingerprint technology isn't coming to ‌iPhone‌ this year.
While we probably won't see a notch-less iPhone this year, Ming-Chi Kuo believes the 5.4-inch iPhone 12 will have a slightly narrower notch.
Things are still in flux, but if you hate the size of the notch on current iPhone models, think about waiting.

This article may contain affiliate links. Click here for more details.