5 Reasons to Wait for the LG G3
When it comes to buying a smartphone there are plenty of options readily available. The Galaxy S5 and new HTC One M8 are both excellent choices, not to mention the LG G2 from 2013. However, the all-new LG G3 is coming soon and is one device that's certainly worth waiting for.
The LG G2 is arguably one of the better smartphones available today, but with competition from the Galaxy S5 and new HTC One M8 it has a tough road ahead. That said, the new LG G3 will be revealed later this month and give them all a run for their money.
Read: LG G3: 5 Things Buyers Can Expect
Over the past few months the LG G3 rumors have started to come into focus. Nearly all the details have been confirmed, LG is teasing and showing off the device themselves, and just yesterday we got our best look yet in three images that leaked. Below we'll go over what to expect from the new LG G3, and why it's worth waiting for.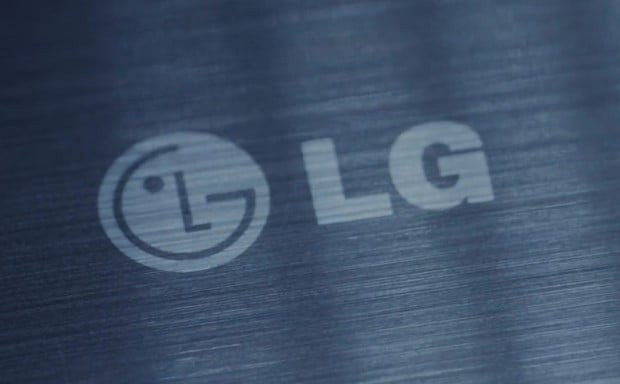 In September of last year the LG G2 was officially released and available on AT&T and eventually Verizon in the United States. The phone eventually arrived for other carriers, and was quite successful given the late arrival and unique rear-mounted buttons. The year prior LG released the Optimus G in October, which was the first in the new LG G lineup.
Fast forward to 2014 and we've been following the all-new and impressive sounding LG G3 for months. Reports started to leak as early as December of last year, but over the course of the past two months everything has been fully revealed. Those looking for a top-tier flagship smartphone with all the bells and whistles may want to wait and see what the LG G3 has in store.
LG G3 Release Date
The LG G3 has leaked more times than we can count, but one thing that remains somewhat of a mystery is the release date. That being said, we have a pretty good idea of when users can expect it to arrive. With previous devices arriving late in the year many expected an August or September arrival of the new LG G3, but that won't be happening.
Instead LG bumped up the release date by a few months in order to directly take on the Galaxy S5, and beat the iPhone 6 to market. The LG G3 will officially be available in the United States and around the globe before the end of June. Which means it will be available within the next 30-45 days.
Late last month LG officially confirmed the phone will be released around the globe before the end of June. Stating it will be available inside of Q2 2014. The following day LG revealed the launch date. Sending out press invites confirming the LG G3 will be officially announced to the world live on stage come May 27th. This means there's only a few more days of waiting before everything is official and rumors can be silenced, then a release date will quickly follow.
Many reports are suggesting the LG G3 could launch within the first two weeks of June, which slots this phone in for an arrival within the next month. This means prospective buyers considering the Galaxy S5 or other options might as well wait a few more weeks to see what the G3 has to offer.
Display
We can't do a roundup of the five best features worth waiting for without talking about the display. While we mention it more than a few times in the hardware section below, the LG G3 will have one of the best displays of any smartphone. The LG G3 will have a 5.5-inch 2560 x 1440 Quad-HD display, which is four times the resolution of a 720p display.
The extremely slim bezels will also allow it to seem like the phone is all display, and no plastic bezels around the sides. The phone will be bigger at 5.5-inches, but not much larger physically due to some impressive developments by LG Display. Various leaks and LG themselves have confirmed the screen, and now we just need to wait and see it come May 27th.
Features & Hardware
Last year LG shocked many with the LG G2. Launching the first smartphone with the absolute latest 2.3 GHz quad-core Snapdragon 800 processor, and the first smartphone in the United States that featured Optical Image Stabilization in the camera. After all of that there was one more first. The phone had all the controls and buttons moved to the back. The power and volume controls were conveniently located where most users have their index finger while gripping a phone.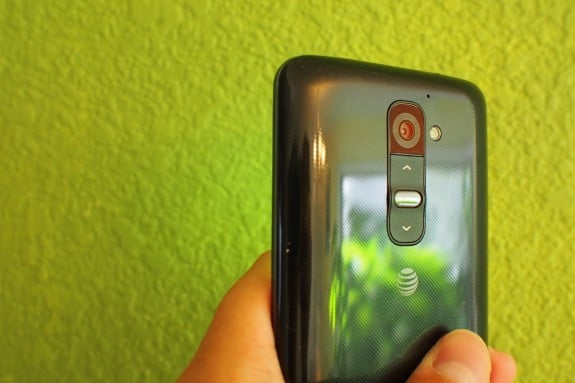 It was an odd design that had many users weary, but proved to be a great choice, something unique, and now a feature many users can't wait to see arrive with the LG G3.
The LG G3 will have a few more "firsts" for a smartphone in the United States this year as well. It will be the first phone with a 2560 x 1440 Quad-HD display. There's others available, but not in the United States. The 5.5-inch Quad HD screen should be stunningly beautiful, but we'll have to wait and see.
Read: LG G3: 5 Must Have Features to Take on the Galaxy S5
The camera will still be 13 megapixels, but feature an improved Optical Image Stabilization + technology. However, another first, is the LG G3 has an infrared laser on the rear for improved photography. Especially in low light. Add that to the impressive camera, stunning display, and again the absolute latest and greatest Snapdragon 805 quad-core processor running at 2.5 GHz, and the LG G3 is poised to turn more heads again in 2014. Below is the latest video showing off those features in a brand new teaser.
https://www.youtube.com/watch?v=83Xm26Zvo18
To wrap up the hardware the LG G3 will have a 5.5-inch Quad HD display, 2.5 GHz quad-core processor with 2 or 3GB of RAM, 32GB of storage with a micro-SD card for user expansion, a 13 megapixel rear and 2 MP front camera, 3,200 mAh user replaceable battery, and great speakers if the video above from LG is to be believed.
Latest Software
The LG G2 launched with Android 4.2 KitKat back in September, and a little over a month later Google announced and released Android 4.4 KitKat. Meaning within 30 days it was instantly multiple updates behind, considering LG didn't launch with Android 4.3 out of the box.
In 2014 LG has worked hard to keep its devices up to date, and have since delivered Android 4.4.2 KitKat to the LG G2 and LG G Pad 8.3 in a timely fashion, even if there's a few problems floating around. The incoming LG G3 will have the absolute latest Android 4.4.2 KitKat right from Google, but be tweaked and improved by LG.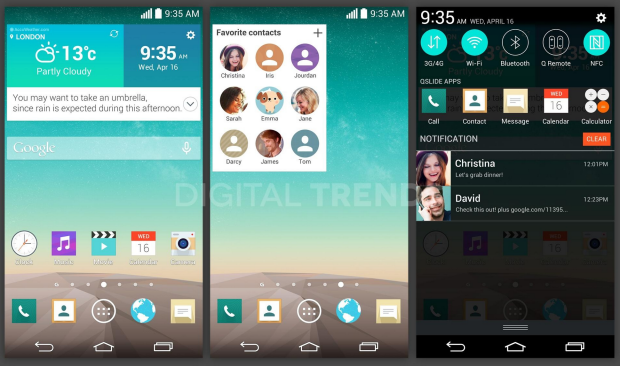 Above is a leaked image showing off the new user interface overlay on top of stock Android that we're expecting to debut with the LG G3. The entire design is more simple, flat, and elegant, and leaks suggest a new Siri or Google Now-like feature will be included. Like a virtual assistant to predict weather and suggest you take an umbrella, give driving directions before the user asks, and many other next-gen type features. It all sounds nice, but hopefully LG can deliver.
LG has continued to improve their software interface over stock Android, and the timely arrival of updates over the past year or so, and 2014 should be a make it or break it year for the company. If the LG G3 can deliver a stunning software experience and stay up to date, they'll be headed in the right direction to take on Samsung.
Longer & Better Support
If the rather short wait from today til when the G3 is announced wasn't enough, consider how long updates have taken in the past for LG. As stated above, timely updates will be extremely important, but lately LG has been on the right track with that. The LG G2 is almost 9 months old, and as a result, won't be officially supported as long as the LG G3. In fact, it will receive support longer than the Galaxy S4, or should at least.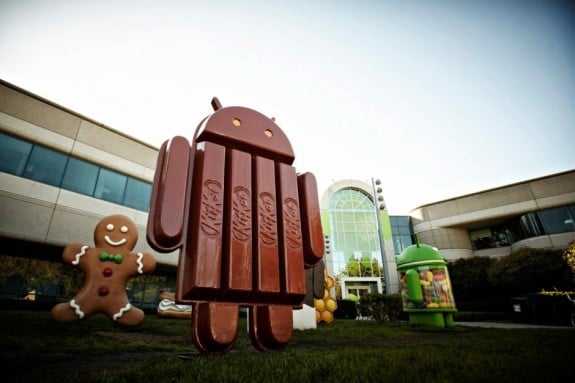 Devices are typically supported by the manufacturer for around 2 years, and we've seen Google continue to make this a top priority moving forward. In fact, all new devices must comply with new terms to run the latest Android software, and promise 2 years of updates and support. This means the LG G3 will have the latest and greatest, and be an excellent smartphone for the foreseeable future.
Final Thoughts
The LG G3 is shaping up to be one of, if not the best smartphone of 2014. It has cutting edge features that can't be beat by any of the current competition, has stunning specs and a unique design, and looks to be arriving in three different colors across all five major carriers within the next month or so.
The Galaxy S5 and HTC One M8 will have some serious competition this summer, not to mention the Galaxy Note 4 considering the G3 has a large 5.5-inch display. LG is aiming for both of Samsung's lines with one smartphone, and we'll know everything and more come May 27th.
LG has a lot to prove before consumers will be willing to switch over from Samsung or the iPhone, but the LG G3 will be their best foot forward, and it's worth waiting for.

As an Amazon Associate I earn from qualifying purchases.